Lenovo X200 new specs & photos emerge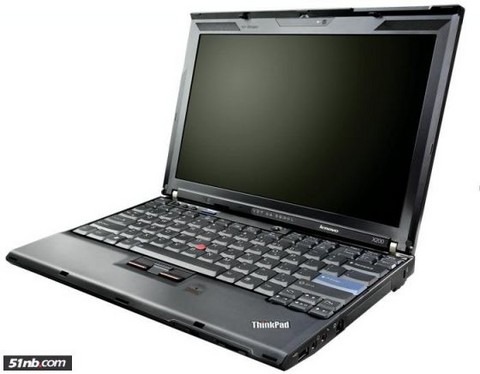 Lenovo's upcoming ThinkPad X200 ultraportable, which was recently tipped in a company presentation, has been spotted and profiled by 51nb, a Chinese notebook forum.  Not only did they dig up two new images of the ultraportable, but the spec sheet too; we now know that it uses a 45nm Intel Centrino 2 + VPro Core 2 Duo CPU running at up to 2.4GHz, has a 12-inch WXGA LCD screen (or, in the case of the Tablet version, a touchscreen) and an SSD storage option alongside conventional hard-drives.
Despite slotting in underneath the ThinkPad X300, Lenovo don't appear to be choosing lightweight features to go with the X200's light 1.32kg weight.  RAM comes in an unspecified amount (we'd assume between 2GB and 4GB) but can be had in DDR2 (667MHz) or DDR3 (1067MHz) speeds, and if the 64GB solid-state drive doesn't appeal then there's either a 7,200rpm 200GB HDD or 5,400rpm 320GB depending on your preference of speed versus capacity.
If Lenovo can really get close to 9hrs of battery life, despite connectivity options such as WiMAX and GPS, and they bring the ThinkPad in at a reasonable price, the X200 could be a real winner.  The estimated release date, according to 51nb, is mid-July, so not long to wait.
Based on Centrino 2 + VPro technology platform

45-nanometer Core 2 Duo CPU, the highest clock up to 2.4 GHz

DDR2 (667MHz) or DDR3 (1067MHz) Memory

12-inch WXGA LCD screen

64GB SSD or the maximum capacity of 7200 to 200 GB hard drive or transferred to a maximum capacity of 5,400 to 320 GB hard drive

T-series size keyboard

Optional 1.3-megapixel camera built-in

USB X 3, Express Card X 1,3 in 1 card reader

Magnesium alloy roof, the chassis

9-cell battery, with the largest life time up to 9.6 hours

To support the latest communication features, such as WiMax, GPS

Starting from 1.32 kg weight (X61 1.42 kg)
[via CrunchGear]