Lenovo ThinkPad X300 Review - MacBook Air killer?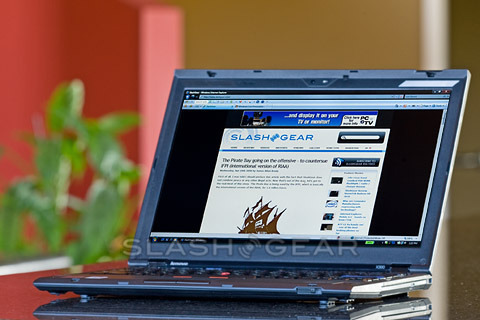 Lenovo probably wouldn't admit it, but you get the impression they're quite pleased with how they managed to crash the ultraportable party. Apple's achingly-thin MacBook Air seemingly had just scant moments to enjoy the limelight, before leaked details of Lenovo's own, Windows based rebuke, the X300, started to turn up. Before long, the company was putting out adverts surreptitiously suggesting that the Air's compromises for extreme thinness and lack of connectivity meant that, unlike the DVD and ethernet toting X300, it couldn't quite be called a "fully featured" ultraportable. It's rare for a Windows machine manufacturer to try to so resolutely dismiss Apple – there's usually at least a grudging respect – so when Lenovo sent an X300 to SlashGear we were keen to see how well it lived up to the claims.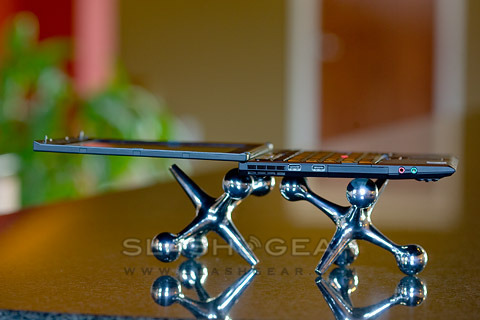 Measuring 317 x 226 x 22mm and weighing 1.45kg, the X300 has roughly the same footprint as the MacBook Air but adds a few millimetres thickness (the Air's depth is a much-quoted 4-19.4mm, while it weighs a little less than the X300 at 1.36kg). Lenovo make good use of that extra space, though; our review unit has a 1.20GHz Intel Core 2 Duo L7100 (800Mhz FSB, 4MB Cache) processor, Intel X3100 graphics, 2GB of RAM (4GB max supported), 64GB SSD, a DVD burner, a/b/g/n WiFi, Bluetooth 2.0, gigabit ethernet and an internal 3G WWAN modem. Round the edges are 3 USB ports, a D-SUB monitor port, headphone and microphone sockets (doubling as line-out and line-in), while the matte-finish 13.3-inch WXGA+ 1440 x 900 LED backlit display is crowned by an integrated 1.3-megapixel webcam and noise-cancelling microphone. Compared to the Air's measly one USB, monitor port (albeit DVI-I) and headphone socket, the X300 is far more like a full-sized machine.
Build quality is, frankly, incredible. It might be thicker than the Air, but the X300 is still very thin, and you'd half expect it to bend and twist, especially when typing. Lenovo's magnesium chassis comes through, however; pick it up, even by the edge, and it won't flex, while the keyboard certainly maintains the company's reputation for quality. It's clear they've put a little more thought into the X300's appearance than perhaps cheaper models: at first glance it's unmistakably a ThinkPad, but look closer and you'll spot the soft, slightly rubberised finish to the lid and wrist-rest, the glowing ThinkVantage, mute and power buttons, and the coated keys which Lenovo claim won't lose their legends after frequent use. Arguably it's not as attractive – or should that be glamorous? – as the MacBook, but Lenovo will certainly find plenty of customers willing to pay for quality and size but neither wanting nor needing stand-out appearance.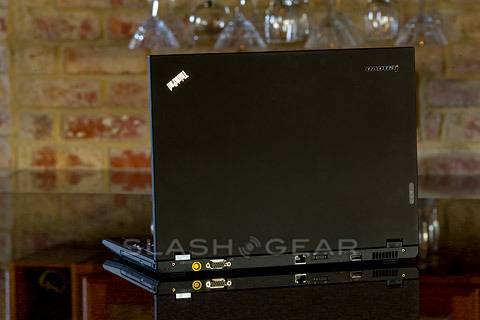 Hit the power button and the X300 boots up in just under 30 seconds; that's probably the virtue of the solid-state drive, which has far faster access times than a traditional platter-based unit. Lenovo have decided to only offer the X300, from launch anyway, with the 64GB SSD we played with; Apple offer an SSD as an option, but the entry-level Air models have normal drives. It's a decision that prompted much debate – the benefits are fast access times and resistance to knocks and jolts, but you pay for it in storage size (after Vista and the Lenovo recovery partition have been accounted for you'll have around 40GB left to play with) and actual cost – but the biggest advantage is their much-reduced power requirements. In an ultraportable that means all-important longer battery life.
If 40GB of free drive space simply isn't enough for you, we'd recommend waiting until Lenovo add a traditional hard-drive option; Lenovo have suggested that some of the compact SATA drives measuring in the hundreds of GBs will find their way onto the spec list during April. It's likely that they'll come in cheaper than the SSD model, too.
The processor is Intel's latest ultra-low-voltage SL7100, freshly announced alongside the X300, and while it's not going to blow away your average Alienware gaming laptop it's certainly happy enough for most uses. Gaming and video editing aren't really the X300's natural friends. Still, set at its native resolution, the X300 scored 494 3DMarks in 3DMark06; we also ran HD Tune Pro 3.00 (you can see the read/write results for multiple file sizes in the gallery) and the Lenovo's SSD managed minimum, maximum and average transfer rates of 66.2, 77.5 and 70.5 MB/sec respectively.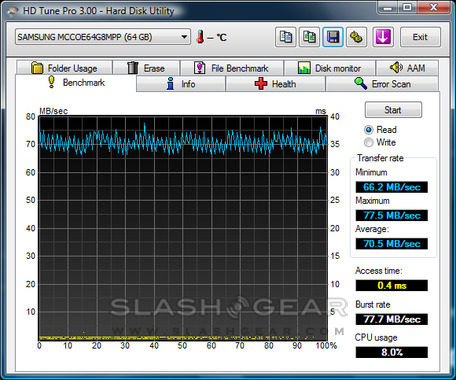 In use, it's easy to forget the X300's ultraportable credentials, though we should say we mean that in a good way. The keyboard is full-sized, there's both a trackpoint and a decent-sized touchpad (with horizontal & vertical scroll) each with their own buttons, and Lenovo have slipped a biometric fingerprint reader in to the right of the upper mouse buttons. Audio performance – courtesy of stereo speakers at the front-corners – is surprisingly good, although bass is just about as mediocre as you might expect from something so compact. The 13.3-inch screen manages to make all the hyperbole about the Air's display seem misplaced, with the native 1,440 x 900 giving incredibly sharp images, fantastic video performance (always a boon when there's a DVD drive on hand) and plenty of screen real estate for multiple windows. LED backlighting again proves its worth, and you can readily knock it down a few notches (saving power in the process) without sacrificing usability.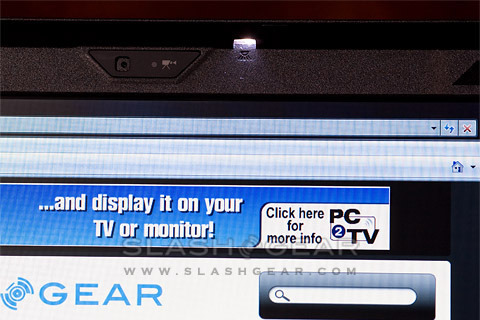 The ThinkLight, an LED embedded into the screen bezel which illuminates the keyboard, is an acquired taste: get the angle of the screen wrong (which you might be tweaking anyway, since the best-contrast angles are a little narrower than we're used to) and you might find it poorly aimed. Hitting FN and PgUp toggles it on and off, but we'd prefer a proper backlit keyboard as seen on the MacBook Air. However Apple and most other manufacturers could learn from the X300's ThinkVantage Technologies, accessed by hitting the rectangular blue button to the top-left of the keyboard; it offers backups, shortcuts to Lenovo support, a guide to the X300's ports and functionality and a Rescue & Recovery tool that promises to make salvaging a broken ThinkPad straightforward.
Networking too makes use of the ThinkVantage button, with a clever 'Find Wireless Networks' app delivering details of all available WiFi access points, their relative strengths and encryption status, and a diagram of their location just to ice the cake. We did experience some issues connecting to our wireless router, though, having to go through Windows' auto-repair each time we resumed from standby, but updating to the latest system bios and software fixed the problem. Considering how new components like the processor in the X300 are, expect quite a few updates and tweaks in the early months of ownership.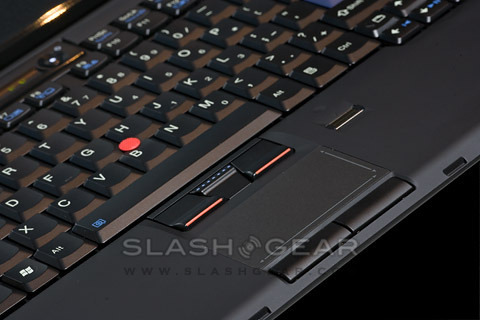 Having WWAN on-board just confirms what a missed opportunity Apple had with the Air. Being able to get online wherever there's a decent cellphone signal can be a lifesaver, and Lenovo offer EV-DO and HSDPA models (depending on geographic area) and will have a WiMAX option later in the year. The EV-DO version on sale in the US also has GPS, and UWB Wireless USB is another option.
Battery life is quoted as between 4.3hrs and 10hrs, depending on whether you pick the three or six cell standard batteries, together with replacing the DVD burner with a secondary three cell power pack. A "Battery Stretch" setting can be set to kick in when reserves are down to 25%, which gets even more draconian with the settings to let you finish up whatever you're working on. In our tests, the X300 managed to play a DVD for 127 minutes until the movie cut off (with the battery at 5%); with very light use the three cell battery just fell short of four hours. Recharging from completely exhausted to a stated 100%, with the X300 powered on but idle, took 2 hours and 21 minutes.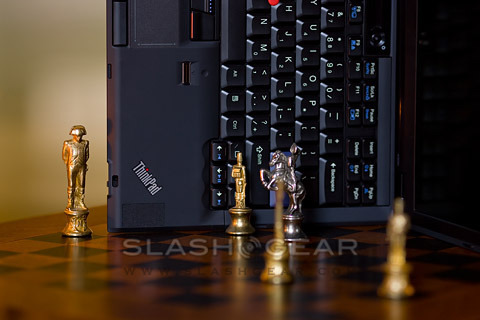 In the current ultraportable market it's tough to compare like for like. The Air might score high when it comes to thickness (or lack of) and usability, but it lacks optical drive, connectivity, swappable batteries and WWAN. Sony's VAIO TZ series is thicker (22.5-29.8mm) but has a smaller footprint courtesy of its 11.1-inch display; it also has a DVD burner, swappable battery, WWAN and SSD options and more connectivity than the Air (but not as much as the Lenovo), and the standard battery can manage up to 8hrs use.
It's hard to imagine that there are people out there who would seriously draw the line at carrying the scant extra millimetres of the X300 over the MacBook Air, and so a decision comes down to OS X versus Vista and what connectivity you demand from an ultraportable. With superlative build quality, usability not impacted by its scant dimensions and enough grunt, if not for the sort of CPU intensive tasks you might ask a desktop PC to handle, then for all the everyday use you could want of it, it ticks more boxes than any of its rivals. Yes, the price – currently from $2,997 direct from Lenovo – puts the X300 resolutely into the premium category, but spec a MacBook Air with SSD, ethernet and external DVD and you'll be paying Apple pretty much the same amount. And while the Air might have the gloss factor, it's the X300 that, quietly but certainly, edges ahead.
Check out the rest of the Lenovo X300 images in our gallery
[rating: 4.5]
Photos by Daniel Lim