MacBook Air Review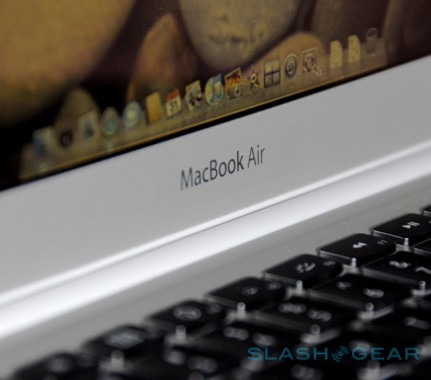 They're calling it the iPod of laptops – Apple's board-sweeping answer to Sony, Dell and all the others who've been proudly strutting their ultraportables. It was enough to send David Pogue into paroxysms of delight, whinnying about "admiration for elegance." Of course, it could only be the MacBook Air. Never before has a keynote product announcement from Apple prompted such contrasts of praise and vitriol: with road-warriors on one side singing praises for a pared down chassis with still usable keyboard and display, while critics bay for blood over absent ports and sealed batteries. Is the MacBook Air going to please everybody? No, not at all; but then again, it really didn't set out to.
One point of harmony for both sides is its appearance: few would call the Air anything other than beautiful with its flattering tapered edges and depths ranging from a mere 0.16-inches to 0.76-inches at its thickest. The Air's aluminum casing is smooth and deeply sensual, the 3lbs (1.36kg) weight mind-bogglingly minimal, and that mildly controversial black keyboard is a grower, looking more and more fitting as you sit in front of the machine.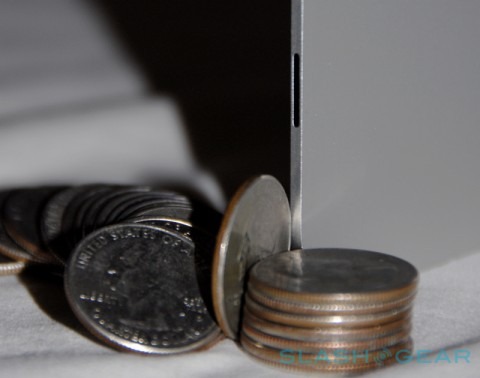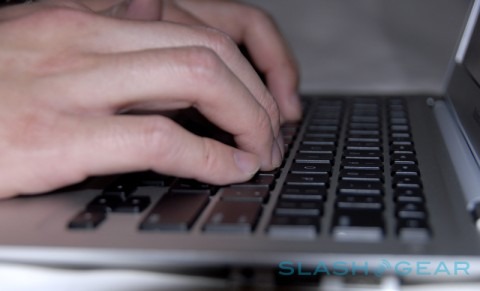 Taking a tour around the hardware is straightforward: on the left, near the back, is the MagSafe magnetic power port – which stubbornly spits out old-style straight MagSafe plugs when you set the Air flat on a table; the new plug is at a 90-degree angle. On the right is what appears to be a hard-wearing flap concealing the laptop's single USB 2.0 port, a headphone socket and a micro-DVI port. The Air's underside is smooth and blank – like the back of an iPod nano, and since the screen latch is magnetic there is no need for a release button on the front edge.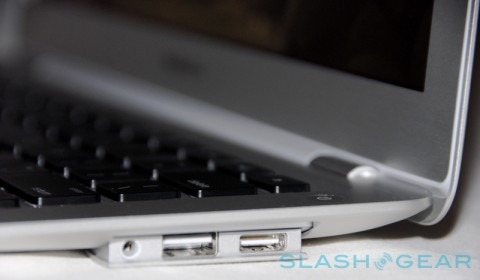 Open up the screen, and the biggest surprise is the full-sized keyboard, using the same discreet key design as the MacBook. A nice touch is the keyboard's backlighting, which varies according to an ambient light sensor. Some photos of the Air have been deceptive, with the oversized trackpad – which measures nearly 5-inches on the diagonal – making the keyboard appear more compact than it is. The laptop's width may be a deal breaker for fans of tiny bags, but once the laptop is open the ergonomics are far more like that of a MacBook Pro than a rival tiny ultraportable.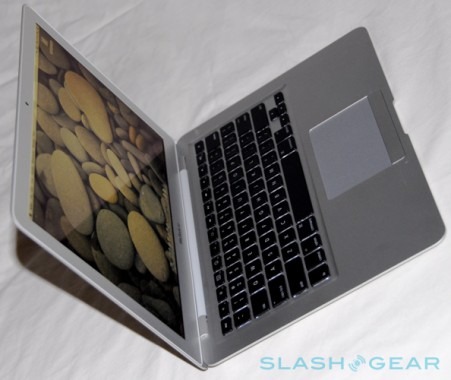 The touchpad's extra surface area is there to support "multi-touch", a concept borrowed from the iPhone and iPod Touch. Unlike earlier MacBooks, which could only differentiate between one or two finger motion commands, the Air's touchpad recognizes multiple-digit swipes, spreads and other gestures. Pinch & spread zooming is there, as is rotating two fingers to flip an image around, while three finger swiping mimics the left and right arrow keys. Multi-touch is undoubtedly more intuitive on an iPhone's screen versus the Air's touchpad, because seeing your fingers interact directly with the screen makes a huge difference. But the touchpad is a promising inclusion, and it blows generic mouse gestures out of the water.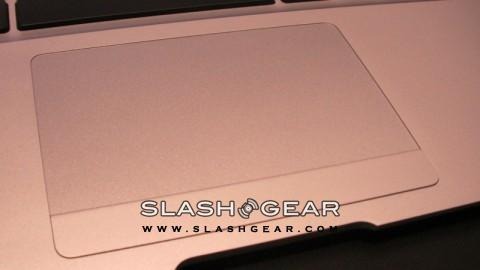 The LED-backlit 13.3-inch screen is crisper, brighter, and it displays more contrast than anything from the MacBook or MacBook Pro ranges. LED really is the next-generation of screen technology due to its thinner design tolerance, meager power demands, and image vibrancy boost, and the Air could easily be this new screen technology's poster-child. Another ambient light sensor balances backlight against your environment, and the screen's size – although forcing a relatively broad footprint for an ultraportable – offers useful extra real estate over the competition.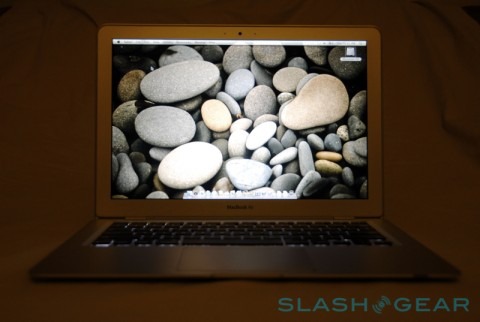 A choice of two Core 2 Duo processors, running at 1.6GHz or 1.8GHz, and a standard 2GB of 667MHz DDR2 RAM might not add up to performance that will burn down the house, but neither will the heat the Air produces burn up your lap. Yes that flat base gets warm, but never uncomfortably so. Speed has been a huge point of contention among both prospective MacBook Air buyers and general pundits, but force yourself to think of Apple's target audience: the road warrior. These are men and women who probably do a fair amount of typing -certainly enough to make a full-sized keyboard worthwhile – and for whom browsing, emailing, writing of some sort, and the occasional image or video processing is the order of the day. Such a user really doesn't need massive performance; in fact, they've probably got a computer powerhouse sitting in their home or office that is desperate for some attention since the slick Air arrived. And before you say "$1,800 is a hell of a lot to expect someone to pay for a second or third computer", remember that Apple isn't really pitching the Air as a laptop for the everyman: this is an exercise in pared-back design for a very specific, frequently traveling market, and it is likely a testing ground for future lightweight electronics that'll end up in the rest of the MacBook range.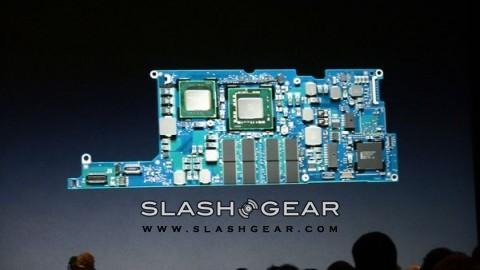 What such a user does need however, is a degree of quite specific flexibility in design. The fact that the 80GB hard-drive is a 1.8-inch 4200rpm PATA model isn't likely to be major stumbling block, considering that the faster, shock resistant 64GB SSD option is a whopping $999 upgrade, but speedy wireless options will be a necessity, hence WiFi 802.11n and Bluetooth 2.1 + EDR. The most significant omission is built-in 3G cellular broadband for out-of-hotspot Internet access. According to Apple, this wireless radio would have been too big to fit in the Air's shallow casing. After all, even Intel was sent back to the drawing board to produce a smaller chipset to fit in said casing. A slightly less convincing argument, when you consider the AT&T-locked iPhone, was that Apple didn't want to tie users to any one provider. Most troubling for those who would try to bypass this limitation is that the flap hiding the USB port won't open enough to plug in some of the current 3G modems, meaning an extension cord is required, and certain larger USB flash drives will also be too bulky.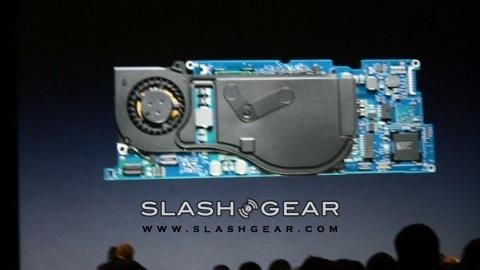 It doesn't end there, of course: wired Ethernet may be unfashionable compared to WiFi, but you're far more likely to find it in an office scenario, so the lack of a dedicated port could be a frustration to some. Apple does sell a separate USB/LAN adaptor cable priced at $29, which seems a little cheeky considering the overall cost of the Air and it's positioning as a luxury item. But perhaps the biggest stumbling block for many will be the non-user-replaceable battery; with the Air's 37 Watt/hour lithium polymer pack lasting around 3.5hrs with power saving disabled on the screen, CPU and hard-drive and undergoing only light use, there's no option for a swap-out battery pack. As has been well publicized, replacing the battery altogether will be a send-back-to-Apple job if you want to keep your warranty; Apple has already revealed that it'll cost $130 to change the in-built power pack.
Unlike Sony's TZ series, which squeeze a DVD-RW drive into their tiny chassis, the Air has no onboard optical drive. Instead, you either pay $99 for an external SuperDrive (CD read/write at 24x/24x; single-layer DVD burn at 8x; double-layer DVD burn at 4x), or use Apple's Remote Disc application, which is included – in PC and Mac versions – with the laptop. Remote Disc is a basic drive-sharing tool, which streamlines network discovery; however, it's limited to installing software, and it won't let you rip CDs or DVDs – or even playback content remotely. The SuperDrive seems, frankly, a necessity. And again, Apple charging for it as a separate item is at odds with the high-end status of the Air.
OS X Leopard on the MacBook Air is functionally the same as on any other MacBook or Mac desktop, with only the multi-touch touchpad drivers added. That means you get the usual gamut of Safari, Mail, iChat and Boot Camp applications; since Apple also preloads the iLife suite, iPhoto, iMovie and iWeb are there too, and all run happily with the Air's hardware. Apple has also fitted an iSight webcam into the impossibly thin bezel, which can take photos and record video in VGA quality. The AC adaptor is significantly smaller than that of mainstream MacBooks too, which is an advance which will show its true worth when traveling.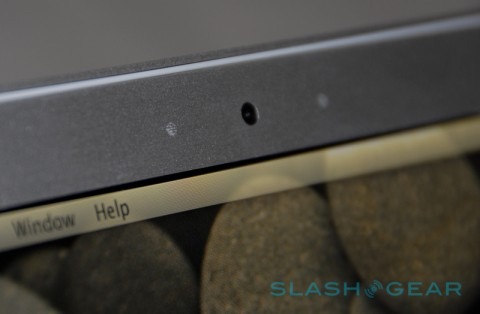 Unlike any other gadget, the MacBook Air has split the SlashGear team. Chris isn't sure whether the 13.3-inch screen, despite the super-thin chassis, undermines this ultraportable when bag space is truly limited. Ewdison is concerned that Apple will refresh the whole range in six-months time, introducing larger storage capacities with a shift from PATA to SATA hard-drives, and updating the CPU to one of Intel's power-efficient 45nm Penryn models. Both are certainly legitimate worries.
My answer however, is the same that I gave to those who asked why I wasn't waiting for the 3G version of the iPhone... if I wait, I'll be depriving myself. Right now, the MacBook Air meets my needs. I don't need more storage, I don't need a massively powerful CPU and yes, I can live with the slower hard-drive. What I need is a lean, mean and yet powerful enough machine for writing, timely processing of videos and images – but as a journalist on the road, I need it to be feather-light.
Perhaps that's what makes the Air particularly special: it ticks my boxes, yes; but it might not tick yours. I admire Apple for building a laptop with such purity of purpose, rather than attempting to cater to everyone's needs, and in the process satisfying no one.
If you're looking for a replacement for your desktop, or a machine that'll readily chew through heavy-duty video or music processing, then you should look elsewhere. But if you measure your days in miles traveled, in conferences visited and in the weight of your hand luggage, I'll see you at the Apple Store.
Unboxing the MacBook Air and SuperDrive