Lenovo unveils new ThinkPads including X1 Hybrid and T430u Ultrabook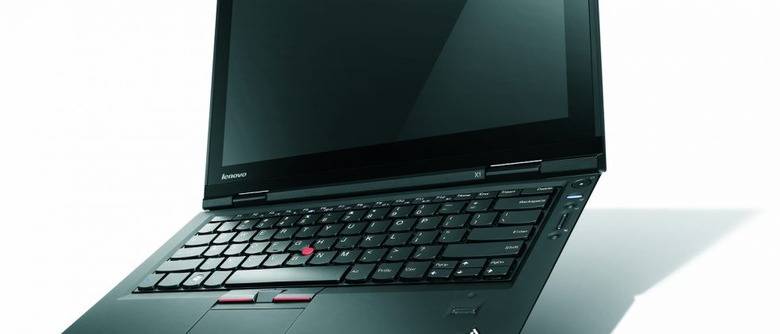 You knew it had to happen sometime: Lenovo's ThinkPad takes on the latest thin and light trend in laptops just came across the wire, and they're impressive. First up is a reinvigorated version of the ThinkPad X1, this time with a Hybrid designation, and the brand new ThinkPad T430u, which takes the Ultrabook badge. Both new laptops will be available starting in the second quarter of 2012, with prices starting at $1,599 and $849 respectively.
The ThinkPad X1 Hybrid is an updated version of the super-skinny X1, reconfigured with an eye towards utility. Claiming double CPU performance and quadruple graphics from an integrated Intel chip, Lenovo is positioning the 13-inch X1 Hybrid as a business-class laptop with excellent media features. Those include a high-definition display (not detailed) with Corning Gorilla Glass, an HD webcam, Dolby Home Theater sound and both HDMI and Intel Wireless Display technology. To satisfy your IT admin you get an encrypted hard drive and remote system management, plus a fingerprint reader. Processor options will include Core i3, i5 and i7.
Lenovo has addressed battery issues with two features: a low-power Media Mode powered by a separate Qualcomm dual-core processor (hence the Hybrid name), and RapidCharge technology that allows it to fill 80% of its battery in 30 minutes. The Media Mode loads up a custom operating system that should sip battery while still giving users access to WiFi connections, Internet browsing and basic files. Think of it as a tablet that's trapped inside a ThinkPad body. The X1 is factory rated for 10 hours of battery life, though the longevity of the Instant Media Mode was not disclosed.
On the lower end of Lenovo's business scale is the ThinkPad T430u, which they're calling an "Ultrabook that's all business." It would take a lot for an Ultrabook to match the power, utility and economy that the 14-inch T400 series has provided thus far, but they're giving it their best with a choice of Intel Core processors and integrated or discrete Nvidia graphics, an SSD or massive 1TB traditional hard drive, six hours of battery life and a quick boot feature. The .8-inch laptop is downright svelte for a T-series, and it's got a stylish aluminum lid that should look better than the typical ThinkPad soft-touch finish.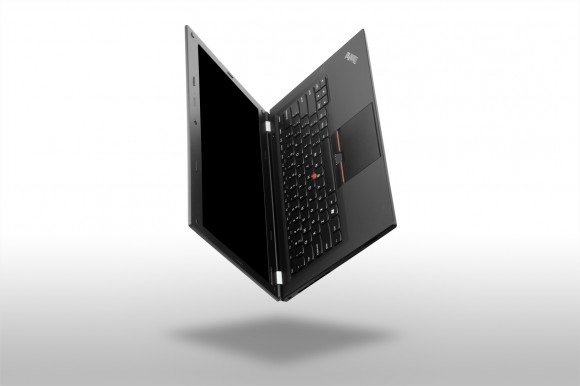 New entries into the ThinkPad Edge series of more conventional laptops were announced as well. The new S series gets its first entry in the Mocha Black S430, which Lenovo is advertising as less than an inch thick. The 14-inch laptop has optional Nvidia graphics, Dolby sound, USB 3.0 ports and a snazzy new Thunderbolt port. It comes with a choice of SSD or up to a terabyte hard drive. The S430 will be available in June starting at $749.
On the lower end the E series gets all-new versions in 14 and 15-inch bodies, named the ThinkPad Edge E430 and E530, respectively. Options include either Intel Core processors or AMD's Fusion platform, with integrated or discrete graphics choices for both. The same solid state and 1TB hard drive choices are present with USB 3.0 and an HD webcam. The ThinkPad E130 and E330 are the 11.6 and 13.3-inch variants using Intel processors, while the E135 and E335 use AMD. All models should be available in April, starting at $549 in a range of black, red or blue colors.
The Lenovo B series also gets some love.  The unassuming affordable line has new 14-inch models called the B480 and B485, and 15-inch models labelled B580 and B585. Intel and AMD processor are split from the same as the E series above. Optional additions include 1TB hard drives, USB 3.0, HDMI and multi-card readers, with the base machines starting at a price of just $499. The new B series models will also be available in April.
More exacting details like specific resolutions and battery power weren't provided, but you can bet the new models will be on display at Lenovo's CES booth. Check in next week for some hands-on time with all of Lenovo's latest offerings.