Lenovo has brought forth several unique visions in the Windows 8 universe this week with touchscreen prowess and unique hardware abilities such as the wireless touch of the ThinkVision LT1423p, also known as Lenovo's mobile monitor. What you're about to see is a brand new way to add touch to the device you've already got with a lovely 13.3-inch display with full touch – but don't be fooled, this is no tablet!
Back in our original ThinkVision LT1423p details post you find that this machine doesn't yet have a release date other than a basic Q2 2013 window, nor a price, but what we've seen thus far makes us want it right this minute – full touch for any machine running Windows 8. This beast is able to work wirelessly via wi-fi direct or wired with a relatively new USB to micro-USB B connection – have a peek at that plug in the gallery for a double-take.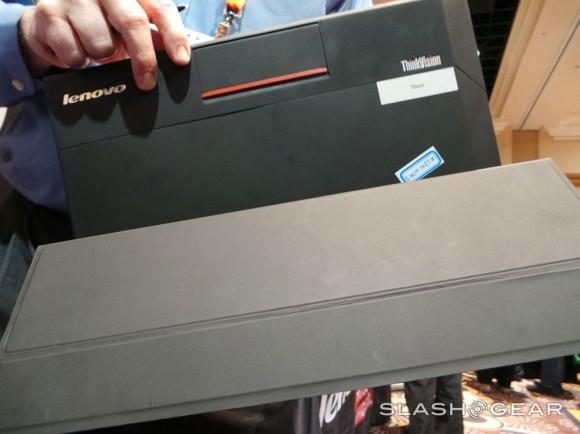 This machine is extremely light for its size, is able to work with or without a connected rechargeable battery, and is presented with Lenovo drivers that work with what the company notes is essentially any PC working with Windows 8. The front is covered with Gorilla Glass, the display is a decent 1600×900 pixels, and the whole package will be another rather unique addition to the Windows 8 environment come this Spring/Summer.
Have a peek at the Lenovo tag to see the rest of the magic the company has revealed this week and be sure to stick around SlashGear's full CES portal for more CES 2013 than you can possible handle. Also be sure to let us know if you're planning on working with a mobile touch monitor some time in the future – seem like a real prospect to you?