Lenovo ThinkPad W700ds Live Shots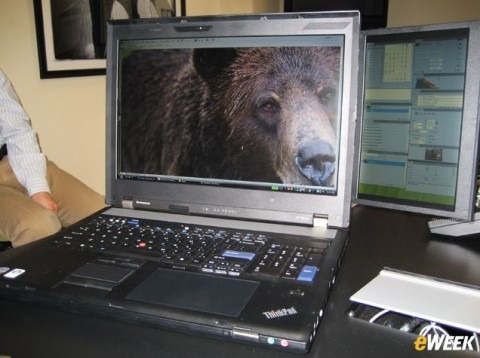 Buried in eWeek's article about the Lenovo ThinkPad W700ds there's a photo gallery of live shots of the dual-display mobile workstation.  You've seen the screen in pop-out action; now ignore the glossy press shots and check out a whole 10.6-inch sub-screen packed full of Photoshop tools.
More shots of the Lenovo ThinkPad W700ds after the cut
As the side-profile shot in the gallery below suggests, there's no disguising the extra thickness involved in adding a slide-out second display.  The lid section of the W700ds is almost as thick as the base, and considering that's hiding anything up to a dual-disc RAID array together with more processing power than a lot of peoples' desktop PCs, it's certainly saying something.
Still, it's a great case of "why not build for a niche within a niche", and it's good to see a company not taking the middle-of-the-road route all the time.  ThinkPads have generally been seen as the sensible choice; with the W700ds there's still the sensible build-quality (check out the internal mechanism, shown below, if you have any doubts!) and reliability, but an impressively off-the-wall concept to go with it.