Lenovo ThinkPad W700ds Prototype Caught On Video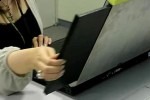 While I know Lenovo's ThinkPad W700ds dual-screen workstation would likely break my weak blogger's back should I actually try to lift it, that still doesn't end its appeal.  A video of one of Lenovo's prototypes has shown up, showing the mechanism by which the second, 10.6-inch LCD display slides out and then back into the W700ds' lid, behind the primary 17-inch display.
Check out the video after the cut
Of course, as a prototype, the mechanism is slightly more DIY than production-line-polished; hopefully the end result will have a far smoother action and an easier way to pop it out.  The lady in the video does have to dig around a little to trigger the sub-display, but I guess that's better than it shooting out at inopportune moments.
The W700ds is based on Lenovo's original ThinkPad W700, complete with monster specifications under the hood and an integrated Wacom digitizer in the palmrest.  Expected to begin shipping in January 2009, priced from around $3,600, the W700ds will be available with a choice of Intel Core 2 Quad processors, up to 8GB of RAM, various standard and solid-state RAID arrays and NVIDIA's Quadro FX 3700M GPU.
[thanks Alex!]