Lenovo S5000 Tablet Aims To Undercut Nexus 7 With Moderate Specs
While the two devices may look rather similar, that's where the differences begin between the Lenovo S5000 and its already-on-the-market rival Nexus 7 (made by ASUS). You'll want to have a peek at SlashGear's Nexus 7 (2013) review to see the full run-down on what it means to work with this Google-sold tablet, but for now you'll have to have a peek at what Lenovo is bringing to the table later this year in the S5000. Here we've got a tablet with a 7-inch IPS LCD display with 1280 x 800 pixel resolution and brightness at 350 nits riding above Android 4.2 Jelly Bean and Lenovo's own unique user interface features on top of it all – sound like a solution you'll be looking at this season?
While the Google Nexus 7 works with the most basic of software builds in Android 4.2.2 (for now), Lenovo's tablet here aims for its own added bit of functionality with a set of built-in smart gestures and "convenient short cuts" for one-handed use – we'll have a look at what this all means in our first hands-on experience this week at IFA 2013. Outside of that, you've got a lot of hardware that looks to be right on-par with the general 7-inch tablet population.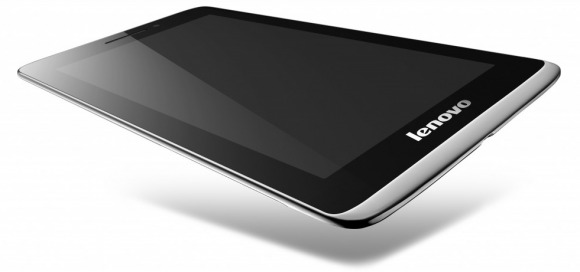 This tablet works with a MediaTek 8389 quad-core processor clocked at 1.2GHz with 1GB LP DDR2 RAM and one option for internal storage: 16GB. At the moment it does not seem that the device will have any storage expansion via microSD card slot, and you'll be rolling out with a 3450mAh battery for what Lenovo suggests will be 8+ hours of use.
This tablet weighs in at 246g in its wi-fi edition and 249g in its 3G edition. This device works with 3G connectivity in select regions, and will be released with an optional folio case as well as screen protection film. The Lenovo S5000 works with Bluetooth 3.0/4.0 (suggesting it has both, which is strange), as well as a standard microUSB port for charging and connecting to your PC for syncing.
At the moment there's no word on pricing for this device other than the often-stated "affordable", while it's suggested that a final release window is set for the fourth quarter of 2013. It's also not clear at the moment whether or not this device will be released inside the USA – while Lenovo hasn't been too keen to release smartphones inside the states, they have indeed brought on their fair share of Android tablets in the past few years. We shall see!