Lenovo IdeaPhone K900 Vs iPhone 5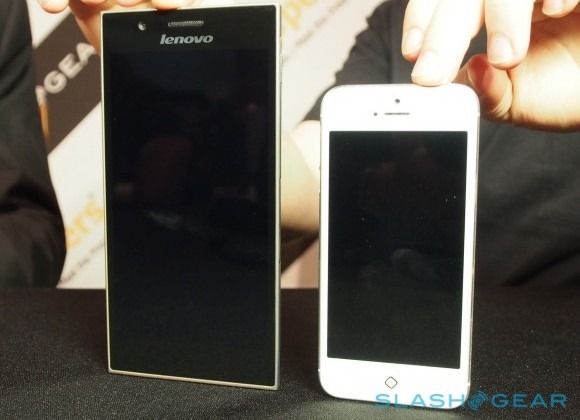 While Apple keeps up the mobile hero action with their iPhone 5 all around the world, Lenovo brings forth a massive beast of a device known as the IdeaPhone K900. These two devices are just about as different as two phones can get, the iPhone working with a 4-inch display, the IdeaPhone K900 bringing on a beastly 5.5-inch display, but the similarities are there: both companies want the world to understand that they want to push forth a hero made not only to destroy the competition with specifications, but as a solid project that's more than the sum of its parts.
You can get the full details of the Lenovo IdeaPhone K900 in our original hands-on from just a bit earlier tonight, but the key bits appear to be this: a solid thought-out bit of hardware surrounding Lenovo's unique brand of Android and an Intel Atom Z2580 (Clover Trail) processor. The iPhone 5, compared in those aspects, is of course also a solid thought-out bit of hardware surrounding Apple's own entire mobile OS (iOS) and an Apple A6 chip.
At the moment there's really not a whole lot we can compare between the two because of the prototype stage of the Lenovo device, but the approach appears to be very similar. Of course Lenovo's device runs Google's mobile OS instead of their own in-house software, but they seem to want to move forward with a single device as a hero. We'll see this year if they stick to their guns.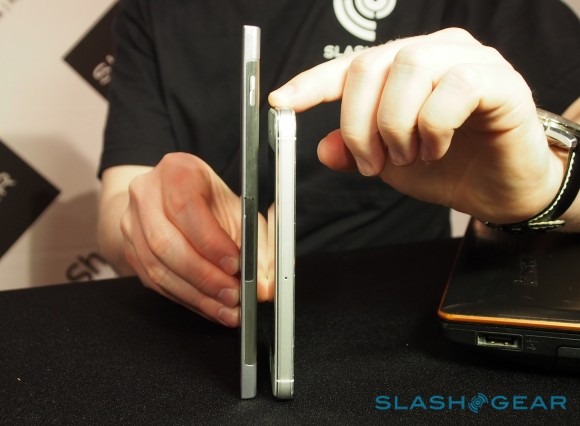 Have a peek at the couple of real simple photos we've got of the two of these devices side-by-side and let us know if you feel like the two are going to be hitting the same person's pocket any time soon. Be sure to see our CES portal as well as the ShowStoppers 2013 tag to see more action throughout the night and forward through the rest of the week, and keep an eye tuned for more sweetness from all angles!