Lenovo IdeaPad Yoga 11S Review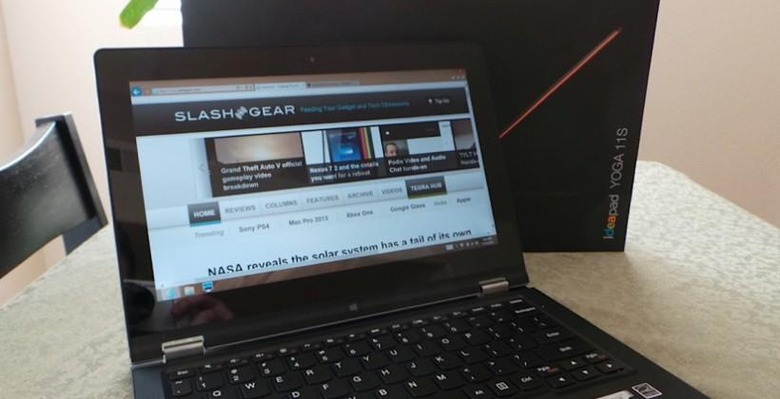 Being touted as a "mini ultrabook" the Lenovo IdeaPad Yoga 11S is the latest and greatest to grace the IdeaPad lineup with full-fledged Windows 8 on board. Everything about the Yoga 11 from last year is still present, only we've received a huge upgrade to an Intel Core 15 processor (no ARM Tegra 3 here) and dropped Win RT for the full experience. The device is still as portable and impressive as ever, so read on for the rest of our thoughts.
If you're a fan of the IdeaPad Yoga 11 or Yoga 13, there's absolutely nothing not to like about the new and improved 11S. It's faster and better in every way, while keeping true to the original complete with the 360 degrees hinge setup offering multiple viewing modes and usage experiences. Lets take a look.
Hardware
Now before we start on hardware (or anything else for that matter) you'll want to check out our original Lenovo IdeaPad Yoga 11 Review, as it's the same experience in terms of the general hardware. We're working with an 11.6-inch 1366x768 resolution HD IPS display, Intel HD Graphics 4000, 8GB of fast DDR3 RAM, 256GB SSD hard drive, and Bluetooth 4.0 on board. Flip it into tablet mode and you've got an excellent touch experience, not to mention full out Windows 8.
Just like the original we have Silver Grey, or an epic looking Clementine Orange for color options. Then Lenovo also has two pricing models too. Starting at $749 you get a Core i3 at 1.4 GHz, 4GB of RAM, and 128GB of storage. From there the price bumps to $999 and you get the high-end (although not Haswell) specs mentioned above. Now lets talk about the outside.
Again, nothing's changed here. We have the same soft to the touch durable materials on the outside and magnesium aluminum frame, followed by a sleek build and chicklet keyboard under the hood. The entire wrist rest area is almost a soft to the touch fabric as well, which has us worried about longevity. On the outside is the power button on front, USB 2.0 on the right and 3.0 on the left (in blue), followed by HDMI out and a 3.5mm headphone jack. Back to the right edge we have a screen orientation lock, SD for expanding on the 256 GB of storage, and the proprietary charging port. Don't forget your cable or you'll be sorry out of luck.
Just like our original review, what's not to love. It's thin and portable being only 11.73" x 8.03" x 0.67" in size and barely over 3 lbs. We get a solid 6 hours of battery life, and even a 720p front webcam for Skyping with friends and family. It really is the best form factor for a laptop/tablet on Windows 8. The ThinkPad Helix was neat, but a mess to use in real life. The IdeaPad Yoga 11S is more manageable, and more comfortable.
In closing, we absolutely love the hardware. It's as portable as ever (save for maybe the MacBook Air) lightweight, durable, comfortable, and extremely adaptable to your needs. Being a Lenovo you know the build quality is awesome, as will be the support should you have issues. Our only hardware complaint would be that both USB ports aren't 3.0, and the keyboard isn't backlit. That should be standard these days, even at this price point. Oh and one other thing, the display is a bit glossy. We'd love a matte anti-glare option in the future. That aside, we love the Yoga 11S.
Display
As mentioned above, we're working with an 11.6inch HD display that's also an IPS panel. That means wide 178 degree viewing angles and excellent color reproduction. Viewing angles were great, colors were vibrant, and blacks were inky black. The overall bezel could be smaller, but then again this form factor is nearly perfect if you ask me.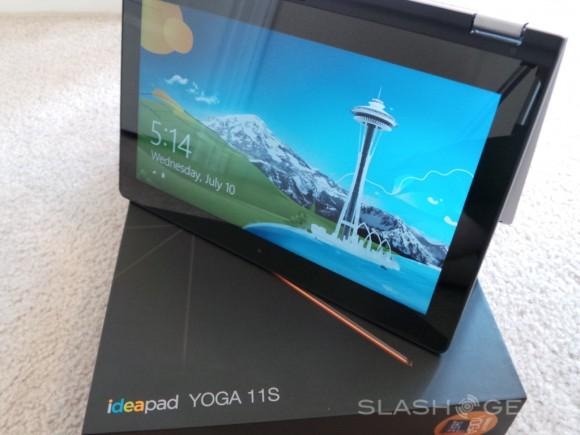 The touchscreen was smooth, stable, and responsive. Flipping through Windows 8 was easy and extremely accurate, although of course Win 8 could still use a little work in the touch department. Brightness was never a problem outdoors, and our only complaint again would be the glare from this glossy (but beautiful) display.
Software
We really had one complaint when we reviewed the original Yoga 11, and that was obviously the fact that we were stuck with Windows 8 RT and an ARM chip under the hood. No steam games, no latest Win 8 apps, nothing. The watered down experience was a bummer, but Lenovo fixed all that here. While we still are stuck with a slightly outdated Core i5 processor (instead of Haswell) we get full on Windows 8. Perfect!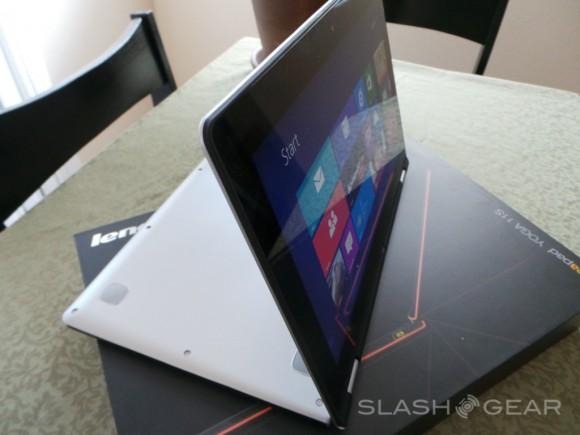 Unlike the Yoga 11, the 11S is a full Win 8 machine so we were able to run some Steam games, although obviously the integrated Intel 4000 HD graphics can only take you so far. A little Starcraft 2, some old school Counter-strike, and I even played Angry Birds in the Chrome browser while using the 11S in tablet mode.
Lastly, we ran a few GeekBench tests just to check the performance, for those curious. Again, there's no i7 under the hood, nor do we have an Intel Haswell processor. So the 1.5 GHz Intel Core i5-3339Y Processor did just about as expected. Check em out below for those interested.
[sgbenchmark id=215 show=score]
[sgbenchmark id=215 show=system]
Overall the i5 handles the full Windows 8 experience just fine. Lenovo's Yoga 11S is the perfect blend between the bigger Yoga 13, and the underpowered original 11. If you've been on the fence, this should help you out.
Battery Life
Now battery life is always a mixed bag here, especially considering the user, his usage, and other variables. As usual we tried to get the estimated 6 hours of battery that Lenovo quotes, but never quite made it. A few times once fully charged the battery lasted under 5 hours, but we did manage a solid 5 hours and 12 minutes with intermittent games, browsing, downloading apps, and watching some Dark Knight Rises.
With the screen turned down to about 40% we managed a solid 5+ hours no matter the usage (except for gaming of course) and felt it was quite decent. Then again, this is where Haswell would really come in handy.
Competition
The options available are pretty open at this point in Windows 8's life. There's tons of options available, not to mention the original Yoga 11 for those on a budget. However, we feel the full Win 8 experience is essential to truly enjoy this machine. Others that come to mind would obviously be the MacBook Air, which by the way, recently got upgraded to Haswell, and even the Google Chromebook Pixel.
Now that we have a full Windows 8 build here and a Core i5, we'd put this up against any other Windows 8 machine in the price range in terms of overall usage and functionality. The 360 degrees hinge really comes in handy more than you'd think. The Yoga 13 is another excellent option, but for those on the go the 11S is the clear choice.
Wrap-Up
In closing, we've enjoyed using this machine for the past few weeks. The Lenovo Ideapad Yoga 11S has a unique design, and could be one of my favorite hybrid/portables on the market. It's made for the traveler, and can do it all whether you're out and about, or sitting on the couch. With Lenovo you know it is top quality, and it shows during daily usage.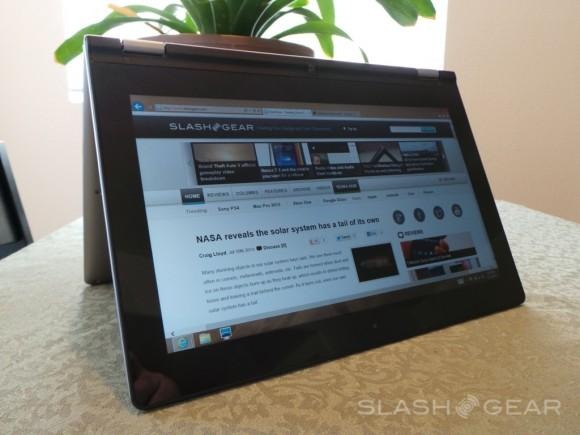 The Yoga 11S is one of the most portable and flexible machines on the market, and now that we have full Windows 8 nothing will be slowing you down. Give us a similar design with Haswell and a bigger battery, and we'll be plenty happy. In the meantime you can't go wrong with the IdeaPad Yoga 11S. Get one today!