Lenovo IdeaPad Yoga 11 Review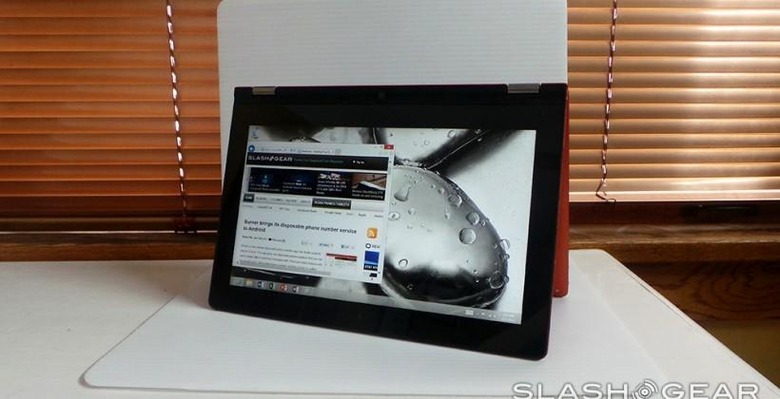 With the Lenovo IdeaPad Yoga 11, we've got the smaller cousin of the IdeaPad 13, this 11-inch display-toting machine working with a size that's not just smaller physically. Inside this device we've got the NVIDIA Tegra 3 quad-core processor paired with Microsoft's Windows RT and a 5-point multi-touch display. This display exists on a hinge that allows this notebook to fold 360 degrees back and flat.
Hardware
This machine's screen is an 11.6-inch TFT LCD with 1136 x 768 pixel resolution working with LED Backlit technology and 350 nits of brightness. This display has a 170 degree viewing angle both vertical and horizontal, and its certainly good enough to work long hours worth during the day. If you're thinking about working with this device in the dark, you might want to take a test-drive in the store first.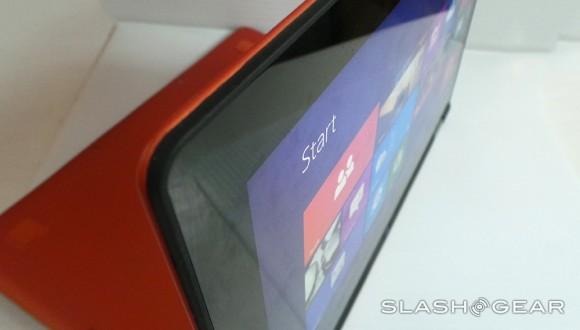 With blacks this dark and a keyboard that's not backlit, you'll want a bright lamp over your shoulder at least. If you want to bring this device to the coffee shop, you're looking at a winner. This machine is 11.7 x 8 x 0.61 inches small, and save the MacBook Air itself, we've never experienced a more portable system. With just 2.73 lbs to its name, this machine is ready to be tossed in your backpack or large purse without effort.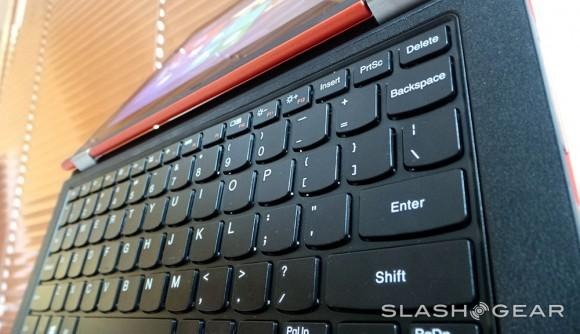 Because this machine is made by Lenovo, it's extremely rugged. While when we're working with essentially any other notebook this size, there's always a thought of "ah, gotta make sure I'm not dropping it." With the Lenovo IdeaPad Yoga 11, we've got a machine that we're as close to "lemme toss this to you across the room" as we've ever gotten with a computer. With soft-touch plastic around magnesium aluminum alloy both on the top and on the bottom – in a lovely set of colors, might I add – you've got what feels like a top-notch complete package.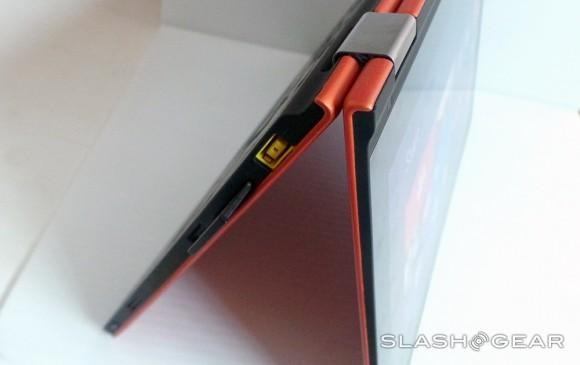 Inside you've got a few more specifications you might want to hear about if you're planning on using this device for anything other than word processing, internet browsing, and some basic gameplay. Have a peek:
• 2 GB std / 2GB max / PC3-12800 1600MHz DDR3L*, soldered to system board, no sockets *System automatically clocks down to 1500MHz for NVIDIA Tegra3 T30 processor

• Audio: High Definition (HD) Audio, Realtek® ALC5642 codec / stereo speakers (0.5 watt x 2), microphone, microphone input and headphone combo jack (3.5 mm)

• 64 GB / eMMC (embedded Multi Media Card) flash memory onboard

• 2 x USB 2.0, HDMI, SD card reader, 3.5mm Mic/Headphone Combo

• Ambient Light Sensor, Accelerometer, 3-axis gyroscope, Digital Compass

• OGS Panel – Single piece of glass as both cover lens and sensor substrate
The hardware is solid and really, really high quality. You'll be considering the software it's paired with next – and more than likely last, too. Make sure you know what you're working with here and follow the Windows RT news before you jump in, feet first.
Software
It's not easy reconciling the fact that this beautiful machine is working with Windows RT. Having a touchscreen up front that's able to be used in several different modes is awesome, but when you're crippled by an operating system that looks and feels like Windows 8 but isn't – that's confusing.
Using Windows RT is almost like eating an off-brand cereal without seeing the box: it certainly looks like the real deal, but once you taste it, you get wise. You'll be unable to run Google Chrome, Valve's Steam for games, or Geekbench for benchmarking your system. With Windows RT, you're getting what's closer to what seems to be intended as a tablet system rather than a full-fledged notebook setup.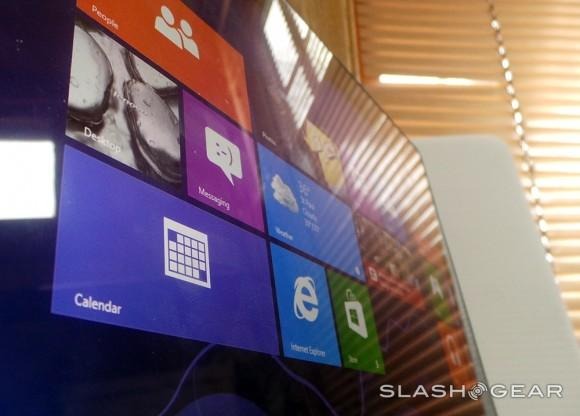 That said, you do get the option of ordering this system with the full Microsoft Office suite running right out of the box. Microsoft has been pretty good about making sure their own basic set of apps works on Windows RT, and you do have access to the NVIDIA TegraZone Windows RT Edition as well – however limited that may still be. If Judge Dredd VS Zombies and Hydro Thunder are enough to wet your whistle, then by all means go for it – NVIDIA is also growing this collection too as the NVIDIA Tegra 3 processor (found inside this device) stays strong through 2013.
Up against the Competition
Your big question might be at this point what the benefit is in having this device over any other – especially one so inexpensive as, say, a Chromebook. When it comes down to it, this device has that same acceptance curve as a Chromebook has – you just can't run everything you run on your full-powered PC. We'd even thought about trying to work with this device as a sort of top-tier Chromebook too to test how it'd be, but again, Chrome doesn't work on Windows RT.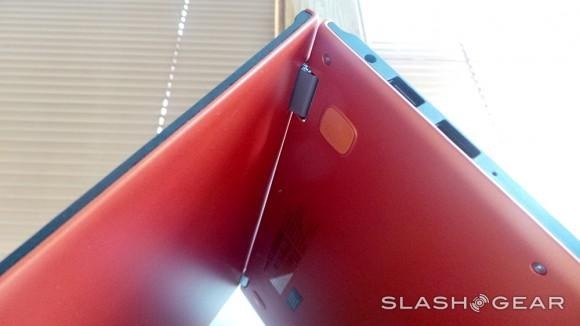 If you're comparing this device to a full Windows 8 Lenovo notebook, you'll be in for a trick – working with Windows 8 on the IdeaPad Yoga 13 is a good enough to feel a bit left out with the Yoga 11's relative lack of oomph – and it's certainly not a device you're going to want to compare to a MacBook Air unless you only need it for word processing and browsing the web (on Internet Explorer). The price for this machine does remain enticing: anywhere from $599 to $849 USD and you've got a real draw. Compare it to the relative greatness of the Yoga 13, on the other hand, and you might as well drop the extra few bucks to work with full Windows 8 and the larger display.
Wrap-up
You'll have to think this one through – unlike the Lenovo IdeaPad Yoga 13, you've not got a full-powered PC on your hands here. This device is made to be a traveler, and certainly not your one single machine if you've got a computer-based job. Should you want to use your PC for nothing but social networking and play, this is a good choice – it's relatively inexpensive and it's good for travel.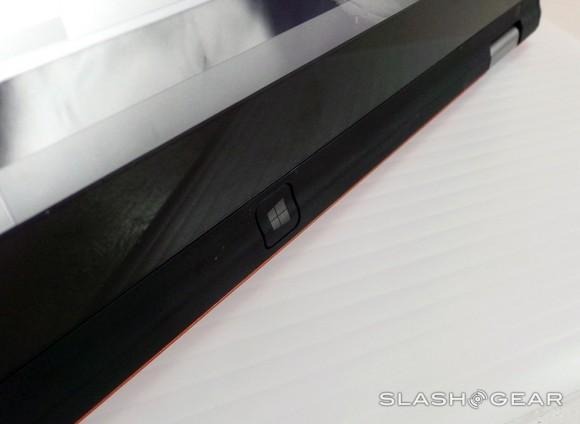 Lenovo has created a bit of a bitter winner here. While many devices in this category are pretty awesome from top to bottom save their end product, the IdeaPad Yoga 11 is rough and tough and is something I'd put in my backpack for a trip. If I were going on a business trip with my SlashGear compatriots, I'd have to leave it at home.