Lenovo IdeaPad U160, U460 & U460s intro latest Core i3/i5/i7 ULV CPUs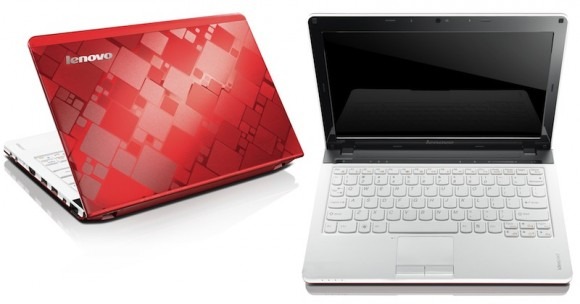 The IdeaPad Z series aren't the only mainstream notebooks Lenovo have to announce this morning; the company has also taken the wraps off of the new Lenovo IdeaPad U series.  Admittedly the new IdeaPad U160, U460 and U460s aren't quite as interesting as the U1 Hybrid, but the 11.6-inch U160 and 14-inch U460 and U460s do slide in at under an inch in thickness while still packing Intel's new Core and Core ULV low-power processors.
There are multiple configurations for the three new models, with a choice of new ULV CPUs including the Core i3-330UM (1.2GHz), Core i5-430UM (1.2GHz), 1.06GHz Core i5-520UM (1.06GHz), Core i5-540UM (1.2GHz), Core i7-620UM (1.06GHz) and Core i7-640UM (1.6GHz) for the U160 and U460s, as well as standard voltage processors on the U460.  All get WiFi and Bluetooth, and the U160 is 2.9lbs while the U460/U460s are 3.8lbs.
Lenovo reckon the U series look like a closed book in profile, and while we're not entirely convinced we'll admit they do look quite striking (especially the U160 in red).  Connectivity includes HDMI, VGA, the usual bevy of USB 2.0 and ethernet, and the three models will arrive from June priced from $699.
Press Release:
Lenovo's Expanded Line of Consumer PCs Beg the Question: "What's Your Idea of Fun?" Consumers Find their Perfect PC Match with Lenovo's Latest Laptop, Desktop and All-in-One Offerings

RESEARCH TRIANGLE PARK, NC – May 11, 2010: Lenovo (HKSE: 0992) (ADR: LNVGY) today expanded its lineup of consumer laptop, desktop, all-in-one (AIO) and nettop PCs with exciting new designs and technologies that make computing more enjoyable and affordable.

Lenovo's latest IdeaPad and IdeaCentre PCs offer something for everyone, with clever features that inspire fun and creativity, and a complete range of form factors and designs that fit specific consumer needs. The new models include the IdeaPad Z series affordable multimedia notebooks – Z360, Z560 and Z565 – and the IdeaPad U series ultraportables – U160, U460 and U460s. Also announced are the IdeaCentre A700 stylish multimedia AIO, and the IdeaCentre B305 mainstream performance AIO. Alongside this expanded portfolio of all-in-ones come the IdeaCentre Q150 – an ultra-thin nettop PC, and the Lenovo H320 affordable slim tower desktop PC.

"In the less than three years since Lenovo launched its worldwide Idea brand of PCs, we have expanded our consumer footprint to more than 85 countries, firmly establishing our presence in the consumer PC market," said Dion Weisler, vice president, Business Operations, Lenovo. "Lenovo's consumer business recently achieved 89% year over year growth, outpacing the competition. The latest additions to the Idea portfolio demonstrate Lenovo's commitment to leading the consumer market with stylish, feature-packed PCs that make computing more fun and enjoyable for all."

Style and Entertainment To Go

Lenovo's latest IdeaPad laptop PCs, the Z series and U series, are designed for consumers whose idea of fun is living life on the go and desire a laptop with features that can keep up with their exciting lifestyle.

The most recent addition to the IdeaPad family, the Z series, brings mobile multimedia to the masses through a rich, enjoyable entertainment experience at a competitive price point. Starting at just $649, the new Z series is an affordable laptop that comes across as a high-end luxury device, with its fashionable chiclet keyboard encased in a modern hairline, metallic effect cover panel. Users will enjoy watching their favorite movies on the new Z series with its high-definition (HD), 16:9 format widescreen (available in 13.3 and 15.6-inch models), optional Blu-ray Disc™ drive, and Dolby® Advanced Audio for a stunning audio experience. With OneKey™ Theater II, optimized audio-visual settings are enabled at the press of a button, making the Z series great for videos and multimedia content. The IdeaPad Z360 and Z560 are available with the all new 2010 Intel® Core™ processor family and NVIDIA® GeForce® graphics, while the IdeaPad Z565 is offered with up to AMD Phenom™ II processors and integrated ATI Mobility Radeon™ graphics.

Sleek and stylish, the IdeaPad U series caters to the fashionista in all of us. Each of the new models – the IdeaPad U160, U460 and U460s – offer ultra-portable, light designs and long battery life to allow travel-loving consumers to stay entertained and in touch no matter where life takes them. The clean and sophisticated appearance of the redesigned U series is made possible by its "U" shaped outline inspired by a closed book lying on its side, while its textured aluminum top cover adds a further touch of style and class to its elegant design. Measuring less than one inch thick and 3.8 pounds, the 14 inch U460 and U460s can be configured with up to an Intel® Core™ i7 processor with Intel Turbo Boost Technology for impressive performance in a thin and light design. The U460 features a standard voltage processor, while the U460s and U160 come with ultra-low voltage processors for even longer battery life and lower power consumption. The U160 weighs in at a mere 2.9 pounds and 0.9 inches at its thinnest point. For staying connected to friends and family while on the move, the U series comes with integrated Wi-Fi and Bluetooth connectivity, and a range of user-care features including an Ambient Light Sensor, Active Protection System and data recovery tools.

Expanded All-in-One Portfolio

Lenovo's latest A700 and B305 all-in-one PCs are perfect for individuals or families that enjoy the powerful performance of traditional desktop PCs but desire the fun features of an AIO design such as touch screen capabilities, HD monitor and a streamlined appearance.

The IdeaCentre A700 is a stylish, ultra-slim AIO PC that packs the latest processor and graphics into a curvaceous aluminum body measuring merely 0.8 inches at its thinnest point and only 2.5 inches at its thickest. The A700 includes just about every home entertainment feature you can think of, beginning with a 23 inch Full HD widescreen, up to Intel® Core™ i7 processor with Intel® Turbo Boost Technology, HDMI in/out support for connecting to other HD devices such as a TV or gaming console, JBL designed speakers with Dolby® Home Theater™ and the latest DirectX® 11 graphics. The A700 also features a unique 3-in-1 mouse1 that functions as a standard mouse, air mouse/pointer and motion-drive games controller. For faster, more responsive application performance, the A700 can be configured with up to 8GB DDR3 memory and up to 2TB of storage so users don't have to worry about running out of hard drive capacity when saving their favorite movies, music and games.

Those who are seeking high-performance gaming and family entertainment can turn to the IdeaCentre B305, which delivers compact performance with up to AMD Athlon™ II X4 Quad-Core Processor. Available in a 21.5 inch widescreen form factor, the B305 offers Full HD resolution video playback and optional DirectX 11 graphics. The B305 also features LED Panel Technology, providing a greater dynamic contrast ratio compared with standard LED-backlit screens, for clearer, sharper images and richer colors.

Lenovo is for the first time introducing touch screen capabilities on the IdeaCentre A series and B series all-in-one models, with select A700 and B305 configurations offering Lenovo NaturalTouch fingertip touch screen technology, and a suite of touch-enabled multimedia applications developed to enhance the touch screen experience. The A700 is the world's first PC to utilize Surface Acoustic Wave (SAW) touch screen technology, as used in certain medical applications, for the most reliable and responsive touch experience.

The IdeaCentre A700 and B305 feature the unique Lenovo Enhanced Experience certification that delivers an optimized boot and shutdown process, rich multimedia capabilities and easy system maintenance tools. Each of the new IdeaCentre A series and B series models include 5-in-1 media card readers and side and rear mounted USB ports. The new all-in-one models also include integrated high-speed 802.11b/g/n Wi-Fi and Lenovo Rescue System software to quickly and easily recover data if a document is lost or becomes corrupt.

Ultra-Thin Nettop PC

If your idea of fun is tricking out your living room entertainment center, then the Lenovo IdeaCentre Q150 is the perfect solution. At just 0.82 inches wide and 6.7 inches high, the Q150 enhances the living room entertainment experience and can fit into just about any small space in the home. The Q150 is an affordable nettop PC that can be connected to a TV or monitor, or even mounted behind with the VESA bracket to create a virtual all-in-one. Featuring an optional NVIDIA® ION™ 512MB graphics processor, which delivers smooth Full HD (1080p) video via the onboard HDMI output, the IdeaCentre Q150 is a great way to enjoy internet video in your living room. The IdeaCentre Q150 also features an optional multimedia remote with an integrated trackball mouse and mini keyboard for convenient multi-tasking of e-mails, web browsing and video playback all on a single device.

An Essential PC for Work and Play

Lenovo today also updated its essential brand of affordable home computers with the introduction of Lenovo's first slim tower desktop PC, the H320. Lenovo's essential family of laptop and desktop PCs are intended for consumers who want the latest technology, including multimedia and security features, for use at the office or while relaxing at home.

The latest generation of Lenovo H series desktop PCs can meet the computing needs of just about any family member whether it is for work, play or education. The H320 presents a purposely slim and compact form factor, around half the size of standard desktop computer2. With the capabilities of a larger traditional desktop, the H320 boasts powerful performance with the all new 2010 Intel® Core™ processor family, and up to 8GB of memory on select models.

The H320 is equipped with user care features like Lenovo Eye Distance System3 which alerts you if you are too close to the screen, and Lenovo Dynamic Brightness3, which protects your eyes by automatically adjusting screen brightness based on surrounding light conditions. These features require a compatible Lenovo monitor such as the L2361p.

Pricing and Availability

All of the PCs will be available through www.lenovo.com. The IdeaPad Z360, Z560 and Z565 are available beginning in June. Manufacturer suggested retail pricing (MSRP) for the Z360, Z560 and Z565 will start at $649. The IdeaPad U160, U460 and U460s are available beginning in June and will start at $699. The IdeaCentre A700 will be available beginning at the end of June and will start at $999. The IdeaCentre B305 will be available beginning in June and start at $699. The IdeaCentre Q150 will be available beginning at the end of June and will start at $249. The Lenovo H320 will be available beginning at the end of June and start at $549.