Lenovo IdeaCentre Q110 NVIDIA Ion nettop on sale now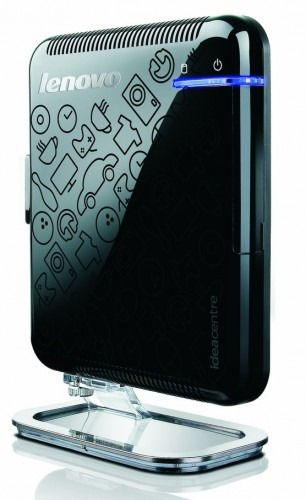 Lenovo's NVIDIA Ion packing nettop, the IdeaCentre Q110, has finally hit virtual shelves, with prices starting from $399.  A compact 6 x 6.8 x 0.8 inches, the Q110 uses Intel's single-core Atom 230 1.6GHz processor with 2GB of RAM, a 160GB hard-drive and Windows Vista Home Premium 64; an upgrade to Windows 7 upon its release next month is also included in the price.
Ports include four rear-mounted USB 2.0, HDMI, ethernet and a headphones socket, while there's also a front panel with further connectivity.  Accessories are limited, however; you get the nifty stand for desktop use (you can also fix the Q110 to the VESA mount on the back of an LCD display) but there's no keyboard, mouse or monitor.
The Q110 goes on sale alongside the more mainstream Lenovo IdeaCentre Q100, which also has an Intel Atom processor but lacks the NVIDIA Ion chipset.  The Q100 starts from $299 and is also available now.
[via Netbooked]