Lenovo launch IdeaCentre Q100/Q110 nettops, D400 Home Server & Q700 HTPC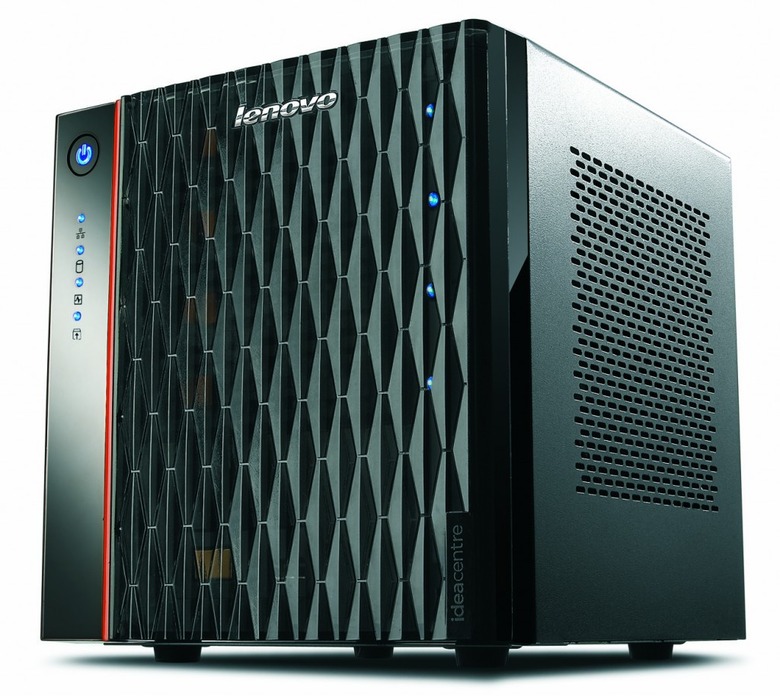 And now it's time to get some of that NVIDIA goodness out there. Lenovo has launched the IdeaCentre Q100/Q110 nettops, which are housing the impressive NVIDIA Ion graphics processor. As if the NVIDIA Tegra wasn't good enough for the mobile market, it looks like company's like Lenovo know a good thing when they see it, and with the prowess that the Ion boasts, it's looking like the upcoming releases are prepped to be fantastic machines.
The D400: Lenovo's IdeaCentre D400 home server securely houses large amounts of data for professionals and personal use, including videos, music, and photos. Users can easily set up a home network to store and share files across different devices such as PCs and smartphones. They can also regularly back up PCs on the network to support a small office or home office.
The Q700: Lenovo's DVD-like IdeaCentre home theater PC connects with multiple devices, including digital cameras, smartphones and more so consumers can watch videos in full HD resolution, view photos and listen to music all on their TV. They can also watch and record digital TV with the optional TV tuner and remote while seamlessly integrates multiple media sources into a single device.
The Q100: The IdeaCentre Q100 competes the collection of new digital lifestyle device and stands out with a stylish black patterned design. These tiny PCs measure 0.7 inches thin, making them the thinnest nettops yet at just the size of a small book. The nettops feature an Intel Atom processor, making them ideal for performing basic functions like web surfing, downloading content, and producing internet-based documents.
The Q110: This may be the smallest, most powerful nettop yet. Equipped with Nvidia ION graphics, the nettop supports HD video and can handle accelerated media conversion and other tasks consumers would expect from full size desktops.
Press Release:
Lenovo Expands "Idea" Consumer PC Line with Its First Digital Home Products

Introduces World's Thinnest Nettop PCs

RESEARCH TRIANGLE PARK, NC – August 19, 2009: Lenovo today announced three new PC devices that deliver power, performance and style to the digital home experience. Lenovo's first home theatre PC – the IdeaCentre Q700 – provides high definition 1080p playback and digital surround sound for a variety of multimedia formats displayed right on a user's HDTV. Lenovo's first home server – the IdeaCentre D400 – makes managing content across several PCs simple.

In addition, the IdeaCentre Q100 and Q110 nettops continue to push the envelope on thin and light design as the world's thinnest nettops1 while extending the entertainment experience with support for HD video on the Q110. Lenovo also expanded its ultraportable line with the thin and light IdeaPad U450p for extra portability.

The News

The digital living room, with a PC as the centerpiece of the entertainment experience, continues to grow worldwide as more consumers create and consume content. Because consumers want a compact and easy-to-use solution to enjoy their multimedia, Lenovo designed two new product lines –the Q and D Series – to fit this digital life, in style

Due to explosive growth of multimedia content combined with a greater selection of varying types of PCs, consumers now are considering size, versatility, performance and price more than ever before when selecting PCs for their homes. Lenovo's Q Series offers a range of PC products to complement the home theater experience and simplify the living room or study

With more people creating and consuming content than ever before and home networks and high speed Internet adoption continuing to increase, home servers like the D400, are becoming important tools to manage content created on several different PCs and devices

The Facts

· According to a June 2009 Forrester Research, Inc. report titled US Online Consumer Survey: Technology in the Home, 2008, "roughly two-thirds ofUS living rooms have a PC and an Internet connection along with the standard TVs, DVD players or DVRs. This presents an interesting opportunity for the consumption of video and music on PCs connected to entertainment devices, as consumers are interested in using these devices interchangeably for the consumption of digital content."2

The home server market is growing. IDC forecasts home server shipments to have a compound annual growth rate of more than 110 percent from 2007-2012 for both home and commercial customers worldwide3

Quote

"Lenovo will be a great addition to the category of home servers powered by Windows Home Server software," said Eugene Saburi, general manager, Microsoft Solutions Marketing. "With the IdeaCentre D400 home server coinciding with the availability of Windows 7 on Lenovo laptops and netbooks, consumers will have an affordable solution that enables them to unleash the power of their home networks."

"We created our latest IdeaCentre PCs to help consumers manage their personal and professional content with the performance they need and with a style that expresses their individuality," said Dion Weisler, vice president, Business Operations, Lenovo. "Our super small nettops give consumers the portability of a laptop, making them a versatile and affordable part of the digital home experience."

"The Lenovo Q110 with NVIDIA ION delivers knockout graphics capabilities for its diminutive size," said Manoj Gujral, general manager, Desktop GPU Business, NVIDIA. "With its ION graphics processor, this tiny PC can do more than many full-size desktops, letting users enjoy full HD movies, play mainstream games, edit family videos and even quickly convert video to an MP3 player."

The IdeaCentre Q700 – Multimedia Powerhouse for the Home

Lenovo's DVD-like IdeaCentre home theater PC connects with multiple devices, including digital cameras, smartphones and more so consumers can watch videos in full HD resolution, view photos and listen to music all on their TV. They can also watch and record digital TV with the optional TV tuner and remote while seamlessly integrates multiple media sources into a single device.

Key Features Include:

Full High Definition: Supports 1920x1080 graphics and 7.1 digital surround sound

Fast Intel Core™2 Duo Processors: Provides silent and smooth video playback

Plenty of Storage: Stores up to 1 terabyte of content with eight USB ports and an eSATA port

Additional details for the IdeaCentre Q700 can be found on www.lenovo.com

IdeaCentre D400 – Simple Storage for Work and Play

Lenovo's IdeaCentre D400 home server securely houses large amounts of data for professional and personal use, including videos, music and photos. Users can easily set up a home network to store and share files across different devices such as PCs and smartphones. They can also regularly back up PCs on the network to support a small office or home office.

Key Features Include:

Plenty of Storage: Supports up to eight terabytes of total storage

Expandable and Easy to Use: Mix and match different brands and capacities of hard drives and even add and remove them while the PC is running. Connect multiple external storage devices with five USB ports, including a front-mounted port with one-touch data copy function and an eSATA port for high-speed external data transfer

Dependable and Secure: Duplicate important data on multiple hard disk drives for backup and security

Access Anywhere: Remotely access files from anywhere with an Internet connection by connecting remotely to the hub via a secure web page4

Additional details for the D400 can be found on www.lenovo.com.

The Idea Centre Q100 and Q110 – Thinning Down the Desktop

The IdeaCentre Q100 and Q110 nettops complete the collection of new digital lifestyle devices and stand out with a stylish black patterned design. These tiny PCs measure 0.7 inches thin, making them the thinnest nettops yet1 at just the size of a small book. The nettops feature an Intel Atom processor, making them ideal for performing basic functions like web surfing, downloading content and producing Internet-based documents. The Q110 may be the smallest, most powerful nettop yet. Equipped with Nvidia ION graphics, the nettop supports HD video and can handle accelerated media conversion and other tasks consumers would expect from full size desktops.

Key Features

· Ultra Slim and Small – At only 6 x 6.3 x 0.7 inches thin, the size of this tiny desktop makes it perfect for tight spaces. The nettop can even be mounted on the back of a monitor.

· Energy Efficient- The Q100 runs on just 14 watts when idle and 40 watts at full operation

· Enhanced Multimedia: The Q100 supports VGA output, while the Q110 supports 1080p high definition video with DirectX 10 graphics for crisp and vibrant content and 3G games and also enables smooth playback with Nvidia CUDA technology

Additional details for the Q100 and Q110 can be found at www.lenovo.com.

The IdeaPad U450p Laptop – Thin and Light Pumps Up Screen Size

The IdeaPad U450p laptop is designed for those looking to balance mobility and performance with style and affordability. Following the introduction of theIdeaPad U350, the 14-inch U450p offers Intel consumer ultra low voltage processors, long battery life and a wide range of entertainment and productivity features.

Key Features

Thin and Light: Sporting a sleek, textured design, the U450p laptop is 0.9inches thin and weighs less than five pounds.5

Optimized for Entertainment: With a High-Definition 16:9 screen, an HDMI connector and fast DDR3 memory, the laptop provides an excellent entertainment experience. It also includes a DVD burner/player for anytime access to multimedia on a CD or DVD.

Packed with Smart Features: The laptop comes with a range of smart features designed to make computing more convenient and productive, including OneKey™ Rescue System for easy data and system recovery and VeriFace™ facial recognition technology.

Additional details for the U450p can be found on www.lenovo.com.

.

Pricing and Availability6

The IdeaCentre Q700 home theatre PC and IdeaPad U450p laptop are available immediately through business partners and www.lenovo.com. The IdeaCentre D400 home server and Q100 and Q110 nettops will be available in mid-September.

The IdeaCentre D400 home server and Q700 home theatre PC start at approximately $499. The IdeaCentre Q100 and Q110 nettops start at approximately $249 and $349. The IdeaPad U450p laptop starts at approximately $799.

For the latest Lenovo news, subscribe to Lenovo RSS feeds or follow Lenovo on Twitter and Facebook.

About Lenovo

Lenovo (HKSE: 992) (ADR: LNVGY) is dedicated to building exceptionally engineered personal computers. Lenovo's business model is built on innovation, operational efficiency and customer satisfaction as well as a focus on investment in emerging markets. Formed by Lenovo Group's acquisition of the formerIBM Personal Computing Division, the company develops, manufactures and markets reliable, high-quality, secure and easy-to-use technology products and services worldwide. Lenovo has major research centers in Yamato, Japan; Beijing, Shanghai and Shenzhen, China; and Raleigh, North Carolina. For more information see www.lenovo.com.

1Based on available market information as of August 19, 2009. Compared with nettops from Acer and Asus with ultra small form factor PCs under 1L.

2US Online Consumer Survey:Technology In The Home, 2008, Corina Matiesanu, Forrester Research Inc, 2009

3Worldwide and US Home Server 2008-2012 Forecast, Richard Shim. IDC. 2008.

4Must be connected to a separately purchased wireless router. WWAN/WiMAX Service Providers: Requires separate agreement with select third party service provider, and is subject to credit approval and applicable service agreement/terms, rate plan and coverage maps of the provider. Service is available in select metropolitan markets, not available in all areas. Service provider, not Lenovo, is solely responsible for service. Lenovo customers may be contacted after purchase to activate service. Special credit and tenure restrictions and additional charges may apply to international roaming. A network connection, third-party software, additional hardware, and/or subscription to a third-party service may be required for certain solutions/applications. Additional restrictions apply.

5U450p weighs 4.6 pounds with six cell battery.

6Prices do not include tax or shipping and are subject to change without notice and is tied to specific terms and conditions. Reseller prices may vary. Price does not include all advertised features. All offers subject to availability. Lenovo reserves the right to alter product offerings and specifications at any time without notice