Lenovo HORIZON 2 Hands-On: Gaming Table With Smartphone Connectivity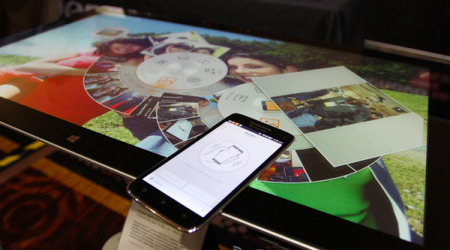 Supposing you've seen the massive Lenovo IdeaCentre Horizon 27 "Table PC" in the past, you know good and well Lenovo wasn't likely to make a whole lot more where that came from. Not because it wasn't an awesome product, but because there just isn't a calling for humongous table-sized PCs for playing games. Lenovo's decided that they're going to go ahead and roll with the idea a second time anyway with the Lenovo HORIZON 2.
With the Lenovo HORIZON 2, users are working with another 27-inch display, the same size as last year's model – but this time with a 2560 x 1440 pixel resolution. You're working with NVIDIA GeForce GTX 8 series graphics, a set of unique digital table accessories – like the weird digital dice from the first unit – and it connects with smartphones.
In a rather unique way, this machine connects with smartphones. What you'll be able to do with this machine is set your smartphone down on the table and have its contents displayed relatively quickly. In the demonstration we saw, the connection was made over Wi-fi in about 5 seconds – in just about the most data-fat arena in the world, at CES 2014.
This update to the original machine is just 19.5mm inches thin, weighs in at 15.4 pounds, and the company suggests you'll be working with 4 hours of battery life when you're not connected to a wall directly. This machine works with up to 4th generation Intel Core i7 processor technology and is ready for the 2014 season in entertainment, to be sure.
Release information is in short supply, bu we're to understand that this machine will be available in or around May of 2014. It'll be available for a starting price of $1299 USD then as well.