Lenovo C540 All-In-One Desktop PC Review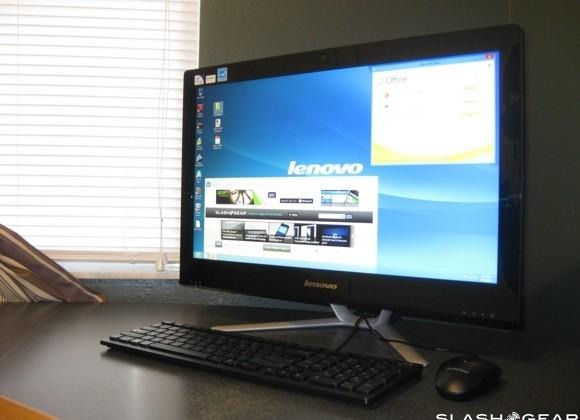 We first got word of the Lenovo C540 all-in-one back back in November of last year, however it wasn't until January when we saw a complete set of details and some pricing. That news came during CES and while that was a few months back, the C540 has only recently begun shipping. Lenovo has the C540 listed as being both affordable and family friendly. Further touting the C540 as having a complete set of entertainment features and a space saving design. Well, over the course of the past week we have been using the C540 all-in-one for our daily computing needs and you can read on to see how it stands up to those claims.
Hardware
Lenovo has these built out with a 23-inch display at 1920 x 1080, running Windows 8 and powered by an Intel Pentium G2020 processor. The model we tested had the processor clocked at 2.9GHz and with Intel HD Graphics 2500, 4GB of RAM and a 1TB hard drive. Hardware specs aside, the system itself has a decent overall look, albeit with a bezel that is a bit on the shiny side. Basically, that is just to say that you can expect to see dust, fingerprints and other smudges. Certainly not a deal breaker, but something to be aware of.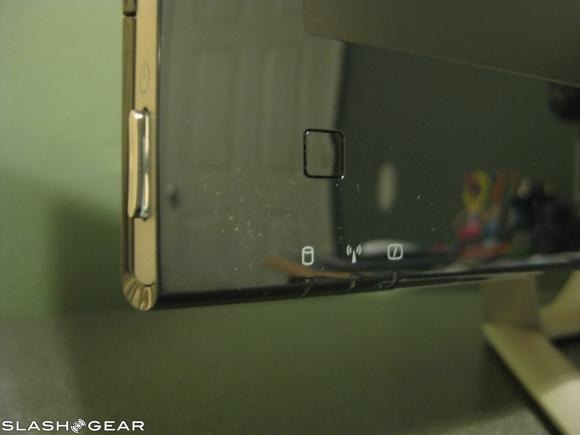 The setup itself is straight forward and easy. Aside from the 23-inch display, the C540 has a webcam sitting front and center on the top along with the power button towards the bottom on the left side of the system. In total there are six USB 2.0 ports — four on the back and two on the left hand side of the system. Also on the left side (above the power button) you will find the headphone and microphone jacks as well as a memory card reader. Rounding out the ports on the back and you have the power jack, HDMI and Ethernet. The system also has Wi-Fi 802.11b/g/n connectivity.
Basically, just what you need and all in easy to access locations. The system itself is on the thin side and looking from the front, would appear to be nothing more than a regular monitor. The good part here is that as the C540 is an all-in-one — there is no tower needed. Another item worth noting is a DVD drive which can be found on the right-hand side. Otherwise, Lenovo ships the C540 with a USB keyboard and mouse and has the system sitting on a stand that swivels allowing you to adjust the viewing angle a bit.
Software
The Lenovo C540 is running a 64-bit edition of Windows 8, which means it will bring an experience that will be familiar to many. The basics are all included which means when you first get up and running you will find tiles for goodies such as your mail and calendar as well as people, photos and more. There is also a live tile for the weather as well as tiles for SkyDrive, Games, Camera, Music and Video.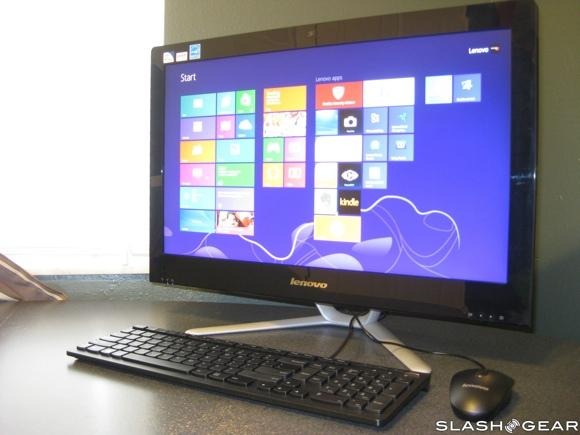 Aside from the basics that you will find on just about an Windows 8 system, Lenovo has also added a few goodies of their own. We will leave the bloatware argument aside and instead simply note how these include some Lenovo specifics such as PowerDVD 10 and the slightly more important items such as the Lenovo System Recovery. Rounding out the software are some third party apps such as an Amazon app as well as a Kindle, Evernote and cloud storage app. The cloud storage app is SugarSync and it gets you started with 5GB for free.
Performance
Speaking in terms of performance, the system was able to handle our day to day needs with ease. Granted, quite a bit of that involved little more than a web browser, text editor and some basic image work. Of course, the key here is who the Lenovo C540 is aimed at — the average home user. In that respect, we have to say the C540 should be able to live up to your needs.
[sgbenchmark id=206 show=system]
Taking this a step further and the play time experience was just as solid. That is to say we found no issues with some light gaming along with music and video streaming. Shifting over to the technical side, lets get into what the benchmarks look like for the Lenovo C540. These were done using Geekbench and the results are sitting below.
[sgbenchmark id=206 show=score]
Wrap-Up
Bottom line here, the Lenovo C540 all-in-one seems to be well suited for the intended audience. That is to say the average home user that wants something powerful enough for day to day use. Of course, the good looks and relatively slim design only go to further that thought. The model as configured is priced from $500 and can be found with a variety of online retailers with prices through the $500 range. Also, as one would expect with desktop computers there is always the option to upgrade. In this case, Lenovo has options for faster processors, more RAM and even additional storage. Needless to say, based on what we have tested — we think this 'as tested' model will be just fine for the majority of users.