Legendary Pokemon GO Gym Raid Event [Update: app store leak!]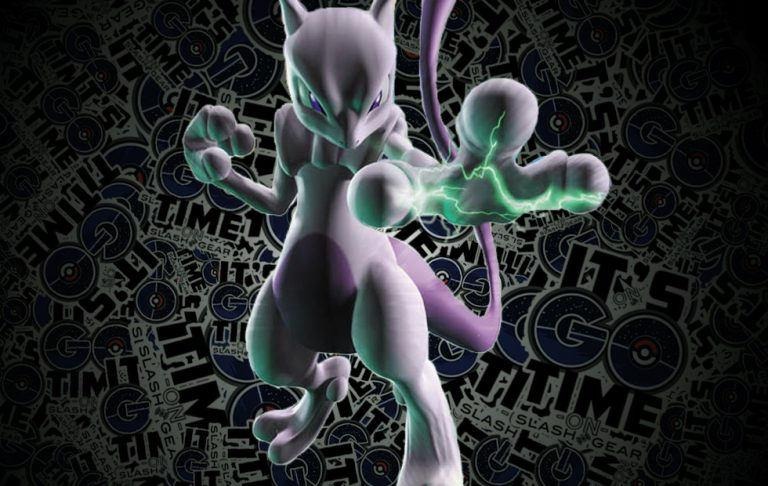 Tipped is the first Legendary Pokemon GO Gym Raid Event which will be coming very, very soon. We've got the clues that lead right up to its doorstep! On the docket since the first promotional Pokemon GO video was released, a Legendary Raid Battle Event will be the biggest global event yet delivered by Niantic. Tests are being run, and trainers can see them in the game already – if they know where to look!
Clues in the Codes
This past weekend we ran down analysis for the most recent build of the GAME MASTER code in Pokemon GO. Inside we found a lot of code that'd remained unchanged from the update several weeks ago – but a bit of code that was extra-interesting. Included in the code is a set of Legendary Raid Battle mentions that are not to be missed. If there was any doubt in our minds that Legendary Pokemon would be distributed through Raid Boss Raid Battles – that was destroyed this week.
• set_NumLegendaryBattleWon
• get_NumLegendaryBattleTotal
• set_NumLegendaryBattleTotal
• ERROR_LEGENDARY_POKEMONGymDeploy
• TotalCompletedLegendaryRaidsset_
• TotalCompletedLegendaryRaids
• TotalCompletedLegendaryRaidsField
• NumbertotalCompletedLegendaryRaids
• TotalCompletedLegendaryRaidsRaidProtoset_
• ITEM_LEGENDARY_RAID_TICKET
Of note is the last item on the list which suggests that there'll be a new sort of Raid Ticket (Raid Pass) necessary for Legendary Raids. Thus far this particular raid pass has not been added to graphic assets in the game. Also included in the most recent code is a bit more on Mythical Pokemon as well as a new-to-GO Pokemon Nature classification.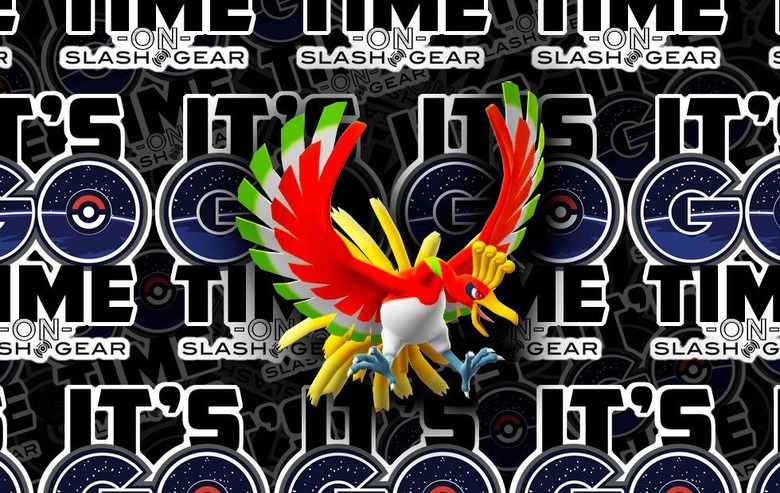 UPDATE: A mention of "the first Legendary Pokemon" has been spotted in the iOS app store. This – or extremely similar to this – appears in app stores in several countries around the world as of this morning!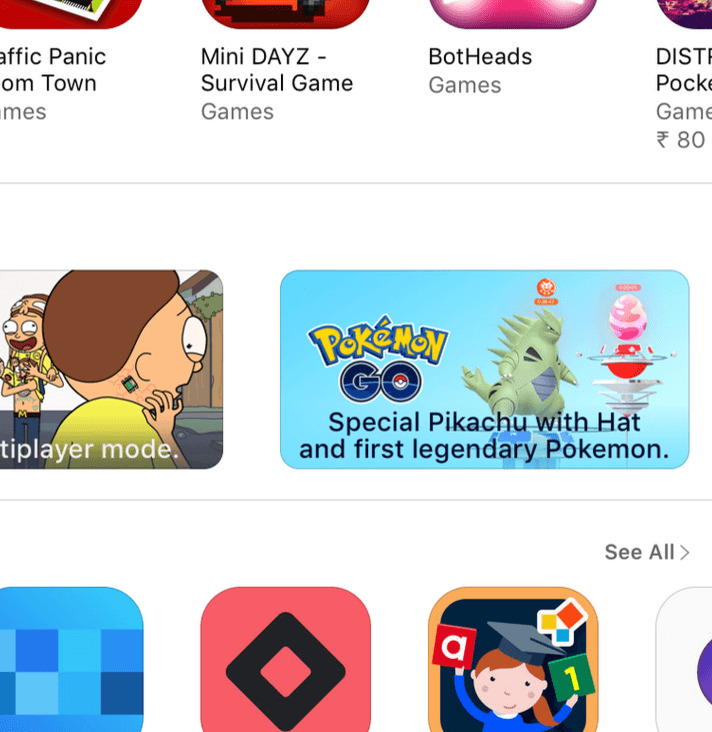 RAID Test - the secret window
Have you seen any Raid Battle "TEST" blocks appear in the game yet? We have – and below the rim is all the clue we need to get this party started. Just below the word TEST is a set of Rhydon Head Icons in white. Normally these heads indicate the difficulty of the Raid at hand – and normally they appear in gray.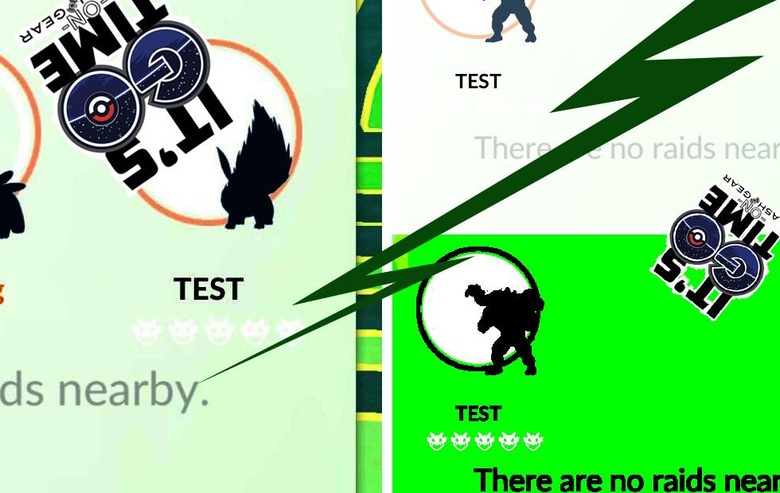 Five icons would seem to indicate that the fifth tier of Pokemon GO Gym Raid is about to be unveiled. This would be the fifth of five tiers, each successive tear holding a set of more powerful and generally more rare Pokemon. Each Pokemon has a CP well above its normal range whilst battling, then a shrunken CP after the battle. The shrinking allows the successful trainer or trainer team the chance to capture said Pokemon.
REMEMBER NOOOW: Pokemon GO Raids: where Legendary Pokemon come from!
The Pokemon we've seen so far – and have been partaking in thanks to the Reddit community and Twitter community – show several different silhouettes of Raid Boss. It would appear that all the "TEST" Pokemon come from the 3rd tier of Raid difficulty. The third level of difficulty in Raid Battles generally shows as a set of three Rhydon Head Icons.
Level 3 Raid Bosses include a small set of Pokemon as yet, most of which are not quite possible to beat by a single trainer. You need a team to beat the majority: Vaporeon, Flareon, Jolteon, Gengar, Arcanine, and Machamp. The fourth level includes Lapras, Blastois, Tyranitar, Rhydon, Charizard, Venusaur, and Snorlax. Once we get to the Legendary tier, tier 5, we've got the hardest hitters.
Legendary Trios
• Articuno (Blue, Water)
• Moltres (Red, Fire)
• Zapados (Yellow, Electric)
• Suicune (Blue, Water)
• Entei (Red, Fire)
• Raikou (Yellow, Electric)
Legendary Singles
• Lugia
• Ho-Oh
• Mewtwo
Mythical Pokemon
• Mew
• Celebi
Which Legendary Raid Boss is first?
Mewtwo is the most likely candidate for a Legendary Raid Battle release if only ONE Pokemon will be released for the 1-year anniversary of Pokemon GO. Mew and Celebi are both Mythical Pokemon and have always been released in some special way in Pokemon Games, generally given away at special events and/or in-store events. Lugia and Ho-Oh are also candidates for their own stand-alone events.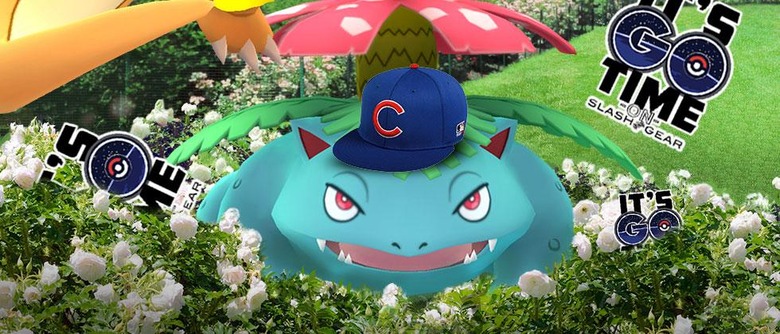 The other major possibility for this Chicago event is that all three of the first Legendary Bird Pokemon will be outed at the same time. As the event includes three team-centric meeting areas, it wouldn't be completely mad to see each of the three birds released at Legendary Raid Battles during the event. At the same time, it'll be interesting to see how this same situation is handled globally.
If Niantic wants the birds to be released around the world, it'll be difficult to give enough time to users to gather in large enough groups to take these birds on in Raid Battles. Niantic may opt to place each Legendary Raid at a central point in each major city, adding a larger ring of notification for each area with greater-than-average lead time before the Legendary Raid Egg hatches.
Release Date
The Chicago Event "Pokemon GO Fest" will take place on the 22nd of July, 2017. That's a Saturday, so get your sleep in on Friday, and get your sleep in early. This will likely be the date that the first Legendary Pokemon is released to Raid Battles in Pokemon Gym locations around the world – but we don't yet know for sure!
For more information on the near future, early releases of info, and memes to the count of infinity, have a peek at our @TeamPokemonGO Twitter portal and dive in. This is just the latest in a long line of updates from the deepest, darkest recesses of the human soul – AKA Pokemon GO!