Led Zeppelin Hits Spotify In Streaming Deal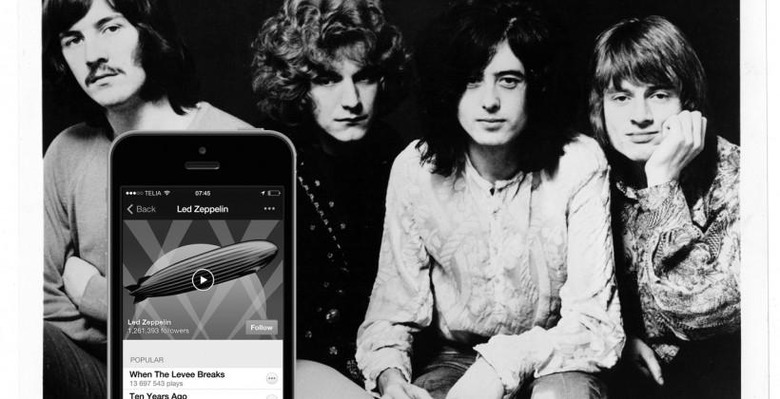 Led Zeppelin and Spotify have inked an exclusive deal which will see the band's catalog added streaming only on the on-demand service. Key albums from the Led Zeppelin back-catalog will be added to Spotify's digital racks daily over the next week, starting with 1969's Led Zeppelin and Led Zeppelin II.
That'll be followed, on Thursday, by Led Zeppelin III from 1970 and the 1971 Untitled fourth album. Houses Of The Holy of 1973 and Physical Graffiti of 1975 will follow on come Friday, and then Presence from 1976 and In Through The Out Door of 1979 on Saturday.
Sunday will clean up the rest of the Swan Song/Atlantic catalog, with The Song Remains The Same (1976), Coda (1982), BBC Sessions (1997), How The West Was Won (2003), Mothership (2007), and finally Celebration Day (2012) all being added.
Each album will be added at midnight local time in each of the countries Spotify is offered. That's now been brought up to 55, in fact, after Spotify's service expansion news earlier today.
The news also means that those on mobile devices, like smartphones and tablets, will also be able to listen to Led Zeppelin content without, now, having to pay a subscription fee each month. The ad-supported packages offer "shuffle" access to tracks within an artist's catalog, so that while listeners can't pick the exact song they want to play (on their smartphone, that is; per-track selection is supported on the tablet version) they can get a mix created from the single artist or playlist of their choice.
It's not the first significant musical archive Spotify has negotiated for in recent months. Back in June, the company clinched Pink Floyd access, adding the entire archives of the popular band