Leather and denim Apple Card cleaning guide goes viral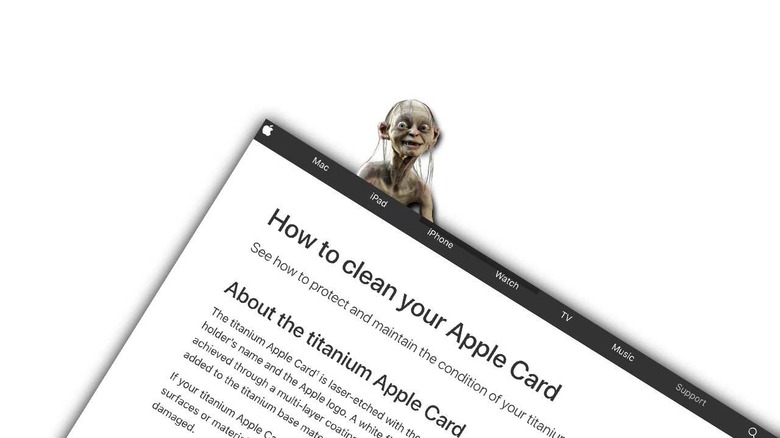 The "titanium Apple Card" is a physical object to which Apple has affixed its name – as such, it's subject to Apple's industrial design scrutiny. Apple's history with design suggests the company almost always takes care to scrutinize every detail in any product they sell – from the hardware to the software to the packaging and the in-store experience. With the Apple Card, it would seem that lengths to which Apple went to create a top-notch experience got a little... funny.
On Apple's website this week (as of August 20, 2019) there's a special guide called "How to clean your Apple Card." News about this guide began to spread almost immediately, and the social media posts started to pop up right out the gate – as you'll see below. In this guide, current and future users of the card service will find: "how to protect and maintain the condition of your titanium Apple Card."
The card was marketed as an extra-safe way to utilize Apple Pay – and it's doing pretty well at that so far. It's the hardware we're interested in today. According to Apple, the titanium Apple Card is laser-etched with the card holder's name and the Apple logo, and "A white finish is achieved through a multi-layer coating process that's added to the titanium base material."
Apple goes on to note that "If your titanium Apple Card comes into contact with hard surfaces or materials, it's possible that the coating can be damaged." This is true of most any credit card – scratches happen. But this card is meant to be handled with extra care, per Apple's guide. The cleaning of the card includes two steps:
1. Gently wipe with a soft, slightly damp, lint-free microfiber cloth.
2. Moisten a soft, microfiber cloth with isopropyl alcohol and gently wipe the card.
Apple recommends you carry your new #AppleCard in a pocket made of soft material. Will one of these work? pic.twitter.com/zDAtfQdzSU

— Brenda Gilpatrick (@bgilpatrick) August 22, 2019
Apple suggested in this guide that users avoid all window or household cleaners to clean the card. Apple also said that users should avoid "compressed air, aerosol sprays, solvents, ammonia, or abrasives" to clean the titanium Apple Card. Apple goes so far as to suggest keeping the card away from pockets or bags that contain "loose change, keys, or other potentially abrasive objects."
At this point it should be clear that Apple's simply covering all their bases when it comes to possible mishaps when Apple Card owners want to keep their card as clean and mint-condition as possible. Most credit card companies don't seem to need to take this sort of caution because their cards aren't necessarily designed to be kept as a precious physical object.
If you're struggling for somewhere to put your #AppleCard these are pretty cheap! pic.twitter.com/TdUflIaDHB

— James Niall Bland (@JamesNiallBland) August 22, 2019
Apple's guide for cleaning the titanium Apple Card includes the following: "Some fabrics, like leather and denim, might cause permanent discoloration that will not wash off."
Apple's suggestion for safely storing and carrying a titanium Apple Card includes the following: "Store your titanium Apple Card in a wallet, pocket, or bag made of soft materials." They also suggest that users not place the card in the same slot as another card in a wallet or billfold – to avoid scratching.
Can you recall ever taking such good care of any other card in your wallet or purse at any point in the past? Have you ever had a card like Apple Card in your wallet or purse before? Now that Apple's created a card that's meant to be treated as more precious than other cards, what comes next?