Leaked iPhone 7 schematic disappointingly shows little change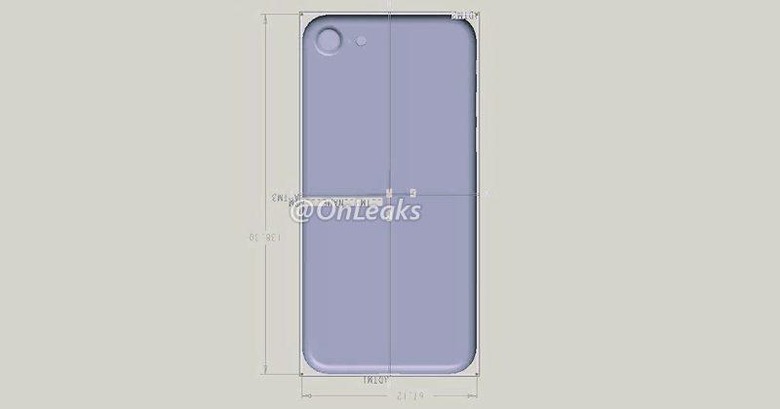 With Apple itself admitting to the first ever iPhone sales slump, you'd think the company would be rushing to put out a next gen iPhone that would wow the market like the first one did. But this is Apple we're talking about and Apple does not rush anything. Indeed, based on this lone schematic diagram, it seems that Cupertino isn't in a rush to change the iPhone formula just yet. The iPhone 7 allegedly depicted in this image pretty much has the exact same dimensions as the iPhone 6s, hinting that it would be nearly identical to its predecessor.
The diagram notes that the iPhone 7 would be 67.12 mm wide and 138.30 mm long. The iPhone 6s is only 2 mm narrower at 67.10 mm wide and 138.30 mm long. At least as far as design is concerned, there will be little to set the two apart, which, practically speaking, means that the iPhone 6, 6s, and 7 will be near identical at first glance.
Inside, there might not be much of a difference either. Not seen here is the bottom edge of the device, so we'll just go with the latest that we've heard, that the iPhone 7 won't have anything special there, be it a Smart Connector or the lack of a 3.5 mm headphone jack. The iPhone 7 is expected to have a larger battery, which could end up making the device thicker or, based on the schematic, wider. Then again, Apple might have been able to squeeze in more capacity in the same space.
The slightly good news is that the cutout for the rear camera definitely looks larger than the one on the iPhone 6s. Considering Apple is unlikely to bump the megapixels higher, it could just be making room for a sensor with larger pixel sizes or better features in general.
This leaked diagram, along with more recent rumors, would perhaps match what KGI's Ming-Chi Kuo has predicted last month, that the iPhone 7 would have very few new things to offer this year. If true, it's a very risky strategy, considering how Apple is, perhaps for the first time, now in the hot seat over disappointing earnings and iPhone sales. It could, perhaps, also be a testament of how unfazed the company is in light of those small ripples. Plus, it could also be setting the stage for a dramatic iPhone 8 entrance next year.
VIA: Nowherelese.fr