If you're unaware, or have been on vacation for a long, long time — the iPhone 6 is coming (and soon). We've all seen an exhaustive list of components leaked, but this one is a bit different. This time, we're getting a look at what might be the quick start guide for the iPhone 6. If accurate, it confirms a few key details about the new iPhone, but contradicts some others.

Like so many iPhone 6 rumors, this one comes courtesy of French blog Nowhere Else. The quick start guide enclosed with an iPhone is meant to get us up and running right out of the box, and is pretty standard fare for any smartphone. If this is fake, it's a very good one — but that's not an impossible feat, passing text and images on a piece of paper off as sourced material.

The size of this guide already hints at the size of the phone itself, with a 4.7-inch screen. Apple keeps packaging to a minimum with their iPhone, and their guides tend to be layers that occupy the full context of the iPhone box.
The picture on the front tells users where all the fun stuff is, and we see from the diagram that all the rumors of a new home for the power button are revisited here. We also see elongated volume buttons, which is another rumor we've been hearing for quite some time.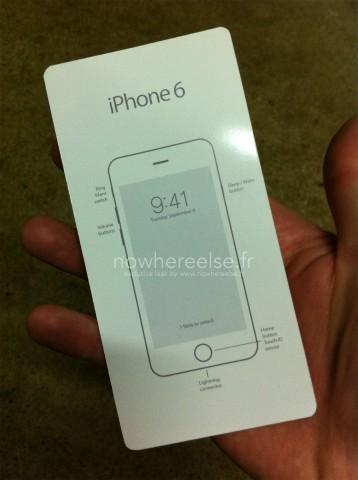 Where we find fault is with scale. All the reports we've seen regarding the screen and bezel on the iPhone 6 don't match up here. The side bezels seem as evident here as on previous iPhones, and we've been seeing for some time that the bezels on the iPhone 6 would be diminished. The Home button on the bottom seems a bit small, too. All the leaked images we've seen of the Home button on the iPhone 6 detail a larger button, complimented by a smaller bottom-bezel footprint and more screen real estate.
Nowhere Else has a good track record for the iPhone leaks, so we're inclined to at least trust their source. As for this being a finished product, that's not clear. What it does tell us is that Apple may be finalizing packaging for the device, so we may not have to wait long after the announcement to get it in-hand.
Source: Nowhere Else