Leaked iPhone 6 display shows final assembly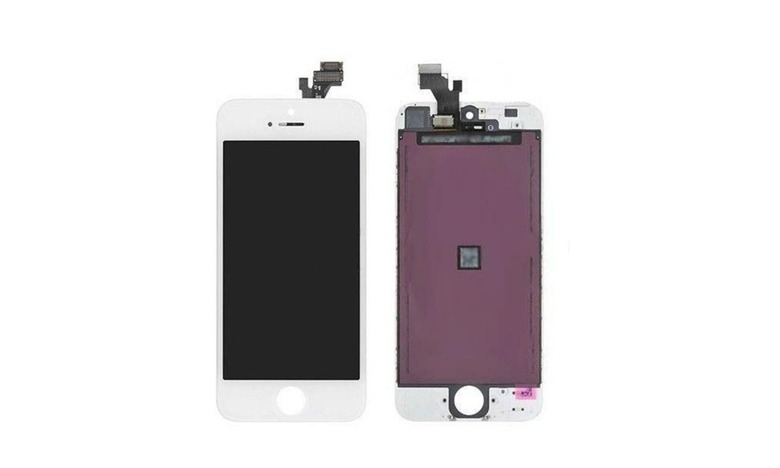 Here we go, iFans — an iPhone 6 screen assembly! This one is billed as a final production model, snapped form the line for a quick photo romp in the car. As you can see in the pic, both the black and white models are shown, offering a first look at the iPhone 6 you might have in your hand soon.
The pics are of the oft-rumored and widely anticipated iPhone 6 with a 4.7-inch screen. The display is affixed to the front fascia, which is consistent in form with previous leaked shots we've seen. A larger home button cutout could give way to a revamped TouchID, and the curious third hole up top is also there. A few cables are also sticking out from the top, which is consistent with Apple manufacturing protocol for display assembly.
Lending credence to these leaked shots are the Apple logos and the QR code, which is said to be for quality control. As Apple Insider aptly points out, the electromagnetic shield — typically affixed to the rear of the screen — is missing. This could be due to the new design we've heard so much about, or to make way for new features like NFC.
What we can't see is much subtle detail. The new iPhone display glass has been rumored to be rounded toward the edges, melding right into the curved metal backing. We can't see if those glass details are present in these pics, unfortunately.
The bezels — painfully noticeable on current and former iPhone models — also looks to be toned down quite a bit. The bezel detail is very evident with the white model, and if this really is the final iPhone 6 display, we're happy to find appropriately slim bezels.
From these pics, we see Apple is planning on sticking with their black and white display two-punch, though this doesn't yet tell us what the rear plate colors will be. White and black are clearly happening, and we've heard about gold as well. Will there be other iPod-ish colors, though?
We'll find out just how credible this one is come the Fall. Apple is believed to unveil the newest 4.7-inch iPhone on September 9th, with release later in the month. The larger 5.5-inch version is believed to drop later in the year, perhaps in October alongside the iWatch.
Do you buy this as the next iPhone display? Let us know in the comments section below!
Source: Apple.Club.TW