Latest Xbox One bundle comes with Fallout 4 and 3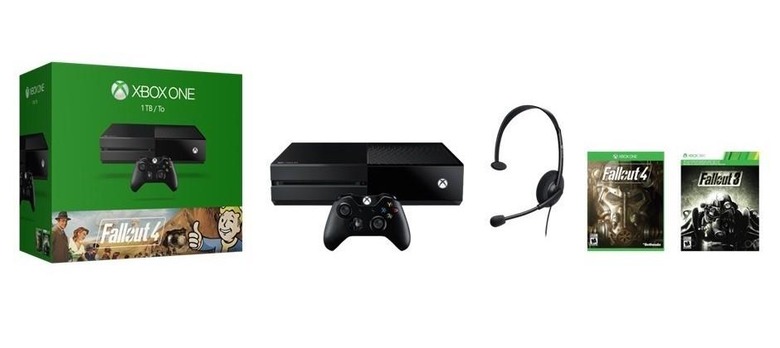 Microsoft has spent the last week announcing a new Xbox One console bundle each day in anticipation of the holiday shopping season. Previous packages have games aimed at the more mature gamer, like the Rise of the Tomb Raider bundle, as well as kid- and family-friendly titles like the Lego Movie Videogame set. With the last console bundle being revealed today, Microsoft has wisely gone with one of the year's most anticipated games: the upcoming Fallout 4.
Priced at $399 and available for pre-order starting today, the Xbox One Fallout 4 bundle comes with the new 1TB model Xbox One, the standard, albeit recently refreshed controller with a 3.5mm headphone jack, a 14-day trial of Xbox Live Gold, and, of course, a copy of Fallout 4 via physical disk.
Even better is that this console bundle still matches the pre-order bonus for Fallout 4 on Xbox One by also including a copy of Fallout 3. Fallout 3 will also be a digital download, and is actually the Xbox 360 version of the game, although it's one of the first titles to be featured in the Xbox One's backwards compatibility feature. In other words, i may be an older game from the previous generation of consoles, but it's included for free and is playable on the Xbox One. Plus, it's still a fantastic game.
The Xbox One Fallout 4 bundle will be available through local retailers and Microsoft's online store, and is being released in a large number of countries worldwide. To check out some of the other holiday bundles announced this week, be sure to visit our Xbox One tag portal.
SOURCE Microsoft