Latest iPad Air 2 Image Leaks Reveal Touch ID Button, Front Panel, Logic Board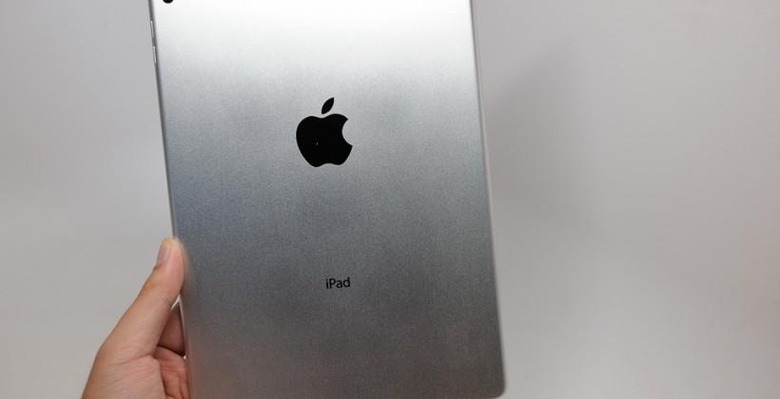 While we've already seen a number of possible leaked images and mockups of Apple's update to the iPad Air this year, a new set of pictures from a Taiwanese site shows a handful of what could be the tablet's internal components. Apple.club.tw has posted one of the first looks at parts including the logic board, a cable for the Touch ID home button, a cable for the volume buttons, as well as the front panel.
The home button is of the style that we've already seen in Apple's new iPhone 6 and 6 Plus, as well as the iPhone 5s, that is with a stainless steel ring and an empty center for where a Touch ID fingerprint sensor would be placed. It's been widely rumored that Touch ID would be at least coming to Apple's larger iPad, so this part comes as no surprise. The image of the volume flex cable reveals the up and down volume adjust buttons, along with what may be the device's microphone. One of the more recent rumors for the tentatively dubbed iPad Air 2 is that it may be dropping the physical switch used for mute/screen rotation lock, and this cable may be further evidence for that design change.
Moving on, the logic board is shown with what is most likely the A8 processor chip from Apple, along with RAM. The part's layout differs slightly from that found in last year's iPad Air, in that in the board now has a dedicated space for the SIM card slot, whereas before it was placed in a separate compartment. We'll have to wait until Apple's live broadcast of the October 16th media event to see if the A8 chip in this iPad will be of a higher speed than the one found in the iPhone 6 models.
Lastly is the front panel, shown with the usual spaces cut out where the home button and frontward-facing FaceTime camera would be. As far as the screen for the new iPad Air goes, there has been speculation that it will have an integrated display, as well as some kind of new anti-reflective surface, however this new panel image offers little in confirmation of those rumors.
SOURCE Apple.club.tw