Lamborghini Estoque four-door 170mph concept: in showrooms by 2011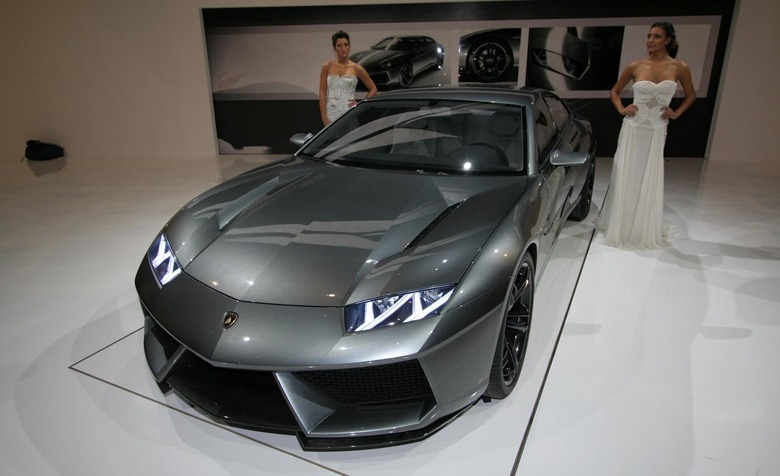 When Porsche do it, I can cope.  Aston Martin I can deal with.  But a four-door saloon from Lamborghini?  That just sounds blasphemous.  However crippling economic climates demand stranger things, and so feast your eyes on the Lamborghini Estoque concept: a four-door, five meter long, V8-powered monster of a vehicle, predicted to hit showrooms in 2011 with a price-tag around $130,000.
The concept may use a V8, but Lamborghini are being upfront about their aspiring eco credentials.  The production model will likely be offered with the storming V10 from the Gallardo, but they're also considering a choice of turbodiesel or possibly hybrid petrol electric engines so as to hit a target CO2 emissions figure of 300g/km.  Not exactly a Prius, but then Lamborghini buyers will be expecting superlative performance along with their rear seats.
They'll get it, too: 0-60mph in under 5s, with a top speed of 170mph.  A dual-clutch sequential manual transmission, 22-inch wheels on the front and 23-inch on the back are also tipped to cross over from the concept to the production Estoque; it's uncertain whether the same can be said for the low height, with the car being a mere 1.35m tall (though with enough room for a couple of golf bags in the boot, if you want to be really blasphemous).
Lamborghini hope to sell 2500-3000 of the Estoque every year, basically doubling their current total sales figures.  A large percentage of these sales are expected to be in growth markets such as Russia and the far east.
Update: More photos and video of the Estoque here