Kyocera Hydro Elite Hits Verizon With Full Waterproof Abilities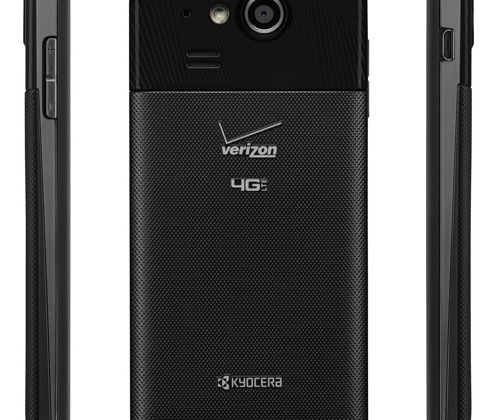 If you're tired of waiting for the Samsung Galaxy S4 Active to come to Verizon, Kyocera has your back. The device known as Kyocera Hydro Elite brings on a 4.3-inch display at 720p with an 8 megapixel camera at its back and a front-facing camera suitable for video chat. The whole unit is rated for water immersion of up to 3.28 feet of water for around 30 minutes – not that you'd be leaving it in the drink that long – that's a real-deal IPX7 rating, mind you.
You'll also be working with the IPX5 rating for "blowing rain" just supposing you're headed out to the docks. This device is only otherwise carried by US Cellular, Sprint, Cricket, and Boost mobile, suggesting the company only originally meant the device to be carried by brands smaller than the top tier*.
*UPDATE: Correction! This is absolutely NOT the same device as we've seen before. Instead, as Kyocera notes: This device is part of Kyocera's Hydro Series of waterproof smartphones which includes the original Hydro (launched August 2012, available at Boost Mobile and Cricket), Hydro XTRM (launched May 2013, available at US Cellular), and Hydro Edge (launched July 2013, available at Sprint and Boost Mobile). As it stands, this device is the highest-powered device in the series and is aimed at Verizon to compete with the likes of the DROIDs and the Casio G'zOne Commando 4G LTE immediately.
With this device, Verizon brings on Kyocera for the first time in several years – this machine will have to prove itself in order for Verizon to continue working with the brand, one that in the past couple of years has shown itself to be a real lower-tier contender in the United States. The Kyocera Hydro Elite will be contending with a $150 price tag attached to a 2-year contract – with a $50 mail-in rebate bringing that price down to $100, putting it in contention with a collection of last years smartphones: well enough to sell itself at that lower price, Kyocera must hope.
This device also works with NFC, Qi wireless charging, a 1.5Ghz dual-core processor, and Android 4.1 Jelly Bean. While with 1.5Ghz of RAM and that dual-core processor we'll not see this smartphone beating up the benchmark charts, it'll be interesting to see the quality of everyday use out in the wild – especially considering its Smart Sonic Receiver technology built-in to improve sound quality in noisy environments. We'll see how it fares soon!
UPDATE: This device works with the Qualcomm Snapdragon S4 Plus (MSM8960) dual-core processor clocked at 1.5GHz.
Above you'll also see some sweet sumo action with the celebrity endorsement by Bear Grylls as this phone was and continues to be promoted on all carriers at once. Wild wet action!