Casio G'zOne Commando 4G LTE hits Verizon for heavy-duty battle
Several years have passed since the original hardcore phone from Casio hit the public, also on Verizon. Here we're seeing the Casio G'zOne Commando 4G LTE, a machine made for getting beat up in the field while it remains powerful enough for the standard Android-loving phone user, complete with a bit of the ol' 2013 specifications collection to back it all up. It's got what the company calls a "multi-sensor tool" as well.
With the "enhanced G'zGear multi-sensor tool", the Casio G'zOne Commando 4G LTE can see barometric tracking information, an earth compass, and local temperature. You'll see sun and moon displays, tide views, virtual trail information, and a constellation gazer. These findings can then be shared with other users with what the company calls "Live G".
This device works with a G'zWorld app (this naming convention is getting a little odd, wouldn't you say), that'll allow your phone to record activities based on GPS location mixed with then-mapped photos and videos this machine records. This app is able to share its entire contents to Twitter and/or Facebook for further interaction with friends as well.
The phone is prepared to handle shock, water, and dust, as a good rugged device should. It's also able to handle salt fog, humidity, and vibration as well. At the moment we'll be waiting for full details on how hardcore this device really is, but if the original is anything to go by, you'll not have to worry about tossing this machine down a flight of stairs into a mud puddle.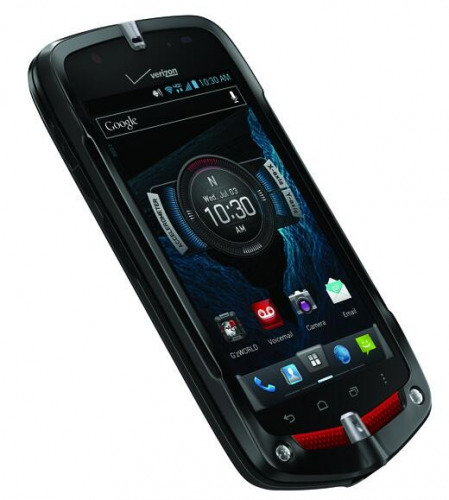 The Casio G'zOne Commando 4G LTE works with an 8 megapixel camera on its back with the ability to capture 1080p video while its front-facing camera rings in at 1.3 megapixels strong. This device also has a Glove Mode for extra sensitivity in the winter – or whenever you're wearing gloves, of course.
This machine rolls in with a 4-inch TFT LCD display at 480 x 800 pixel resolution and had a dual-core 1.5GHz processor under the hood (likely Qualcomm Snapdragon 400). Inside is also Android 4.0 Ice Cream Sandwich and a slightly modified Casio-ized user interface along with 16GB internal storage and 1GB of RAM. Also of future-action interest is the fact that this machine works with NFC as well as Qi-standard wireless charging.