Kopin Golden-i wearable PC hands-on [Video]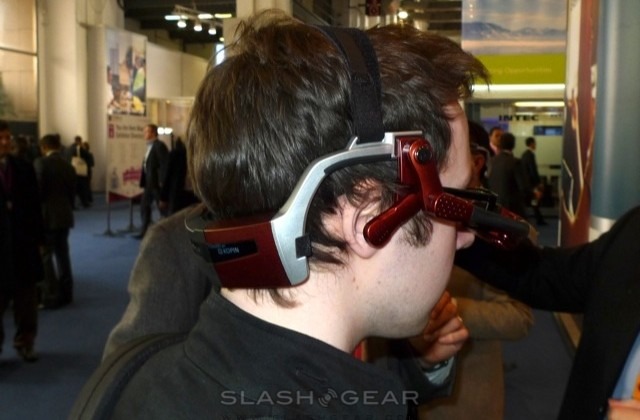 Don't let anybody tell you tech blogging is all glamour; sometimes in the name of a great story – and showcasing a fantastic gadget – you end up looking pretty darn ridiculous.  Wearable computing specialists Kopin were walking the MWC 2010 show floor giving demonstrations of their Golden-i head-mounted PC, which promises a 15-inch virtual display that can be voice-controlled while leaving your hands free.  Check out our first-impressions and a demo video after the cut.
The Golden-i is the result of several companies collaboration: Kopin came up with the initial idea and supplied the SVGA microdisplay, while Motorola put the whole thing together.  It's based on a TI OMAP3 chipset, while Hillcrest Labs and Nuance had a hand in the motion-control and voice-recognition, respectively.  OS is Windows CE embedded with a custom UI on top, and the battery is good for up to 8hrs use (or, in other words, a full industrial work shift).  Connectivity includes Bluetooth 2.1, mini-USB and a microSD card slot, and the body of the PC is squeezed into the rear band section that's specially designed to be comfortable even when wearing a hard-hat.
An adjustable speaker sits by your right ear, while the eyepiece is intended to fall just beneath your line of sight; Kopin have made two versions for those with left- or right-dominant eyes.  Focusing is controlled by a simple thumbwheel, and the eyepiece also houses the dual microphone array.  That's important, since much of the interface is controlled by speech; from the main menu of icons, you merely speak which option you'd like – "photo gallery", say – and the Golden-i takes you into it.  You can then select individual files, again by voice, and manipulate them with straightforward commands: zoom in, for instance.
Photo and document viewing is linked to motion-control, so moving your head around pans around the zoomed-in picture; alternatively you can lock it, again with a verbal command.  Accuracy was pretty much 100-percent, albeit in a relatively short trial; Kopin say they worked on Nuance's voice-recognition systems to boost accuracy to around 98-percent.  Of course, you could always hook up a QWERTY keyboard (either by USB or Bluetooth) for more extensive text-entry.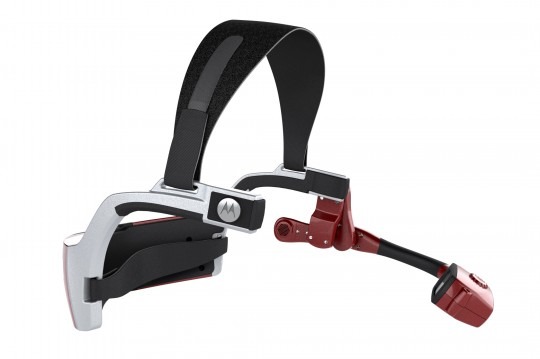 The next-gen models, beyond this development device, will be less bulky and have more functionality.  Kopin say they've shaved a half-inch of thickness off the rear PC section, have a 1024 x 768 display that's the same size as the SVGA panel, and that they're putting in faster Bluetooth 3.0 too.  They've also been looking at potential peripherals, everything from a laser keyboard and wirelessly connected modem, to a Bluetooth pen packed with gyroscopes that allows you to virtually sign a document just by gesturing in mid-air.  There'll also be a snap-on webcam, generally looking forward but detachable – and wireless – so you can direct it into enclosed spaces or turn it back on yourself for video conferencing.
Kopin's target market is industrial users, such as engineers, warehouse managers and medical professionals, who need data access while simultaneously keeping their hands free.  An engineer repairing a server, for instance, could consult the technical manual to check up which wire was which, without having to reach for their laptop.  Broad availability isn't for another year, but the company are offering this development version which comes with the open-source software (for user-customization; you could even put Android on it if you wanted to) and a Motorola ruggedized field-PDA right now.  With a data connection, you can remotely log into a server or PC and access it as if you were at your desk, all using speech-commands.
Would I actually wear a consumer version when they go on sale in – according to Kopin – a few years time?  At a trade show, despite the odd looks, yes, I reckon I would.  Attempting to navigate the MWC 2010 halls was a recipe for collisions, as 50-percent of the people at any one time tried to simultaneously rush to their next appointment and look at their cellphone.  When you start trying to throw in Twitter, responding to last-minute meeting room changes or tracking your schedule, all of a sudden the idea of a floating display you can quickly glance at without sustaining a glancing blow off the nearest pillar seems reasonably tempting.
Hopefully, by then the price will have dropped a little.  The development package costs around $5,500, and while Motorola – who will be distributing the Golden-i when it sees its full launch – haven't confirmed retail pricing they've said it will be in-line with a ruggedized PDA, which are around $2,500 themselves.  Where it gets particularly exciting is when you start wondering how technologies like Texas Instrument's gesture-recognition, also demonstrated this week, might fit in; Kopin admitted that augmented reality systems are also in the works, with the webcam tracking your hands and reacting accordingly.  Yes, I might look pretty ridiculous, but I think I could suspend my shame for that.
Kopin Golden-i wearable PC demo:
[vms 8c97020180038fddb8e2]