Texas Instruments gesture recognition demo [Video]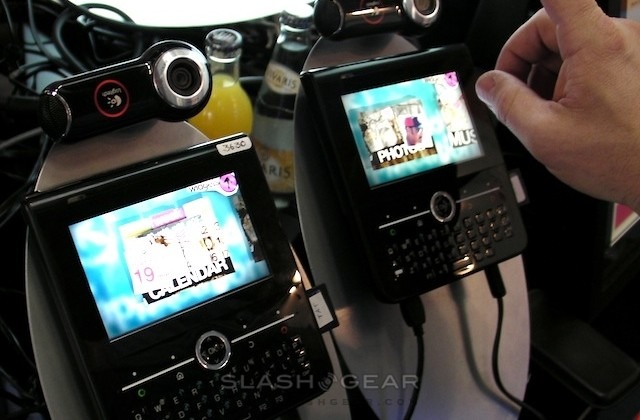 It wasn't all OMAP4 overload at Texas Instruments' stand here at Mobile World Congress 2010; the company is also showing off its latest attempts at gesture recognition. TI reckons tomorrow's smartphones could better be controlled by single- or multiple- finger gestures performed in front of the handset, rather than multitouch limited to the display, and they've come up with a way to recognize 3D movements with a single, inexpensive webcam.
The demo was running on TI's previous-gen OMAP3 Zoom development devices, rather than the Blaze, with regular Logitech webcams plugged in.  By moving a hand or finger in front of the webcam, the user can navigate through the smartphone's menu structure; it's also possible to zoom in and out using pinch-gestures.
All this is clever for two reasons.  TI's software is capable of differentiating between fingers and the surrounding environment, picking out movement and tracking it in real-time; however it's also something you can feasibly run on an OMAP3/4 processor, rather than requiring a high-spec PC.  For more details, check out the demo video below.
[vms b94cb0f55994f679f595]