Kopin Golden-i Gen.2 wearable computer on course for 2010 launch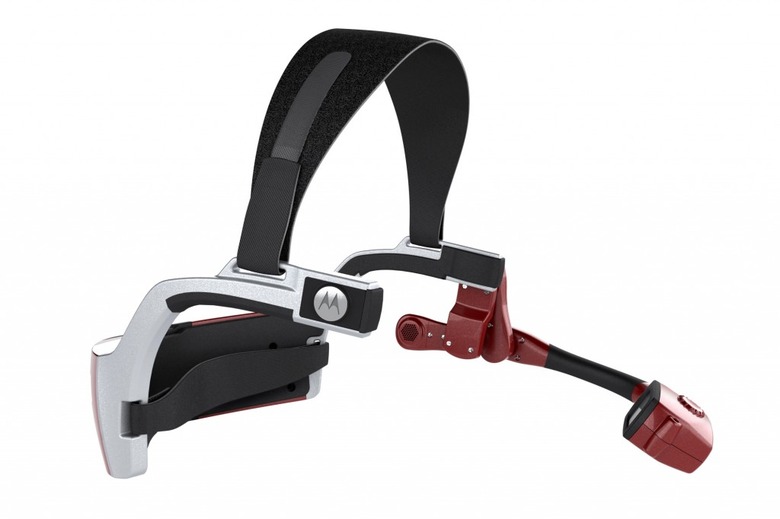 Oh, how we laughed at Kopin's Golden-i wearable computer when the company showed us renders earlier in the year; even though they promised it was heading to production, we were still dubious.  The joke is on us, it seems, as Kopin have announced that the Golden-i Gen 2 will be entering field trials in December this year, with production kicking off in earnest next year.  Units are expected to have a Bluetooth headset, 15-inch virtual PC display, head-gesture recognition and voice-control.
Running Windows Embedded CE 6.0, the Golden-i Gen 2 is apparently capable of streaming 30fps 720 x 480 video over Bluetooth 2.0, making it not only handy for entertainment but – hooked up to your smartphone, laptop or MID – internet access, document review and more.  Alternatively it can connect via WiFi for up to SVGA resolution video.
There's also head- and body-tracking courtesy of a Hillcrest Labs FreeSpace sensor, noise-cancellation, Nuance speech-recognition, SSD and microSD memory and an ARM Cortex A8 processor running the show.  Still no word on pricing – we're expecting the Golden-i Gen 2 to be expensive – but now we kinda want one ourselves.
Press Release:
Golden-iTM by Kopin Delivers Mobile Computing Experience: Wireless Hands-Free Control of PCs, Clouds and the Internet

Demonstrations at Embedded Systems Conference in Boston

TAUNTON, Mass. –(Business Wire)– Sep 21, 2009 Kopin® Corporation (Nasdaq: KOPN), the leader in microdisplays for consumer and military applications, is demonstrating its Golden-iTM Gen 2 concept units at Microsoft's booth # 400 at the Embedded Systems Conference in Boston on September 22 & 23, 2009.

A three-ounce Bluetooth headset, Golden-i delivers an entirely new category of mobile communication and computing capability. If you're enjoying your Smartphone, imagine it feeding information to Golden-i's 15-inch virtual PC display and a hands-free natural speech recognition interface controlling every phone feature and capability – while your phone remains in your pocket or briefcase.

How much would enterprise performance improve with multi-lingual wireless speech-driven control over all company systems, including handheld devices, PCs, networks, factory equipment and Cloud environments? With a convenient near-eye, 15-inch virtual display on-demand, Golden-i provides hands-free spontaneous access to digital information, broadcast programming and Internet services including real-time, full-color D-1 high resolution (720 x 480p x 30 fps) streaming video over industry standard Bluetooth 2.0.

Golden-i is truly more than the sum of its parts. It is a unique convergence of the most advanced design with the latest components, software and materials:

Microsoft's Windows® Embedded CE 6.0 R2 operating system.

Texas Instruments Incorporated (TI) OMAP3530 processor featuring an ARM® Cortex™-A8, high performance DSP and a graphics accelerator.

Nuance Communications VoCon3200 speech recognition and Vocalizer text-to-speech software platforms, modified specifically for Golden-i's hands-free operation.

Micron Semiconductor's ultra fast, low-power, multi-bit node DDR2 RAM / NAND FLASH Package-on-Package (POP) OMAP mobile memories and MicroSD cards.

Hillcrest Labs FreeSpaceTM 6-axis, solid state, head tracking and body gesture sensor.

Aurisound multi-phase / Adaptive Focus-BeamTM (AFB) ambient noise cancellation that allows Golden-i users to speak naturally, even in noisy environments. AFB removes ambient noise from cellular, Bluetooth and WiFi audio communications.

Kopin's latest .44-inch diagonal, SVGA resolution (800 x 600 x 3), full color LCD microdisplay, interface IC and natural sight, user adjustable optics.

"Built on Microsoft's Windows Embedded CE 6.0 R2 operating system, Golden-i is capable of remotely waking Windows PCs from a hibernating state," said John C. C. Fan, Kopin President and Chief Executive Officer. "After Golden-i establishes a Bluetooth, WiFi or cellular link through a host device, users see their PC desktop screen on a 15-inch virtual display, offering hands-free access to PC applications, data files and services. When work is done, the PC may be placed in hibernation with a single spoken command."

Golden-i users no longer must carry their laptops to have a familiar PC experience. Golden-i provides spontaneous remote access to their PCs in nearly every mobile situation.

"Microsoft is proud to continue working with Kopin and other partners throughout our ecosystem to continue driving dramatic shifts in mobile computing and communications," said David Wurster, Senior Product Manager for Windows Embedded at Microsoft. "Microsoft's componentized, real-time Windows Embedded CE 6.0 R2 operating system provides a powerful platform to support Golden-i's ability to interact with multiple handheld devices, PCs, servers and enterprise networks."

"Remotely controlling multiple devices and systems, in much the same way PCs control multiple applications on their desktop, is one of the primary goals in developing Golden-i," explained Jeffrey Jacobsen, Senior Advisor to Kopin's CEO and Golden-i Program Manager "Golden-i's hands-free ability to remotely control and interface simultaneously with up to seven other devices provides users with increased performance, reduces enterprise headcount and improves enterprise ROI."

"TI is excited that Kopin will showcase the Golden-i Gen 2 concept units at ESC Boston," said Alejandro Erives OMAP35x product marketing manager, TI. "Golden-i delivers an unprecedented array of capabilities and features, which would have been impossible just one year ago, enabling customers to do business wirelessly and hands-free."

Power consumption is always a concern when designing a wearable headset expected to operate for extended periods of time in harsh industrial environments. Current testing suggests Golden-i's OMAP dual processor platform can achieve over eight hours of typical use with a single 1200 mA/hr Li-ion battery.

Nuance's VoCon3200 speech recognition and Vocalizer text-to-speech software were chosen by Kopin for their accuracy, speed and multiple spoken language support. Kopin modified the VoCon3200 speech recognition application, adding an active speaker self-learning algorithm that studies the speaker's unique pronunciation of vowels, consonants and syllables.

"Nuance's superior speech products and strategic guidance provide Golden-i with unparalleled mobile speech recognition performance," said Kopin's Jacobsen. "Nuance's Vocalizer text-to-speech application enables Golden-i to read out loud documents, e-mail messages, webpage content or similar text on its display screen in most common languages. Golden-i has been designed to incorporate its speech recognition and text-to-speech capabilities to support intelligent avatars and artificial intelligence programs that provide spoken advice, information, warnings and audible responses to Golden-i users. You can speak to or text message Golden-i and the device is designed to intelligently respond with a voice and personality of its own. We expect Golden-i users will select and change avatars like ringtones (i.e., movie stars, political figures, cartoon characters or artificial computer personas)."

Hillcrest Labs FreeSpaceTM 6-axis solid state position sensor adds precision gesture sensing, head tracking and 3D spatial workspace capabilities to Golden-i. FreeSpaceTM modules improve user comfort, convenience and safety. User information and display content can be positioned in virtual space around the user, significantly enlarging a mobile users work space and hands-free functionality.

In one example, two documents can be positioned conveniently in virtual space; either document can be enlarged or reduced in size as required. The pages in one document can be turned or advanced as needed without affecting the other document being compared alongside. A second example involves using Golden-i in viewing diagrams, schematics, maps or images. Asking the head tracker to switch-on enables the user to zoom into an image and, through head movements, look around and see the rest of the image still under magnification without latency and well beyond the boundaries of conventional static displays.

Kopin plans to begin shipping Gen 3 Golden-i Eval SDK units for customer field trials in December 2009. Following extensive field testing, refinements will be incorporated into production of certified Golden-i products, which are expected in 2010.

"Nothing as ambitious as Golden-i is accomplished without a strong vision for what is possible and access to world class components, software, materials and engineering talent," Jacobsen said. "Golden-i strategic business partners are world leaders in their area of expertise, and their contributions to the device's performance have been very synergistic."

About Kopin

Kopin Corporation produces lightweight, power-efficient, ultra-small liquid crystal displays and heterojunction bipolar transistors (HBTs) that are revolutionizing the way people around the world see, hear and communicate. Kopin has shipped more than 30 million displays for a range of consumer and military applications including digital cameras, personal video eyewear, camcorders, thermal weapon sights and night vision systems. The Company's unique HBTs, which help to enhance battery life, talk time and signal clarity, have been integrated into billions of wireless handsets as well as into WiFi, VoIP and high-speed Internet data transmission systems. Kopin's proprietary display and HBT technologies are protected by more than 200 global patents and patents pending. For more information, please visit Kopin's website at www.kopin.com.

The Golden-i concept is protected by Kopin's patents and patents pending.

Kopin, CyberDisplay, Golden-i and The NanoSemiconductor Company are trademarks of Kopin Corporation. All other company names or product names are the trademarks of their respective owners.