Kopin Golden-i wearable computer headed for production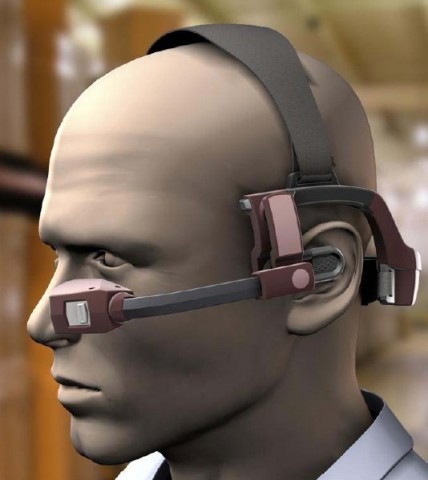 Kopin have come up with a head-mounted "virtual 15-inch display" to show off their new CyberDisplay micro-panel, a 0.6-inch screen capable of 800 x 600 resolution.  The Kopin Golden-i concept – which they've given Motorola branding – integrates the CyberDisplay into a swing-down boom arm, linked to a hefty Bluetooth headset running Windows CE 6.0 R2 and supporting voice-recognition.
Video demo after the cut
Meanwhile control over the heads-up environment is via a six-axis Hillcrest Labs position tracker, allowing straightforward zooming and navigation with "nearly pixel-for-pixel accuracy".  Video could either be prerecorded content – Kopin say it could happily play back 480p 720 x 480 30fps media – or web browsing and the like, with WiFi a future addition.
Under the hood there's a Cortex-A8 TI OMAP3530 SoC running at 600MHz, plus a mini-USB port and microSD card slot.  Runtime is in excess of 8hrs from the 1200mAh battery.  Almost as unbelievable is Kopin's launch predictions: they claim to be putting Golden-i prototypes into test environments soon, with mass production expected to start in 2010.  No word on pricing, however.  As an aside, I'm loving comedy-constipated render number three in the gallery below.