Koobe Jin Yong eReader fourth to deliver Qualcomm's mirasol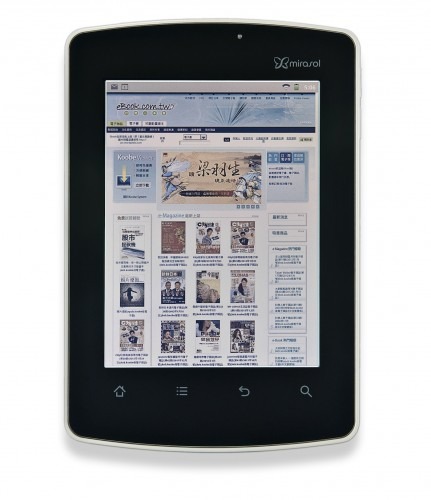 Qualcomm's
 color e-paper technology has found its way into another device, the 
, a 5.7-inch XGA slate targeting ebooks, digital comics, animated picture books and magazines. The Koobe model is the fourth to use Qualcomm's screen tech, and like
 it runs a reskinned Android 2.3 on top of the chip company's 1GHz Snapdragon S2 processor.
The mirasol appeal, of course, is the combination of E-Ink style low power consumption but with video-capable refresh rates, as well as outdoor visibility. mirasol builds on the same light-bouncing principles that make a butterfly's wings shimmer, only Qualcomm uses it to produce a color display that gets brighter and more color-saturated the more light is directed at it.
Design-wise, we're guessing all of the four mirasol ereaders we've seen so far – the Kyobo model, the
, the
 and this new Koobe version – are all based on Qualcomm's own reference design. That would explain the lack of pure tablets using mirasol; Qualcomm had always said it intended to target ereaders first, though larger mirasol panels for iPad-rivals are also in the pipeline.
Koobe says the Jin Yong eReader will include WiFi and come preloaded with content by the Chinese author it's named after. No word on pricing, nor when we might see a version arrive in North America or Europe.