Kohjinsha PA-series MID adds swivel-screen to mini-notebook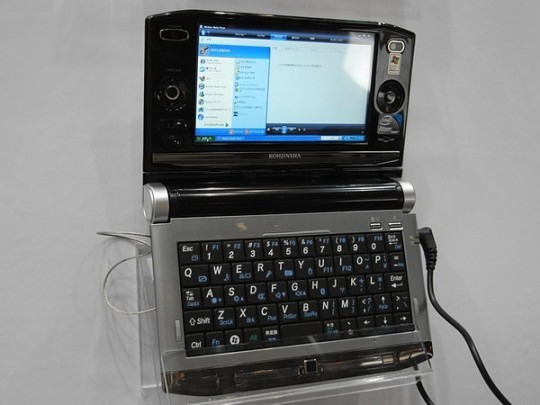 Kohjinsha may have filled their MID niche with a rebadged UMID mbook m1, but that hasn't stopped their own engineers from coming up with a homegrown alternative.  The Kohjinsha PA-series takes the same mini-clamshell form-factor of the m1 and Sharp's NetWalker, but throws in a convertible display for using the MID as a slate.
That functionality alone will win the PA-series some admirers, as it means the 4.8-inch touchscreen mini-PC is far more suited for use while walking around.  As well as the QWERTY keyboard there's an optical mouse and further joystick controls either side of the display.
Full specifications include an Intel Atom Z520 processor, 512MB RAM, GMA 500 graphics, a 32GB SSD and both WiFi b/g and Bluetooth 2.1.  There's no integrated 3G, but you do get – in Asia at least – a TV tuner, together with a microSD card slot and 1.3-megapixel webcam.  OS is Windows XP Home SP3 and Kohjinsha reckon you can eke 7.5hrs runtime from a single charge, despite the whole thing weighing just 400g.  No word on pricing or availability as yet.
[via Netbooked]