Kohjinsha dual-display netbook: feel the width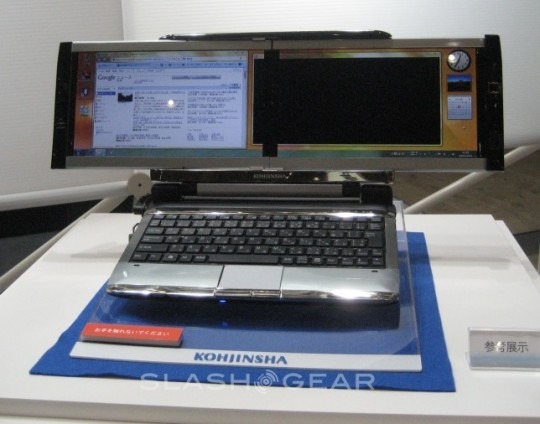 Kohjinsha's dinky swivel-screened MID, the PA-series, isn't the only unusual rotation happening on the company's stand at CEATEC.  They're also showing off this dual-screen beast, currently in prototype form, packing twin 10.1-inch LCDs for some mobile widescreen action.  SlashGear Japan stopped by to grab some live photos for us.
Each panel is capable of 1,366 x 768 resolution, meaning with both extended you could have a full 2,732-wide desktop.  Unlikely to win you any friends in coach-class seating on a plane, but better than even the biggest desktop replacement notebook generally has to offer.
Power is from AMD's Athlon MV-40, with a 2.5-inch SATA hard-drive and up to 4GB DDR2 RAM squeezed into the compact base.  OS is Windows 7 Home Premium, and the whole thing tips the scales at around 1.8kg.  Since you're putting two displays into the lid the unnamed Kohjinsha is pretty thick when closed – around 1.7-inches, the company told us – but if you were considering packing a secondary USB display in your notebook bag then we reckon you'd be better off plumping for this interesting machine.
That is, assuming Kohjinsha decide to green-light production.  We feel an email campaign coming on, because this is one unusual notebook we'd like to have in our rucksack.