Kohjinsha D2 Dual-Display Netbook Hands-On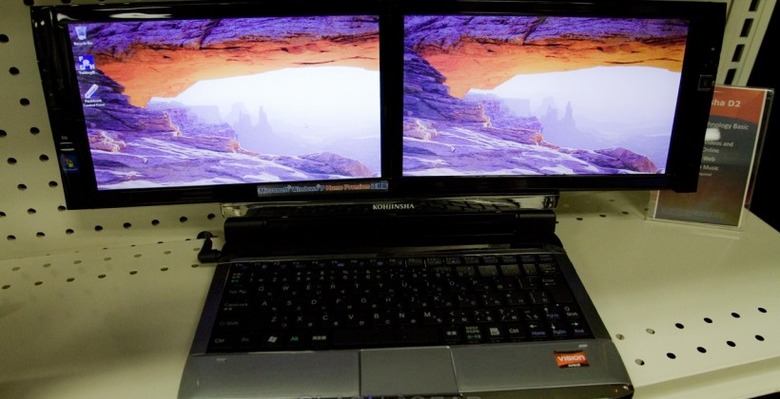 Tucked into the corner of AMD's CES 2010 booth we spotted Kohjinsha's dual-display netbook and couldn't help but check the Athlon Neo MV-40 powered machine out.  Curiously named the Kohjinsha D2, rather than as the DZ as we've seen up until now, the netbook still has twin 10.1-inch 1024 x 600 LCD panels that nest together for transport and then pull out for side-by-side use.
Video demo after the cut
Compared to the prototype we briefly played with back at CEATEC in October 2009, the Kohjinsha D2 felt a lot more solid.  There's still some bounce in the hinge – likely because of the sheer weight it's expected to carry – but it doesn't feel weak, and the two panels snap out reasonably easily.  Kohjinsha are rumored to be working on a touchscreen version of the D2, though this was the plain non-touch model; still, you can rotate the display 180-degrees to face backward if you want.
Other specs include ATI Radeon HD3200 graphics, 1GB of RAM (up to 4GB supported) and a 160GB hard-drive; there's also WiFi b/g/n, Bluetooth 2.1+EDR, gigabit ethernet and a fingerprint reader.  Considering we've seen some unusual notebook/netbook designs at CES 2010 already – Lenovo's IdeaPad U1 Hybrid stands out particularly – the Kohjinsha still holds its own: we certainly wouldn't argue with a little more screen space while in the press room here at the show.
[vms 78bd83e0a727608b5db0]