Kogeto Dot makes iPhone 4 panorama photos simple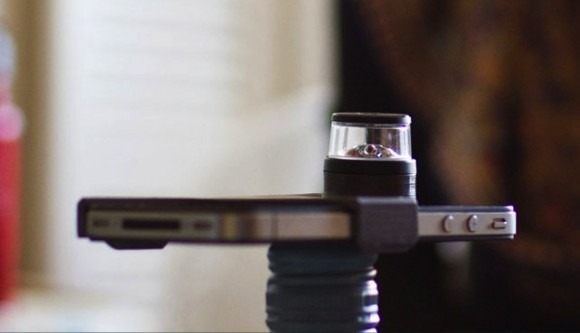 If you've ever wanted to take simple panoramic photos on your iPhone, but struggled with either piecing together individual shots, the Kogeto Dot may be the snap-on lens for you. A $99 accessory set to go on sale later this year – and up for Kickstarter order now – the lens takes a 360-degree picture in a single frame, and then uses clever software to stretch it all out to the correct aspect.
Rather than rotating the iPhone 4, or automatically stitching multiple shots in sequence, the fish-eye style Dot lens grabs the full 360 in one go. Simply putting the phone down on a level surface is good enough; both still photos and video are supported, and Kogeto's app will make sharing them online straightforward (with in-app upgrades to unlock extra editing features).
The idea came from a $3,500 "affordable" panoramic camera, Lucy, which Kogeto was funded to produce by the The Bill & Melinda Gates Foundation for schools to use. Dot is obviously nowhere near as advanced, but it is a whole lot cheaper and more portable.
It could also spawn a Color-style group sharing experience, if adoption takes off. Kogeto envisage using GPS location data to create real-time grouped video sets, allowing viewers to see events – such as sports games or concerts – from various perspectives at the same time.
[via Forbes]