Kodak Zi8 1080p camcorder with image stabilizer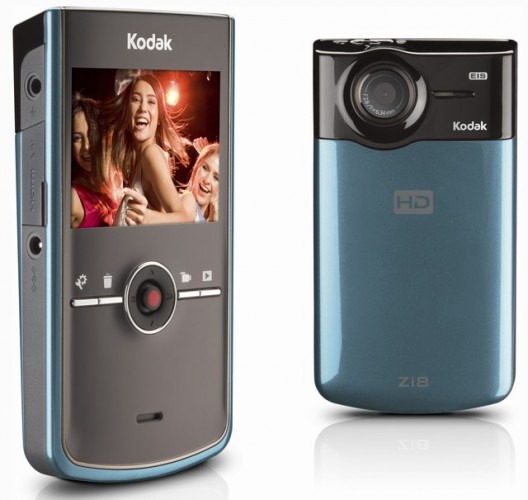 Kodak have announced their latest point-and-shoot pocket camcorder, the HD-capable Zi8.  Intended to rival Flip's Ultra HD, the Kodak Zi8 packed 1080p recording, image stabilization and face tracking. 
The onboard software – loaded by plugging in the Zi8's flick-out USB connector - includes YouTube and Facebook uploads, together with basic editing functionality.  Footage is recorded to SD/SDHC card, with up to 32GB cards supported for up to 10 hours of video.  The preview display is 2.5-inches, and there's an external microphone jack and HDMI connection.
As well as video, the Kodak Zi8 captures 5-megapixel 16:9 stills, and the company are claiming improved low-light performance too.  It will land – in aqua, raspberry and black – from September 2009, priced at $179.95.
Press Release:
KODAK Zi8 Pocket Video Camera brings sleek style and high-performance to pocket video

Easily shoot and share high-quality 1080p HD video

Rochester, NY, July 29, 2009 – Eastman Kodak Company (NYSE:EK) today announced an exciting new addition to its popular line of Digital Video Cameras – the KODAK Zi8 Pocket Video Camera, featuring a sleek design, high-quality full 1080p High Definition video capture, and built-in electronic image stabilisation.

"Images and video have tremendous power to help us stay connected to family and friends," says Phil Scott, Worldwide Director of Marketing, Digital Capture and Devices and Vice President, Consumer Digital Group. "The KODAK Zi8 Pocket Video Camera makes it easy to spontaneously capture HD video – of heartwarming moments, of 'can you believe that?' moments, and of just plain laugh-out-loud moments – and then quickly and easily share them."

The slim and stylish KODAK Zi8 Pocket Video Camera is designed to meet these needs at the touch of a button — no lens cap, dials to turn or settings to adjust. The new camera's range of advanced features includes:

• Full HD 1080p video capture wherever you go;

• Built-in electronic image stabilisation for sharper videos and reduced blurring;

• Vivid 2.5″ colour LCD;

• Flexible swing-out USB arm for fast uploading, sharing, and charging;

• 5 MP 16:9 widescreen HD still pictures;

• Easy upload to Facebook and YouTube;

• Compatible with PC and Mac operating systems;

• Record up to 10 hours of HD video* with the expandable SD/SDHC card slot that can hold up to 32 GB;

• Capture family and friends in their best light with smart face tracking technology;

• See more details and accurate colours in low light;

• External microphone jack;

• In-box HDMI cable;

• Record from a distance or playback on your TV conveniently with optional KODAK Pocket Video remote control;

• Grab attention and define your style with the ultra compact design, stunning looks, and a range of colours.

Uploading to Facebook and YouTube

The KODAK Zi8 Pocket Video Camera provides one-button upload to Facebook, the premiere social networking and sharing website. Content can also be quickly and easily uploaded to YouTube, the world's most popular online video community. The built-in software on the camera allows seamless upload of your video and pictures from the same desktop interface used for video editing and movie creation.

Accessories

A range of accessories are available for the KODAK Zi8 Pocket Video Camera, including:

• KODAK SDHC Memory Cards, available in 4, 8, and 16GB capacities customised for optimal video capture;

• KODAK Pocket Video Remote control;

• KODAK KLIC-7004 Lithium Ion batteries;

• KODAK Flexi-tripod;

• KODAK Adventure Mount for helmet, handlebars and more;

• KODAK cases, camera bags and neck straps.

Pricing and Availability

The KODAK Zi8 Pocket Video Camera will be available in aqua, raspberry and black** from September, 2009, and retail for US$179.95 MSRP.

*Record approximately 20 minutes per 1GB at HD 30fps.

** colour availability may vary.
[via Gizmodo Australia]