Kobo ereader hits Borders preorder for $150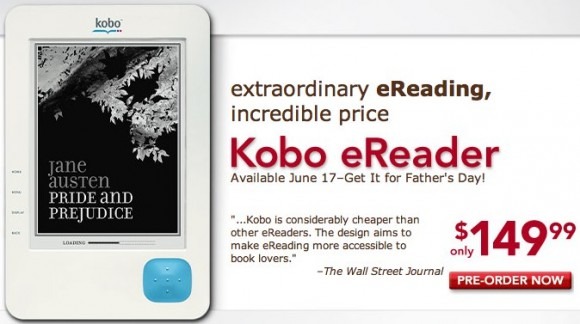 Kobo and Borders have announced that the Kobo ereader is now available for preorder, and will begin shipping from June 17th 2010.  Priced at $149.99, the Kobo lacks WiFi or 3G but does at least come with Bluetooth, for wireless transfers of ebooks from your computer to the device; those ebooks, Borders hope, come from their own selection of over 1m titles, though you can also load up any DRM-free ePub or PDF content.
The two companies will supply the ereader pre-loaded with 100 classic ebooks, and perhaps more interestingly the hardware device ties into Border's Android, iPhone and BlackBerry ereader software.  Like Amazon's Kindle app, this keeps purchased titles in sync across multiple platforms.
The Kobo ereader measures 0.1-inches thick and weighs 200g.  It has a 6-inch E Ink display, 5 selectable font sizes and a 4-way D-pad for navigation; there's also a quilted vinyl back-cover which apparently makes it more comfortable to hold.  Onboard storage is 1GB – plus there's an SD card slot – and the battery is good for up to 8,000 page turns.
Of course, this won't be the only ereader Borders offer; they're also set to sell the Spring Design Alex later on this year.
Press Release:
KOBO™ EREADER COMING TO THE U.S. IN JUNE

$149.99 eReader Now Available for Pre-Order on Borders.com

TORONTO — March 7, 2010 — Kobo, a global eReading service, today announced that the Kobo eReader is available for pre-order in the U.S. at Borders online at www.borders.com/koboereader, and will ship in time for Father's Day.

The new Kobo eReader offered through Borders is a stylized, easy-to-use, affordable eInk device that comes pre-loaded with the Borders eBook app. Consumers can easily access over a million eBooks, including today's bestsellers, through USB or wirelessly through Bluetooth. The Kobo eReader also comes pre-loaded with 100 classic books and can store up to 1000 eBooks. Its soft, quilted back allows for an enjoyable book-like reading experience.

"The Kobo eReader is the eReader for everyone and is now available in the U.S. – launching at Borders," said Michael Serbinis, CEO of Kobo. "At $149.99 the Kobo eReader is roughly $100 less than the other eReading devices out there, so it provides a great way to start eReading without breaking the bank. We couldn't be happier about partnering with a brand like Borders which shares our commitment to technological innovation, high quality, and customer value."

Kobo has developed a strong global following for their eReading service, which includes free apps for the iPhone, iPad, BlackBerry, Palm Pre and Android. Through the "Powered By" program, Kobo also offers applications to partners allowing them to offer eReading on their own devices. eReader application is in sync with a user's Kobo account and any Kobo-enabled device for continuous reading.

For information specific to the new Kobo eReader, visit www.KoboeReader.com.