Spring Design Alex Review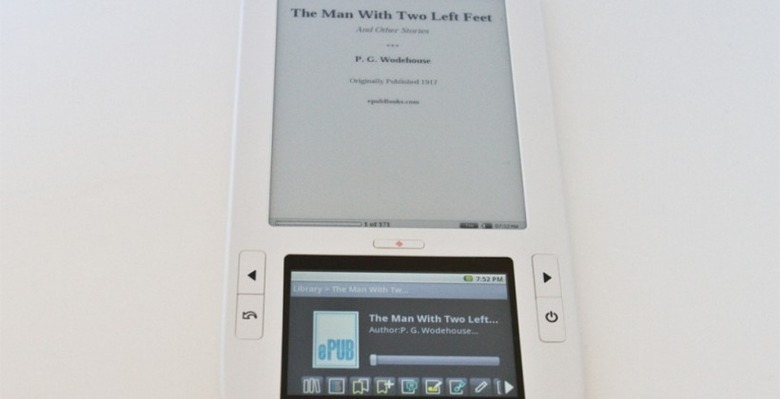 Two screens, Android OS and ebooks a-plenty: no, not Barnes & Noble's nook, but the Spring Design Alex. Promising extra flexibility than its big-name rival and an imminent partnership with Borders, the Alex nonetheless has to deliver if it's going to live up to a whopping $399 price tag. Can it hold off not only the Kindle and nook but the iPad currently looming over the ereader market? Check out the full SlashGear review after the cut.
The Alex has a 6-inch 600 x 800 E Ink display, capable of showing eight grayscale levels (the panel itself can support 16, but Spring Design have limited it to eight in their implementation), together with a 3.5-inch 320 x 480 capacitive touchscreen with a color LCD panel. Connectivity includes miniUSB, WiFi b/g and a microSD card slot, and there's a 2.5mm headphone socket. Android 1.5 is running on a 624MHz processor with 256MB of memory, plus there's a 2GB microSD card included, stereo speakers and a built-in microphone. Spring Design reckon the 1,530mAh battery is good for up to 7,500 E Ink page turns or 6hrs of media playback.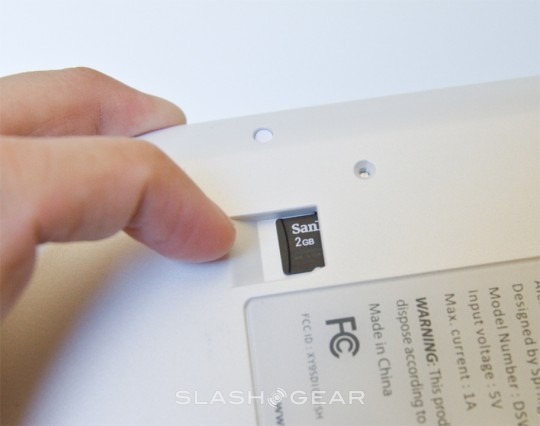 Of course, it's hard to look at the Alex ereader without also considering the Barnes & Noble nook. Both pair E Ink panels with a capacitive LCD touchscreen and an underlying Android OS, and if you listen to Spring Design their IP was actually instrumental in the nook's design. An ongoing lawsuit will decide exactly who – if anyone – was at fault, but for the moment the two ereaders share the title of being the only dual-display Android based models on the market. The Alex is longer than the nook, at 8.9 x 4.7 x 0.4 inches, but both thinner and lighter.
For all that the Alex resembles Barnes & Noble's nook – or, as Spring Design would prefer you have it, the nook resembles Alex – the two ereaders are curiously different in their approach. While the nook hides its underlying OS under a simplistic UI, the Alex is proud in its Android roots and the LCD display shows the desktop we're familiar with from smartphones. Around the touchscreen are a cluster of physical buttons, many of which have different uses depending on whether they're pressed or held. Reasonably large page-turn keys also function as Android's Back or – if held – Home or Menu shortcuts, while the power button shuts the screen off with a short tap or completely powers down the Alex with a longer press. It's reasonably intuitive, though we wish the page-turn buttons were physically higher up the ereader: while they're well placed for the LCD, when you're actually reading text on the E Ink panel they're too low to be entirely comfortable.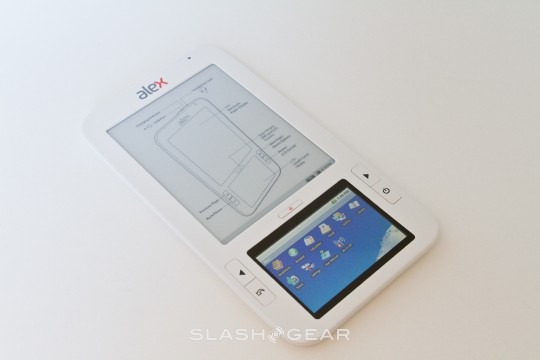 Though the Android desktop may be familiar, since the Alex isn't a phone – though there's a 3G-data enabled version in the pipeline – some of the apps we're used to are missing. What you do get is the usual Android Email app (though not the Gmail app), Media Player, Browser, YouTube Calculator and Gallery, and Spring Design have loaded their own BookStore app, a Library app for accessing and managing ebooks, and a shortcut to the digital version of the Alex's user guide. Most obviously absent is the Android Market, though there are already hacks detailed online that remedy that (and you can sideload APKs and install that way); for their part, Spring Design are apparently working with third-party developers to come up with Alex-specific apps which will eventually be distributed via an on-device store.
Unlike the nook, navigation is primarily done through the LCD display, and considering that's far snappier in its response than the E Ink panel, we reckon it's a good thing. In-between the two displays is a sync button, and that's where the upper screen really comes into its own. Basically, it flips content between the two panels: if you're reading an ebook on the E Ink screen, the sync button brings it – and any color images or embedded internet links – down to the LCD screen. Meanwhile, if you're browsing the internet on the LCD display and you come across an article you'd like to more leisurely read, hitting the sync button pushes it up – after a few seconds delay – to the top panel, saving both battery life and your eyes.
Unfortunately, the sync button functionality isn't native to Android, and requires that apps be specially coded to play nicely with the dual-displays. While the preloaded titles are obviously compatible, apps you load via Android Market workarounds are unlikely to be. There can also be some resolution hiccups, since there's no way to, say, highlight just the text you want to transfer from LCD to E Ink, and you're only working with an 800 x 600 panel. Still, it's a brilliant way to consume long-form articles online: we found sending ourself an email with a list of links was far easier than clipping pieces and then trying to sync them to a Kindle. One thing worth remembering is that the upper display isn't fixed: it periodically updates as you browse on the lower display, so if you flip up an article to read you'll need to do that straight away unless you want it to navigate away.
Of course, the primary expectation is that Alex owners will use their ereader for regular ebooks, and in that respect the E Ink panel presents no surprises to anyone familiar with a Kindle, nook or Sony Reader. Five font sizes are supported and page turns seem reasonably swift. All of the annotation, bookmarking and other features are handled by the touchscreen, including basic navigation between the general library, ebook contents and bookmarks list. If the ebook supports annotation then there are also controls for adding notes and highlights (including audio notes), a process which pulls down the text from the E Ink screen to the LCD, allows you to drag across a selection (and use an onscreen keyboard for text notes) and then shoots it back up to the E Ink panel highlight-intact. One frustration is that – whether a limitation of the touchscreen, the ereader app or the processor – the onscreen keyboard can be quite sluggish.
Content is accessed via the preloaded BookStore app, which currently has shortcuts to various online ebook stores and repositories: Google Books, Epub Books, Gutenberg, Web Books, Feed Books and Smash Words. Spring Design have partnered with Borders and the Alex will go on sale in-store later in the year; more importantly, Borders will be selling ebooks on-device, which should open up the selection beyond what right now is predominantly public domain titles. If you've already bought ebooks you'll be pleased to hear the Alex supports ePub (both DRM-free and those which use Adobe DRM, though you'll need to register the device's Adobe ID with the DRM server), TXT, HTML and PDF files.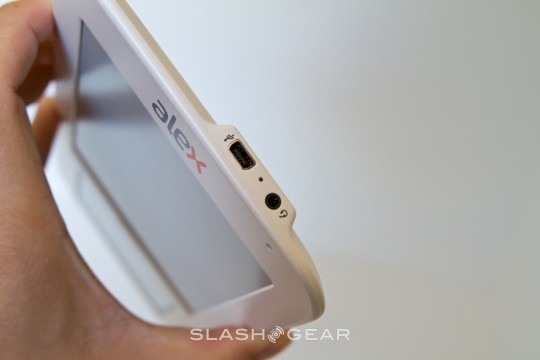 Spring Design's bizarre choice of a 2.5mm headphones jack rather than the more common 3.5mm is partially offset by their including a suitable headset complete with inline microphone for voice-note recording, but we'd have preferred to see an adapter in there too for people who'd prefer to use their own headphones. The stereo speakers are small but surprisingly loud, and you can have music playing in the background while you read. The Android Media app also supports video playback (3GP, FLV and MP4), though of course only on the LCD display.
Battery life is, as with any wireless-enabled ereader, a tale of two halves. With WiFi shut off Spring Design reckon you'll see up to two weeks use, though that's based on an "average" number of page turns. If you're using the Alex as its features encourage, though, Spring Design say to expect more like six hours with the LCD and WiFi active. With average use we found that prediction to be pretty accurate, though by toggling the LCD off when it's not needed you can stretch that out for several hours more.
There's no denying that the Alex will be a more compelling device when it gets its 3G update later in the summer and – Spring Design promise – an Android 2.x update too. According to what the company told us back in March, they're busy negotiating iPad-style data plans that will see ebook purchases delivered (over 3G) free, while there'll also be various levels of general data bundle similar to Apple's AT&T packages (which are $14.99 for 250MB or $29.99 for unlimited). No final pricing has been announced, but we're told to expect an $80 to $100 premium over the base price of the WiFi model.
That, unfortunately, brings us to what's perhaps the biggest fly in the Alex's ointment. At $399 (for either a black or white unit) the ereader is $140 more than a Kindle or nook, and we're not sure its extra functionality and the flexibility of the open Android access makes it worth the premium for the everyday user. That's before you look to Apple and the fact that a 16GB iPad is only $100 more. Those who enjoy tinkering with Android and who are willing to put in some legwork when it comes to digital content will find plenty to occupy them, and there are certainly aspects of the Alex which we wish Barnes & Noble would "borrow" for the nook, but right now this feels a niche device within the ereader market.
[vms cd8d7dd095917f9efe4c]