Spring Design Alex on sale today; iPad-style 3G plans mid-year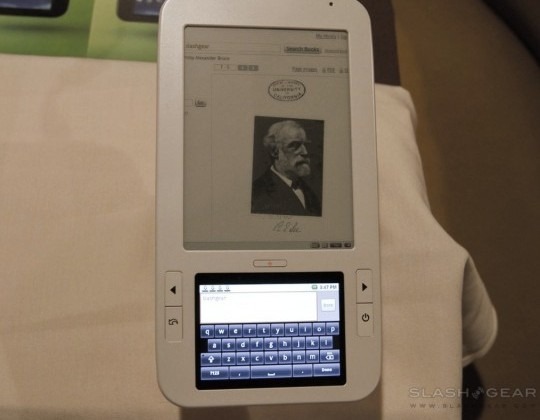 It's been a little late in coming, but – just like we told you – as of this morning Spring Design will be taking orders for their dual-display Alex ereader. Priced at $399, the Android-based Alex has a 6-inch E Ink panel up top and a 3.5-inch color touchscreen below, together with WiFi connectivity; deliveries are expected to begin on or around April 14th 2010. We caught up with Spring Design's Eric Kmeic about the upcoming first-gen Alex and the company's plans for the subsequent 3G model, complete with some iPad-style data plans.
Alex primarily uses the E Ink panel for reading and the touchscreen for navigation, but those roles aren't completely fixed. For instance, you can use the "Touch and Extend" feature to span text across both panels for extended reading, and the LCD is more suited for web browsing. A button in-between the two panels flips content from the LCD to the E Ink display, which is useful for more comfortable reading of longer online articles. There's also all the usual annotation features, as well as the ability to attach hyperlinks and voice memos through the text.
As of May or June, Kmeic says, owners will be able to access Borders ebook store content through their Alex BookStore; Spring Design are currently working on integrating the two. Meanwhile the two companies are also working on the logistics of getting Alex into Borders retail stores and onto the bookseller's website, so that would-be readers will be able to go hands-on before they buy.
What Spring Design aren't talking about right now is their ongoing litigation against Barnes & Noble. The smaller company allege that B&N copied privileged information about Alex to develop their own ereader device, the nook, which launched late in 2009. All Kmeic would tell us is that the suit is still "moving forward".
Spring Design Alex hands-on demo:
[vms 64055d5ca3e5a354acbe]
As for how Alex holds up to other ereaders – nook included – he was a little more talkative. Spring Design are hoping that their combination of dual-displays, the better reading experience of E Ink and the openness of the Android build they've used for Alex will give it a good chance against both dedicated ebook devices and Apple's iPad. For instance, while the nook is Android based, B&N have locked down the OS in the process; Alex owners, meanwhile, will be able to access all of the regular apps – including those in the Android Market – as long as they're not mobility/GPS reliant, which also includes YouTube and media playback.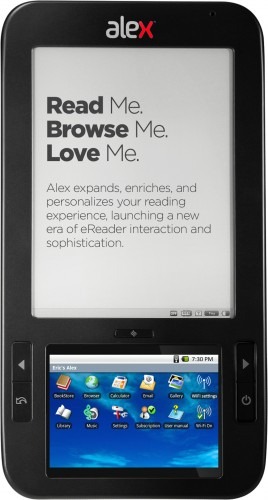 The 3G limitation will partly be lifted come the arrival of the second Alex version, which adds 3G connectivity to the standard WiFi. That's expected to make an appearance in June or July this year, and demand roughly an $80-100 premium over the WiFi-only model. As for data plans, Spring Design are expecting to launch a hybrid model that borrows from Amazon's Whispernet service and Apple's new iPad connectivity deals. Those buyers only wishing to use the integrated 3G to download ebooks while on the move will face no subscription fees; the data charges will be baked into the purchase price and ebook price, just as with the Kindle.
However, if an Alex owner wants to use their ereader for broader data access – browsing, for instance, or email using the Android Mail client – then Spring Design envisage having two plans to offer them. They'll broadly fall in line with what's in store for the iPad – which has a choice of 250MB per month for $14.99, or unlimited data for $29.99 – though pricing isn't confirmed as yet. Unlike the iPad, Spring Design plan to offer both CDMA and GSM versions of Alex, the latter using a global modem that should support 3G worldwide.
The company plans to launch Alex outside of the US at some point, and in fact when we spoke to Kmeic he was en-route to negotiations with European distributors. There's no timescale for the broader availability, beyond Q2 2010, but it looks like Spring Design have learnt from Amazon's tardiness and plan to get their ereader into the hands of as many people internationally as they can, as soon as possible.
From our previous hands-on experience with the Spring Design Alex, we're quietly interested in the dual-display device. B&N's nook promised a lot and then – even with several firmware updates – fell a little short of delivering, and we prefer Spring Design's open and flexible approach to Android. We're expecting review units to drop in the near future; until then, check out our video hands-on and first impressions from back in January.
Press Release:
Spring Design Launches U.S. Web Store for Ordering Alex eReader

International Versions to Launch through Worldwide Partners Q2

FREMONT, Calif. – March 16, 2010 – Spring Design today announced that the dual screen multimedia Alex™ eReader will be available online at www.springdesign.com today. Customers may visit the online store to pre-order their Android-based Alex eReader supporting eBooks in EPUB, PDF, HTML and TXT formats. With Alex's full Internet browsing using WiFi connectivity, users can read and download books, access online audio and video content including YouTube videos, communicate using Gmail and chat and use a number Google Android applications. Due to localization of international versions with partners, pre-orders placed on the Web in the U.S., will be shipped no later than mid-April.

Alex connects to Google's bookstore with over one million titles, and other bookstores that support Adobe DRM. Spring has engaged multiple international partners to jointly deliver multi-language versions of Alex for countries speaking Chinese, Spanish, Russian, Korean and Hebrew. Alex is the first eReader to offer international versions of the product through its local country partners connecting to local bookstores.

Alex features a 6" EPD (Electronic Paper Display) screen and a full color 3.5" Android based touchscreen LCD enabling users to multi-task over the Internet while reading their eBooks. A touchscreen virtual keyboard supports easy searches as well as creation and access to interactive hyperlinks.

Users can move content from the color LCD screen to the 6" EPD screen for easy reading and vice versa. The LCD screen complements the EPD text to support more dynamic functions such as annotating and highlighting what they are reading, or linking to relevant audio, video, and web links. Content can be viewed on both screens simultaneously with the Duet Navigator™ where the LCD screen is used to control the navigation of the EPD screen.

Maximizing the Power of Links

The power of Spring Design LinkNotes™ opens up a whole new dimension in publishing. Authors may insert hyperlinks in their books that show up on the EPD reading screen indicating that there is linked-in web-based content available. Users can click on hyperlinks in eBooks, corporate documents, or periodicals that lead to relevant web-based information or to multimedia content stored on the Alex eReader that will enrich their reading experience. Spring Design anticipates that this feature will be highly valuable in the education market where professors will be able to provide their own study notes, video illustrations, and audio enhancements to augment already-published textbooks.

"By combining a full multimedia browser with the efficiency and flexibility of an EPD screen supported by our open Android-based Alex eReader, we have truly placed a powerful tool in the hands of authors, publishers, professors, and institutions to create interesting interactive eBooks `" said Dr. Priscilla Lu, CEO of Spring Design. "Whether for entertainment, education, or corporate communication, Alex offers the most dynamic and powerful multimedia eReader in the marketplace for creating new media text."

The Alex eReader weighs only 11 ounces and measures 4.7" by 8.9" and less than a half inch deep. Users may add their own content or download content to the microSD card offering expansion of user libraries up to 32GB. The Alex may be updated over WiFi and USB 2.0 and comes with headphones, AC/USB power connector and a padded cover.