Kindle Unlimited Launches As Amazon Tries Ebook Subscriptions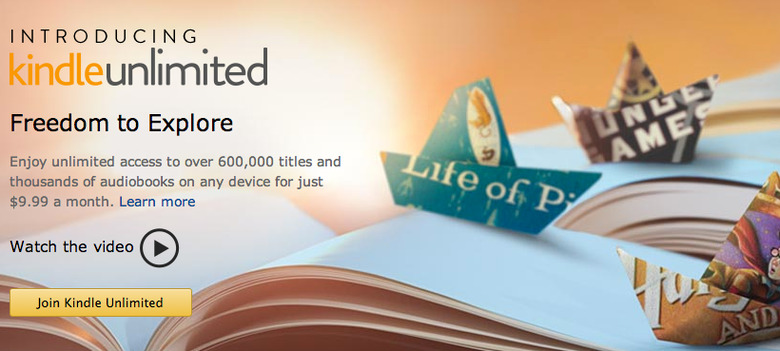 We may receive a commission on purchases made from links.
Kindle Unlimited, Amazon's all-you-can-eat ebook subscription service, has officially launched, with more than 600,000 books that Kindle ereader and app users can choose from. Priced at $9.99 per month, the subscription covers both ebooks and a selection of Audible audiobooks of which there are more than 2,000, Amazon says.
Details on Kindle Unlimited leaked earlier this week, after test pages for the service and an early listing of titles were spotted on the company's site.
As you'd expect, Kindle Unlimited works across all devices which can run the Kindle app, using Amazon's Whispersync network to ensure the current position read to and any highlights are available no matter where it's being read. Subscribers also get three months access to Audible.
A service like this lives and dies on the strength of its catalog, of course. Amazon is pushing the high-profile series included, like the Harry Potter books and The Lord of the Rings trilogy, along with classics like Animal Farm.
A selection of children's books and reference titles from the For Dummies series along with travel guides from Lonely Planet are also included.
Still, it's worth checking what's there before you sign up, since even at 600,000 titles that's only a fraction of Amazon's regular catalog. The company will continue to run the Kindle Owners Lending Library, which gives Prime subscribers a free ebook loan per month to read.
Meanwhile, Amazon's Fire Phone, the company's first smartphone, begins deliveries next week.
SOURCE Kindle Unlimited