Amazon Kindle Unlimited all-you-can-eat ebooks leaks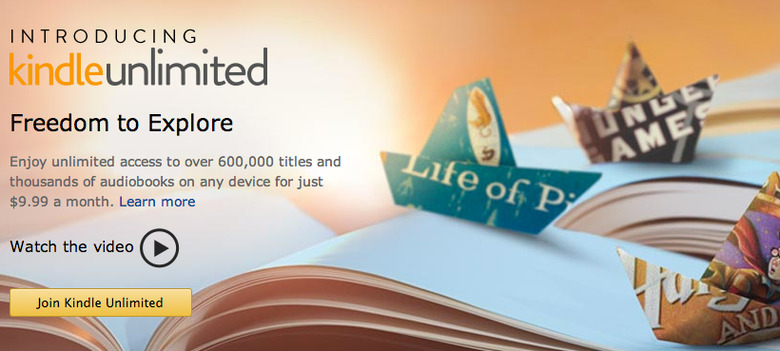 Amazon is readying a new ebook and audiobook subscription service that would offer unlimited access to hundreds of thousands of titles for a monthly fee, according to some prematurely-spotted product pages. Kindle Unlimited is expected to cost $9.99 per month, according to a now-yanked page on Amazon's site, and in return offer titles like the full Hunger Games series, the Lord of the Rings trilogy, and the Harry Potter series.
Over 600,000 titles and "thousands" of audiobooks are said to be part of the deal, according to the page, which is still visible in Google's cache.
Amazon already has one book borrowing service, the Kindle Owners Lending Library which launched in the US back in November 2011. Part of the Prime subscription, it allows Kindle users to borrow a single ebook every month.
However, it's far from an unlimited service in the manner of, say, Prime Video.

If Amazon does indeed launch Kindle Unlimited, it won't be the first such service to market. Entitle, for instance, already offers a subscription-based ebook service, priced from $9.99 per month with a 200,000+ catalog, though it works slightly differently to Amazon's system.
$9.99 on Entitle only gets two books per month, rather than the unlimited titles Amazon is expected to bundle. However, cease paying for Entitle and all the books already downloaded will remain in the reader's collection; my assumption is that Amazon's catalog – and any books you're in the middle of reading – will disappear from your collection if you stop your subscription, just as Prime Video works.
There's also Oyster, which hits the $9.95 price point, and offers unlimited access to its 500,000+ strong catalog. That's seemingly lacking in new, blockbuster titles, however, and if you stop paying you lose access to any books you've been reading.
Still, if Amazon has managed to ink agreements with sufficient publishers to keep Kindle Unlimited well-stocked, it'll be an impressive shift in the ebook market.
Publishers have traditionally been reluctant to do anything that might devalue the normal approach to pricing; when I met with Entitle founder Bryan Batten, he described the scale of the challenge getting those with ebook rights to even consider a model different to the usual "pay-per-title." Even Amazon's Kindle Owners Lending Library, he pointed out, was mostly stocked by self-published books rather than mainstream titles.
Amazon is yet to comment on the leaked service.
VIA GigaOm
SOURCE Amazon Unlimited (Google cache)