Kindle 2 upgrade program tipped; Amazon eBooks coming to cellphones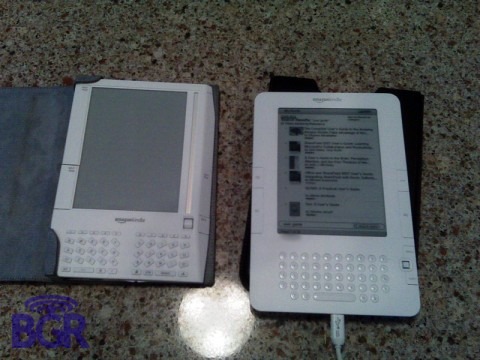 Plenty of fresh Kindle news today, with a variety of rumors regarding Amazon's upcoming ebook plans.  First off comes word that those customers who have bought an original Kindle, but not yet had it delivered because of the supply delays, may be offered an upgrade opportunity to the new Kindle 2.  According to Stephen Windwalker, who is a Kindle book author, those still waiting for their first-gen ebooks will be offered the new version for around 10-percent more.
After the cut, are Amazon considering ebooks for non-Kindle devices?
Considering the current Kindle retails for $359 (after dropping from its $399 launch price) that would put the Kindle 2 at around $395 for those waiting.  That makes it look likely that Amazon will again be picking the $399 price point for the new device, although that's not confirmed.  Steven also suggests that Amazon are currently upgrading their firmware to 1.2 so that the account management can cope with more than one Kindle per customer, given that they expect many existing users to upgrade to the Kindle 2.
Secondly, an NY Times report has revealed that Amazon is planning to make Kindle titles available on "a variety of mobile phones".  There's few details of the project – which will presumably require a specific Amazon software app to cope with the ebook DRM the company uses – aside from confirmation from a spokesperson that it's being worked on now.
Also Thursday, Amazon said that it was working on making the titles for its popular e-book reader, the Kindle, available on a variety of mobile phones. The company, which is expected to unveil a new version of the Kindle next week, did not say when Kindle titles would be available on mobile phones.

"We are excited to make Kindle books available on a range of mobile phones," said Drew Herdener, a spokesman for Amazon. "We are working on that now."
Giving cellphones ebook access makes perfect sense, when you consider that part of the Kindle's appeal is its ability to download new titles wirelessly.  The move would also fit in with the firmware upgrade, as users will likely want to share their e-library with not only their Kindle but whatever mobile device they're carrying.