This wireless-charging Kia Soul EV imagines life without cables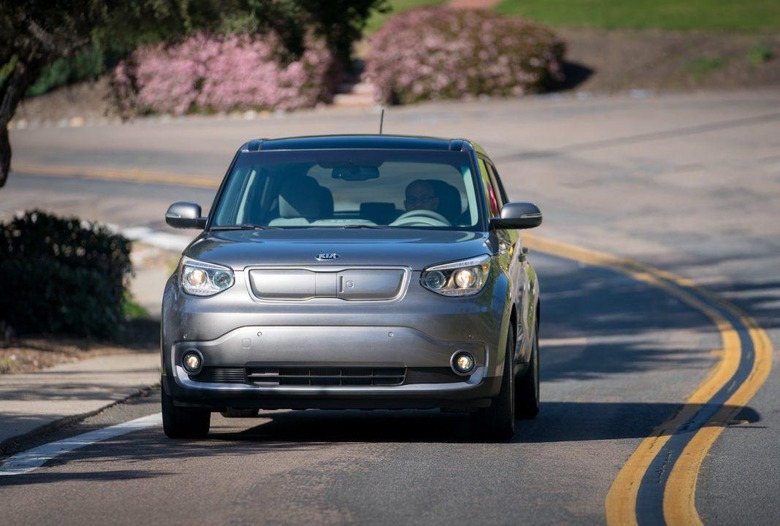 Kia is testing out wireless charging for cars, fitting out a fleet of its Soul EVs with the ability to recharge without needing a plug. The fast-charging wireless power system removes the need to physically plug in an electric vehicle, instead using a power-transmitting pad placed on the ground underneath, and a counterpart receiving pad mounted on the underside of the car.
Wireless charging systems for cars aren't new, and Kia certainly isn't the only company to be working on the technology. However, the South Korean automaker had a few specific questions in mind for its own trial. While wireless power certainly works, Kia set out to decide if it was actually practical.
For a start, wireless charging systems are typically slower – and can be much slower, in fact – than their wired counterparts. They also can be inefficient compared to wired chargers. From a practical standpoint, too, they generally demand fairly accurate positioning between the underside of the car and the charging mat itself.
The Hyundai-Kia America Technical Center (HATCI) took five Soul EVs, its all-electric vehicles, and outfitted them each with a fast wireless power transfer system co-developed with Mojo Mobility. It's designed to transfer in excess of 10 kW wirelessly, while targeting an 85-percent grid-to-vehicle efficiency rate. The system also promises to operate even if the car and the wireless pad aren't perfectly aligned.
Two coils are involved in the process. The first is in the transmitter on the ground, the second in the receiver pad on the underside of the Soul EV. "The driver simply parks the car above the transmitter to begin charging and then energy is sent through an inductive coupling to an electrical device, which uses that energy to charge the electric vehicles' battery," Kia explains.
After three years of testing, the two companies decided the whole thing was a success. Unfortunately for anybody tired of plugging in their electric car every time they get home, however, you shouldn't expect the wireless technology to go on sale any time soon. "There is no current plan to offer the wireless charging system on production vehicles for sale to consumers," Kia says, describing the trial as just that: a test of the technology. Nonetheless, it's keeping its options open: "similar systems are possible on future Kia electric vehicles," the automaker teases.
Other manufacturers are being less reticent. Mercedes-Benz, for instance, plans to launch wireless charging pads for select vehicles from its line-up sometime this year. Meanwhile, Nissan has confirmed it's working with another wireless power firm, WiTricity, on cable-free charging for its Leaf EV.
Other trials have gone even further. Last year, Qualcomm worked with Renault on a system to wirelessly charge vehicles while they are in motion. Although still far from production-ready, it could one day mean roads that are able to recharge an EV even while it's in use.