KDDI AQUOS Pad SHT21 packs IGZO display for 2.5x battery life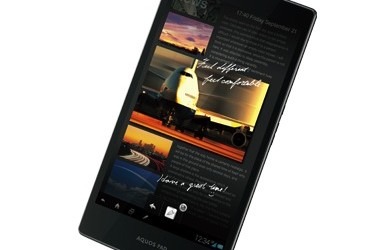 The second mobile device to use Sharp's IGZO screen technology, the KDDI AQUOS Pad SHT21, has been revealed, a 7-inch tablet promising more than double the runtime of rival slates. Following on from Sharp's SH-02E phone, announced for DoCoMo earlier this month, the AQUOS Pad SHT21 runs at 1280 x 800 resolution and, Sharp claims, will run for 2.5x as long as tablets with conventional displays thanks to IGZO's frugal nature.
If you've not been keeping up with the minutiae of screen technology, IGZO is named after the indium gallium zinc oxide used in the LCD, rather than the more traditional amorphous silicon layer. Since it's more efficient for electron mobility – roughly 40x more so, Sharp claims – the pixels can be smaller, and thus demand less backlighting.
Device manufacturers can either take advantage of that reduced backlight requirement to fit smaller batteries but maintain typical runtimes, squeeze extra runtime out of regularly sized batteries, or provide high-brightness "outdoor visibility" modes.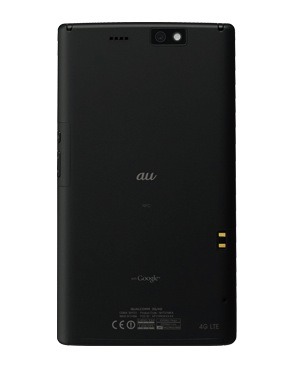 In the case of the new KDDI tablet, it seems there are various modes that can be switched between, depending on your priorities with the tablet: visibility or longevity. The slate also supports digital pen input, is waterproof and dustproof, and includes 4G LTE, WiFi a/b/g/n (2.4/5GHz), Bluetooth 4.0, and 1-Seg digital TV, all in something 106 x 190 x 8.9 mm and 280g.
There are twin cameras – 8-megapixel on the back, VGA upfront – and Full HD video recording, and the SHT21 runs Android 4.0 with a custom UI on Qualcomm's MSM8960 1.5GHz dualcore processor with 1GB of RAM and 16GB of internal storage (plus a microSDXC card slot).
Sales will kick off in Japan in December, with pricing yet to be confirmed.