JVC GY-HM600 revealed as GY-HMQ10 finally ships to 4k fans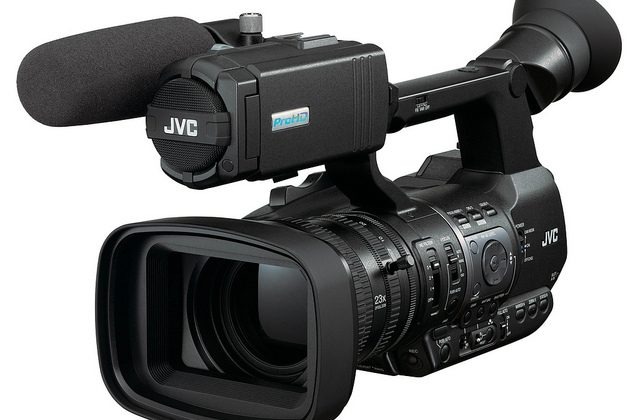 JVC has outed a new ProHD camcorder, the GY-HM600, as well as finally beginning shipments of the much-anticipated GY-HMQ10 4k camcorder, albeit a little later than planned. The GY-HM600 shoots up to Full HD video, unlike its more expensive 4k sibling, with a wide angle 23x autofocus zoom with a particular emphasis on low-light photography (F11 at 2000 lux).
There's a 1.22-megapixel color viewfinder and a 3.5-inch LCD for framing shots, while JVC is targeting both handheld and tripod users with a second set of recording trigger and zoom controls on the integrated handle. A full three 1/3-inch 12-bit CMOS sensors – each recording at 1920 x 1080 – are onboard, with a Fujinon HD lens offering a 29mm-667mm focal range, three ND filters, and manual zoom/focus/iris rings.
Pre Rec automatically caches five seconds of footage before you hit the record button, and there's an integrated stereo microphone along with twin XLR inputs with phantom power. A separate wireless microphone input and headphone jack are offered, along with LANC support, HD-SDI and HDMI.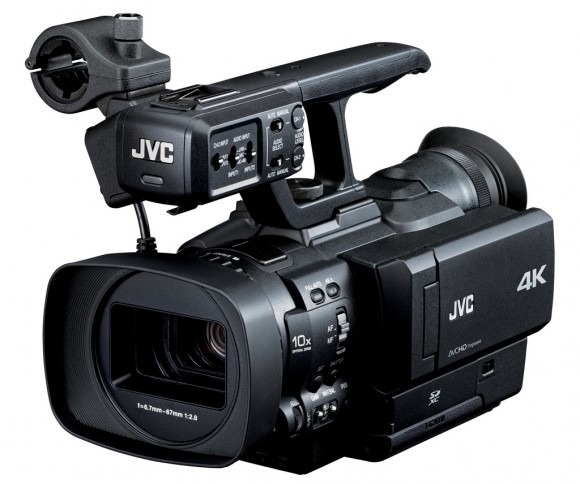 As for the JVC GY-MHQ10, the 4k camcorder was announced back in January with a predicted ship time of March. That's fallen by the wayside somewhat, with JVC confirming at NAB 2012 this week that units are only now shipping. The GY-MHQ10 has a 1/2-inch 8.3-megapixel CMOS for capturing video at four times the resolution of 1080p and allows for Full HD stills to be grabbed, mid-recording or during playback.
The GY-MHQ10 has a price tag of $5,550, while the GY-HM600 will be $4,695 when it drops in fall 2012.