Justin Bieber JustBeats headphones are latest Monster/Beats by Dr. Dre madness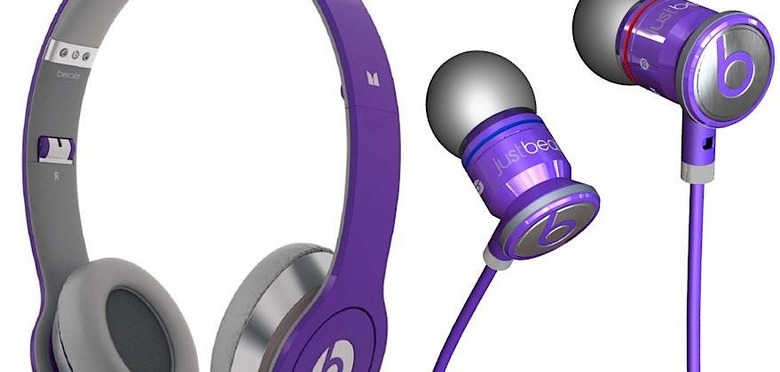 Ladies and gentlemen of the music industry: Justin Bieber is your saviour.  Not because of his "adorable" helmet-made-of-hair styling or his sixteen billion Twitter fans, but because he's helping Monster and Beats by Dr. Dre to take the message of "sound matters" to "the kids".  Bieber is the latest celebrity endorsement the headphone partners have signed up, with the JustBeats available exclusively through Best Buy in time for the holiday shopping season.
Two versions will be on offer, an on-ear set of JustBeats headphones finished in matte purple (which, incidently, is Justin's favorite color; he also enjoys long walks in small cupboards and speaking in tongues) and an in-ear set finished in purple and chrome (like his cold, robotic heart).  No word on what exactly they'll bring to the table in terms of audio quality – beyond the wretched tagline "sound is the emotion between us" which has probably already knocked a legion of tweenage girls off their feet – but knowing Beats by Dr. Dre it'll be lashings of bass.
The on-ear JustBeats will be $199.95 while the in-ear JustBeats will be $119.95, and if you don't buy them for me, Mom, then I'm going to totally run away and never finish my SATs.  Meanwhile there's also the Beatbox iPhone/iPod "party in a box" ($399.95), Powerbeats made in partnership with LeBron James ($169.95), and iBeats, headphones with an Apple controller integrated into the cable ($119.95).
Press Release:
Beats™ by Dr. Dre™ and Monster® Introduce the Next Generation of Sound

Five Game-Changing New Products Take Beats' Signature Sound to New Heights

NEW YORK–(BUSINESS WIRE)–Insert the following new graph after second graph of release:

"What you're seeing today is what me and Jimmy set out to do with Beats. It's not just about headphones it's about changing the whole game in terms of the listening experience. And it's still just the beginning..."

Dr. Dre noted: "What you're seeing today is what me and Jimmy set out to do with Beats. It's not just about headphones it's about changing the whole game in terms of the listening experience. And it's still just the beginning..."

The corrected release reads:

BEATS™ BY DR. DRE™ AND MONSTER® INTRODUCE THE NEXT GENERATION OF SOUND

Beats™ by Dr. Dre™ and Monster® announced today five new products that redefine the music experience and present exciting new listening opportunities. The new additions to the Beats family include: Beatbox™, the brand's first digital sound system with iPod docking station that expands the Beats experience from individual enjoyment of high-end audio quality to a social experience; Powerbeats™, a ground breaking new sports performance headphone inspired by 2009 and 2010 NBA MVP Lebron James; Beats Pro™, a breakthrough studio-quality headphone for professionals and prosumers; iBeats™, affordably priced in-ear headphone ideal for use with the Apple iPad™, iPod™, iPhone® and all portable music players; and JustBeats™, a collaboration with pop music phenomenon Justin Bieber and the first headphones specially aimed at "opening the ears" of young music fans to the richer listening experience that comes with high quality sound. The new Beats™ by Dr. Dre™ products from Monster will be available at leading U.S. retailers in coming weeks, in addition to the UK, France and Germany.

Reaffirming the Beats™ by Dr. Dre™ Commitment to Great Performance and Style

Beats™ by Dr. Dre™ was co-founded by legendary artist and producer Dr. Dre and Interscope Geffen A&M Chairman Jimmy Iovine to reproduce the full spectrum of sound that musical artists and producers hear in professional recording studios. All of the Beats™ by Dr. Dre™ products are engineered to the most demanding specifications in order to reproduce the full sound of todays digitally produced, sonically demanding R&B, rock, and hip-hop music styles, while giving users the opportunity to express their personal style.

Dr. Dre noted: "What you're seeing today is what me and Jimmy set out to do with Beats. It's not just about headphones it's about changing the whole game in terms of the listening experience. And it's still just the beginning..."

Head Monster Noel Lee noted: "Beats™ by Dr. Dre™ headphones from Monster have become incredibly popular because they offer a dramatically enhanced, more powerful and more emotionally engaging music listening experience. With the debut of these five new products, we're vastly expanding the Beats family and giving people brand new opportunities for enjoying the 'Beats Sound' in a wide range of environments, style choices and price points. Each new product incorporates advanced sonic technologies derived from the renowned Beats headphone lineup, including the proprietary bass drivers in Beatbox™, the ambient noise-isolation capabilities of Beats Pro™ and the high-end audio refinements of iBeats™ and Just Beats™ – the result is unprecedented audio quality and dynamics with total flexibility and listening luxury."

Beatbox™: "Bring the Party Home"

The Beatbox™ is a "game-changing" digital sound system and iPod dock that expands the Beats experience from individual enjoyment of high-end audio quality to a social experience – one that lets users literally "bring the party home," unleashing the driving bass, lush midrange, and soaring highs of a multi-speaker club system in one amazing compact and portable box. Beatbox is the first non-headphone product from the Beats™ by Dr. Dre™ line of products.

"A party in a box", the Beatbox™, brings iPod™ and iPhone® music to life in an astounding new way. The product features innovative digital amplification circuitry for jaw dropping performance, with proprietary dual 5.25-inch long throw bass drivers for superior bass reproduction and two optimized 2-inch concave high frequency drivers for precise soundstaging. The Beatbox™ plays all styles of music effortlessly, and is engineered to handle the most demanding sonic challenges, including hip-hop.

To create the uniquely stylish Beatbox™, the Beats™ by Dr. Dre™ team continued its long term development collaboration with renowned San Francisco-based industrial design firm Ammunition and its founder Robert Brunner. The result is a product that offers the ultimate in aesthetic form-meets-function. With its sleek black trapezoidal shape, the simple yet elegant Beatbox™ is designed to be the center of the party. The iconic shape even lets users place the Beatbox™ in a corner and still enjoy room-filling sound, with incredibly powerful bass. The cabinet features a rugged ABS housing in a subtle black-on-black color scheme with an easy to carry ergonomically designed handle for easy, comfortable portability. The top surface has a soft touch finish and the speaker grill is made of steel with a semi-gloss black finish. The Beatbox™ also features tactile silicone rubber for the power button, volume knob, and feet. The BeatBox™ presents a stunning minimalist aesthetic combined with superior audio performance to truly set the design benchmark in portable audio

"In my opinion, the Beatbox isn't here a minute too soon! Dre and I have been looking for something portable that could fill a room. This product allows you to feel the bass and yet hear every dynamic of the song. It literally is a party in a box," said Iovine.

Powerbeats™: "The Power of Sound"

Beats™ by Dr. Dre™ and Monster have teamed with 2009 and 2010 NBA MVP LeBron James of the Miami Heat to develop a groundbreaking new performance sports headphone – Powerbeats™. The stylish, ultra durable headphones, which will be available in black, red and white styles, combine the unprecedented sound quality made possible by Monster engineering with innovative new design elements that make them ideal for use by sports enthusiasts, athletes and anyone who wants to bring a superior music listening experience to his or her active lifestyle.

"Dre and LeBron work out all the time and have been looking for an earbud that has the power but stays on and delivers the inspiration of music consistently. Powerbeats is the answer. It's a combination of in and on ear with two drivers that delivers the power and keeps you moving in the toughest of workouts," Iovine added.

To ensure optimum sound quality, Powerbeats™ feature an exclusive new dual driver design that features two unique speakers, with a built-in subwoofer that pumps out massive bass, and a midrange tweeter that reproduces ultra smooth vocals and clear, crisp highs. Users enjoy the legendary Beats sound with clarity and power at any volume. Additionally, the non-noise occluding headphone eartip is ported so listeners can enjoy their music while still being aware of peripheral sounds that deserve their attention, such as the sirens of emergency vehicles, phone calls or other audio cues. Among the new active lifestyle-friendly design elements in Powerbeats™ is an adjustable/bendable ear hook with a flexible arm that runs around the outside of the ear to keep the headphones securely in place during vigorous activities such as exercising, jogging, biking, or even competitive basketball.

Beats Pro™: "Hear it like the Pros"

The state-of-the-art, over-ear Beats Pro™ headphones are the flagship product in the Beats headphone line– a reference headphone designed by audio professionals for audio professionals. They combine sophisticated construction and advanced sonic technologies to deliver the power, extra durability and sound isolation that until now has been lacking in professional headphones. Ideal for in-studio production and ultimate quality music listening, Beats Pro™ headphones are tailored for use by discriminating music lovers, producers, engineers and musicians.

To recreate the quietness of an isolated recording studio listening experience, Beats Pro™ headphones feature a variety of ambient noise-isolation capabilities, allowing users to hear the music clearly, even in the noisiest environments. And notably, to create a headphone capable of standing up to the rigors of rough and repeated professional use, every aspect of Beats Pro™ headphones was designed for rock-solid durability. Built from strong yet lightweight aluminum for rugged use on-the-go, Beats Pro's flip up ear cups let DJs monitor the room without taking the headphones off. Dual input/output cable ports even enable users to share mixes by daisy-chaining headphones. Most importantly, in addition to their all-metal body construction, Beats Pro™ feature tough all-metal hinges, often a "weak point" in conventional headphones with plastic hinges.

iBeats™: "Hear What the Artist Intended"

With the introduction of iBeats™ in-ear headphones, the breakthrough Beats listening experience is now more affordable than ever before. Specially engineered to reproduce high-resolution sound from the iPad™, iPod™, iPhone® and all portable music devices, iBeats™ feature a new sealed in-ear design that literally reduces external noise for a better music experience. Monster's exclusive driver design pumps out deep bass, soaring highs and ultra-clear midrange response. The solid metal iBeats™ construction provides durability and eliminates vibrations for incredibly clear, rock-solid sound. The ultra lightweight iBeats™ are ideal for exercising and active lifestyles, and Monster's super-convenient Monster ControlTalk™ headphone cable can be used with iPhone™ and iPod™ for music playback control as well as to take hands-free calls with iPhone® and many smartphones. Notably, the specially designed iBeats™ cables make tangles a thing of the past, and for total user comfort and flexibility, three custom-fit eartip sizes ensure secure fit every time.

"We live in a time when most young people experience music for the first time from a terribly compressed file to an inadequate earbud. Most earbuds are made very poorly and don't come close to reproducing the music in your iPod. Beats has come up with an affordable comfortable solution to buy for your iPod. It makes no sense to have an iPod and then have an earbud that doesn't deliver half the sound and emotion," said Iovine.

JustBeats™: "Sound is the Emotion Between Us"

Available in both in-ear and stylish on-ear versions, JustBeats™ by Dr. Dre™ are the first high quality Beats™ headphone specifically aimed at "opening the ears" of young music listeners. Most young music fans are used to listening to their favorite songs on standard earbuds and computers, having never been exposed to high-quality sound. JustBeats™ deliver the richer Beats™ by Dr. Dre™ listening experience, in a stylishly hip on-ear headphone featuring an eye-catching matte purple finish, Justin's favorite color, and an in-ear version featuring a purple and chrome finish. The introduction of JustBeats™ is a major step forward in brining a new level of sound quality and the enhanced audio experience of Beats™ by Dr. Dre™ to younger audiences. JustBeats will be exclusively available at Best Buy for this holiday season.

"We asked Justin Bieber to help us with the message of sound really matters. Young people today are being introduced to music through inferior technology in the form of ripped mp3's, ill designed laptops and crippled earbuds and headphones. When they listen to music because of the inferior quality of earbuds the only recourse they have is volume, which isn't going to do anything but damage their ears. Justin is a great musician that puts a lot of care into his music — who better qualified to take this message to the kids," said Iovine.

Pricing for the new Beats™ by Dr. Dre™ products are as follows:

Beatbox™ by Dr. Dre™ (SRP: $399.95)

Powerbeats™ In-ear Headphones by Dr. Dre™ (SRP: $169.95)

Beats Pro™ by Dr. Dre™ (SRP: $449.95)

iBeats™ by Dr. Dre™ (SRP: $119.95)

JustBeats™ by Dr. Dre™ (SRP: $199.95 for on-ear version, $119.95 for in-ear version)

* The ControlTalk remote and mic are supported by iPod nano (4th and 5th generation), iPod classic (120GB), iPod touch (2nd generation), and iPhone 3GS and newer, but not all, Blackberry models. The remote is supported by iPod shuffle (3rd generation). Audio is supported by all iPod models. Requires software version 1.0.3 for iPod nano (4th or 5th generation), 2.0.1 for iPod classic (120GB), and 2.2 or later for iPod touch (2nd generation). Support for Blackberry varies by model. Subject to change.