This JBL Link Bar is Google's first Android TV and Assistant hybrid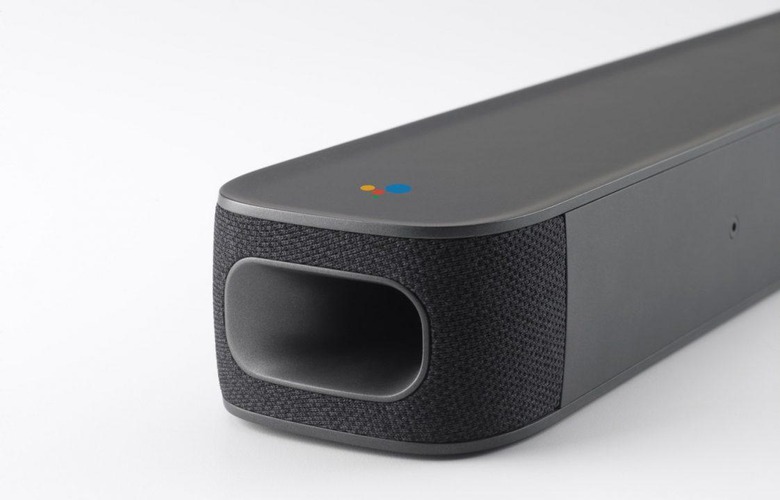 Google has teamed up with JBL for the first Google Assistant powered soundbar, with the JBL Link Bar effectively baking together its voice AI and an Android TV box. Launched ahead of Google I/O 2018, the new gadget is designed to plug into a TV and bring all of Google's media streaming and voice control technologies in one fell swoop.
From the outside, it looks pretty much like a standard soundbar, frankly. That is, it's long, black, and covered in speaker mesh, and designed to be slotted underneath your flat-screen TV and look unobtrusive. However, what's inside is difference from the usual cluster of speaker drivers.
For a start, there's control over the TV via voice, as we've come to expect from Android TV. You'll be able to trigger the Link Bar by calling "Hey Google" across the room, and control switching between different sources by voice. It'll plug into your TV with a single HDMI connection.
There's also support for music playback, including if the TV itself is turned off. Then, the Link Bar will act much like a Google Home smart speaker, it appears. Of course, if you're watching TV or movies, the soundbar should be a noticeable upgrade from whatever speakers are built into your actual set.
It's fair to say that Android TV hasn't exactly set the home entertainment world alight so far. Google has made multiple attempts to insert itself as the gatekeeper of streaming media, and though set-top boxes like NVIDIA Shield and the Xiaomi Mi Box have had niche success, they've nonetheless struggled against simpler – and more affordable – rivals like Amazon's Fire TV.

I/O 2018 is expected to see Google respond to that. This JBL Link Bar is the first of what the company claims will be "a series of hybrid devices that delivers a full Assistant speaker and Android TV experience," but we're also likely to see a new Chromecast-style adapter too. That was spotted in a mysterious FCC filing back in April.
The JBL Link Bar is expected to launch in fall 2018, with pricing to be confirmed closer to that point. It'll face whatever Sonos brings to the party later in the month, with the streaming speaker stalwart expected to reveal its own take on a home theater speaker with integrated assistant tech.