Jawbone UP Coffee quantifies your caffeine addiction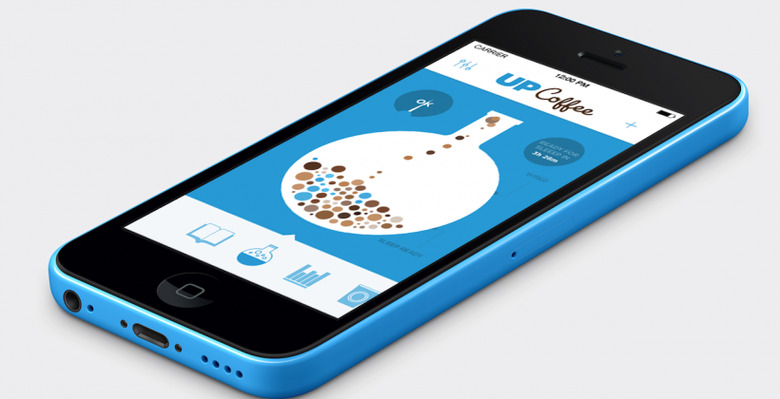 For some its an addiction; for others it's a treat; and for the unlucky it's a shortcut to insomnia. Caffeine fuels many of us, and it's the subject of Jawbone's latest health tracking app, UP Coffee, the first fruits of the new Jawbone Apps Lab. The free app – which is available to iOS users, and doesn't require an UP or UP24 band to use – logs your daily intake of coffee, tea, Coke, and other beverages, and gives you health insights ranging from an at-a-glance gage as to whether you're wired or ready for bed.
"The Jawbone Apps Lab is a forum for employees to try out innovative products, to try out innovative services on top of the developer platform" Jawbone's Andrew Rosenthal, product manager of the health platform, explained to us. "[UP Coffee] is something that we built internally, because our team was really excited about it, and we're trying it out; it's an experiment."
UP Coffee is the first result of that experiment, using exactly the same developer API that Jawbone offers to third-party developers. "We looked at our research and we found that the most tracked food worldwide, over time – not just in Jawbone UP, but generation over generation, culture over culture – is caffeine" Rosenthal told us. "It's coffee, it's tea. People are tracking their coffee and tea, what's in their Diet Coke, more than anything else."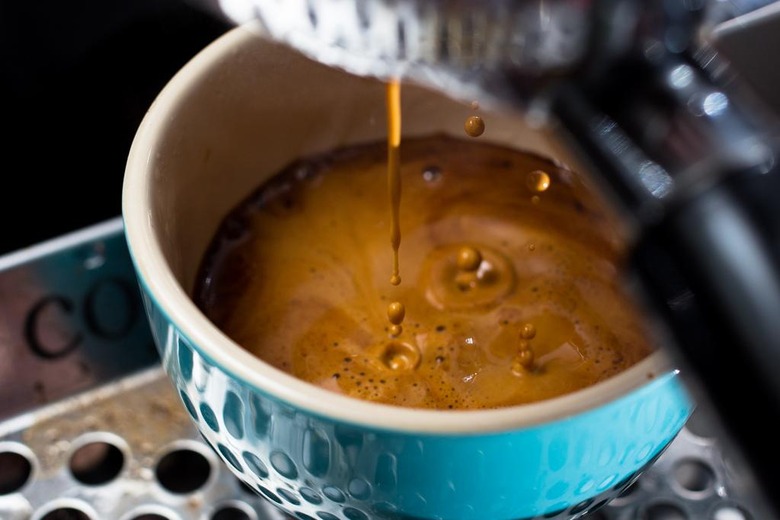 "We realized this is something that people are fascinated with. They're fascinated because it's social, it's fun, it's part of modern society. But also it impacts your body. I drink tea, I drink Diet Coke. I caffeinate in the morning, I caffeinate at night, but I never really understood exactly what it does for me. I was stuck with that situation: it was an input but I had no idea what the output, or the outcome, was."
Distilling that outcome into something that makes sense in an app – and doesn't require a medical degree to understand – is what makes UP Coffee particularly interesting. The main display is an animated bottle, a flask containing colored balls representing different drinks consumed and the amount of caffeine in each, which rocks and sloshes as you move the phone around.
Tapping to add a drink allows you to choose from a list, either of presets like a small latte, a can of Diet Coke, or a black tea, or a list of what you have most commonly or had most recently. The animations continue as the flask fills up a little more, and a gage – like a retro fuel indicator – ticks across until it tells you you're wired.
More insightful data isn't out of reach, however. Swipe across, and there's a chronology of the drinks you've had, and then a graph showing exactly how much caffeine is left in your body over time; the "half-life of caffeine" as Jawbone describes it. As in the main UP app, there are insight cards too, which deliver tidbits of wisdom like flagging up just how much caffeine is still in decaf coffee for those who commonly reach for a cup in the evening. Those cards can be shared via email or Twitter, or pushed into the main UP feed for those with an UP band.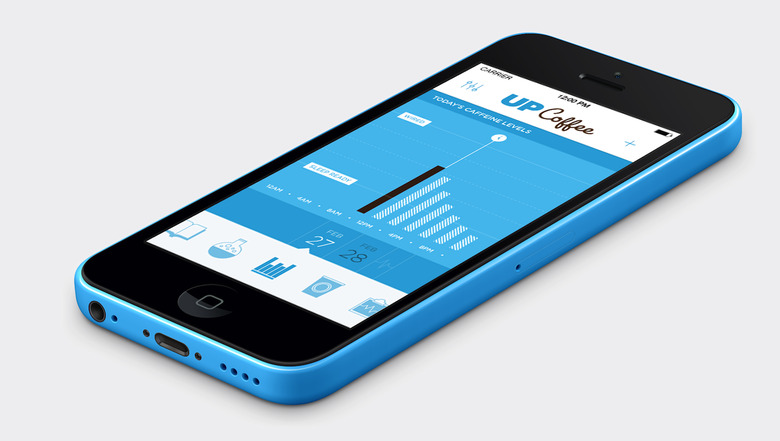 While having one of Jawbone's hardware trackers isn't necessary to use UP Coffee, there are some compelling reasons to wear one. "UP Coffee is able to understand your sleep patterns and help you recognize the impact of caffeine intake – what you had, and when you had it – upon how you sleep," Rosenthal explained. "And that's really cool, because no-one's been able to understand that before."
So, rather than just guessing whether those five cans of Red Bull you have while playing GTA Online in the evening then stop you from sleeping properly, UP Coffee can tell you one way or another. Users will be offered challenges to take part in – say, trying only drinking coffee during the evening, or not having caffeine after 5pm – to see the impact it has on sleep patterns.
In fact, Jawbone claims that after just ten days of caffeine and sleep tracking, UP Coffee can figure out how much sleep on average is lost for each 100mg of caffeine ingested. That's arguably a whole lot more useful than telling you how many steps are involved in skipping the elevator.
UP Coffee is available through the App Store from today, and requires iOS 7. No word on when – or if – Jawbone will release an Android version.
COFFEE IMAGE: Mark Prince