Japanese Sony VAIO P with 1.86GHz CPU hits importers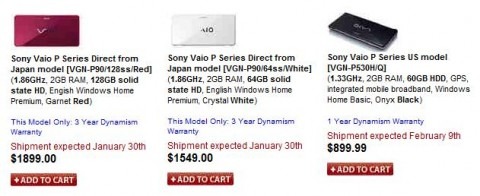 Import specialists Dynamism have begun taking pre-orders for the Japanese version of the Sony VAIO P ultraportable, complete with its 1.86GHz Intel Atom processor.  The US version of the notebook has a slower 1.33GHz CPU which, as we discovered recently, leads to some disappointing benchmark results.  For $1,549, though, you can have the 1.86GHz processor, together with the 64GB SSD, in the Japanese P version.  As you might expect, though, there are a few caveats making this a tricky decision.
While the Japanese P runs faster, it also lacks the integrated 3G EVDO mobile broadband and GPS of the US models.  In fact Dynamism also have the US top-spec model up for pre-order, at $1,499.99, which gets you twice the storage (128GB SSD) as the Japanese model, plus 3G and GPS, but still with the 1.33GHz CPU.
If you want the 1.86GHz Atom and 128GB SSD then the $1,899 Japanese VAIO P is your only choice.  That, of course, misses out on the connectivity and navigation options of the US P's.  All of the color options are available to order; the Japanese units are expected on January 30th, while the US models will land on February 9th.